Will Sri Lanka Pivot to India now amidst crisis?
With 26 Cabinet Ministers resigning including the Sri Lankan Finance Minister as well as the Lankan Central Bank's Governor and now even certain Buddhist monks demanding the resignation of the President, Sri Lanka is struggling to turn over a new leaf in order to move on from its current economic crisis. The Lankan government is looking for bailouts from the International Monetary Fund (IMF) and World Bank or even through credit lines so as to come out of the deadly cycle of record inflationary pressures, hours-long power cuts, shortage in fuel and other essential supplies adding fire to violent protests.
The European Foundation for South Asian Studies (EFSAS) recently came up with its report on how the Chinese debt trap has created problems of shrinking foreign reserves for the island nation, with Sri Lanka owing around USD 5 billion to China alone. These facts are not unknown to Indian strategic analysts and think tanks as well as Indian policymakers. They have, time and again, warned India's neighbours regarding Chinese "unprofitable infrastructure projects"; particularly the Belt and Road Initiative (BRI) on the "strategic debt trap". With an economic emergency declared in Sri Lanka, it has so far relied on loans from India, Japan, China as well as international lending agencies like Asian Development Bank and the World Bank. The Rajapaksa in Sri Lanka are currently facing their biggest political challenge in the form of this economic crisis and vicious protests across all the sections of the Lankan society. Estimates from the World Bank point towards at dwindling development indicators and a "roll back in social progress" due to the ensuing economic fallouts. Such a massive crisis is the culmination of events like Rajapaksas' "organic farming experiment", failing tourism industry due to Pandemic and earlier 2019 Easter Bombings- Church Terrorist attack and struggling balance of payments due to accumulated foreign debt.
India recently signed an agreement with Sri Lanka to set up hybrid power projects on northern Sri Lankan islands, with many columnists claiming it as a 'strategic victory over the Chinese ' as they cancelled their own power deal in December. Also, the recent Lankan government clarification on two unannounced, rather 'secret' maritime deals with India related to India provisioning a free-of-cost floating dock facility and a Dornier maritime reconnaissance aircraft to Sri Lanka points to the revival of Lankan interest in India combined with recent bilateral agreement on Trincomalee Oil Tank Farms joint development as well as India extending US $1 billion credit line , rice and diesel supplies to Sri Lanka.
Does this suggest a PIVOT of Sri Lanka back to India from China? Especially, looking at the previous setback of India losing the East Container Terminal to China in 2021 and more importantly, the Rajapaksas being closer to the Chinese government given the Hambantota Port lease and other deals, the recent economic crisis has surely rejuvenated India's Neighbourhood First in the Indian Ocean exchanges once again with India proving to be a credible and moral neighbour as a bigger power. However, things continue to be murky in the strategic triangle of India- Sri Lanka- China.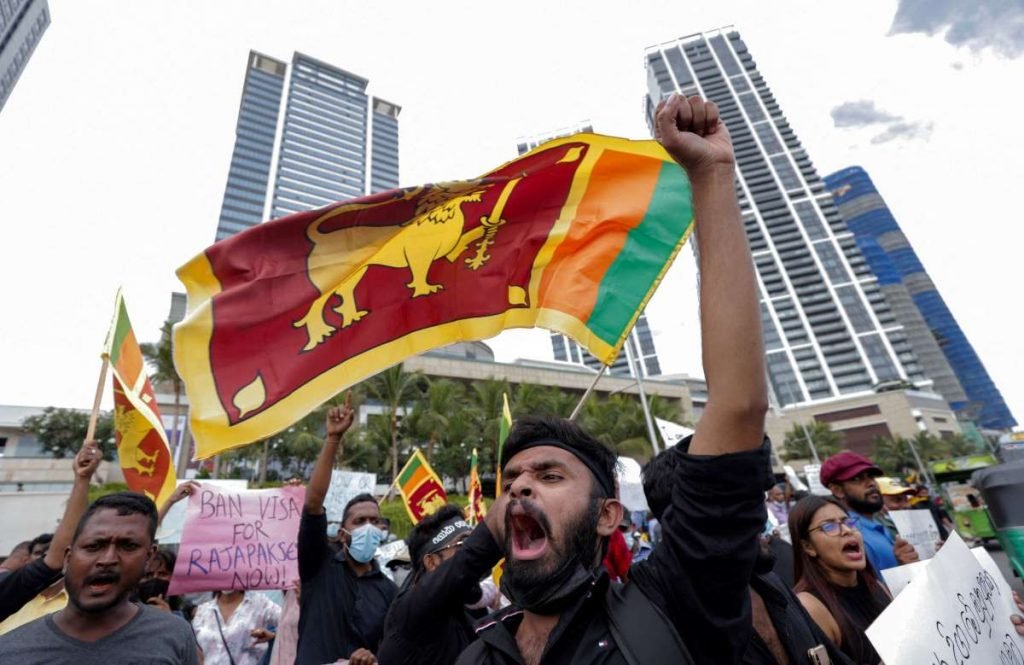 When the Rajapaksa government requested the Chinese to restructure their debt as well as are seeking a $2.5 billion credit assistance, Chinese envoy to Sri Lanka replied that such assistance would be extended on 'competitive terms'; wherein many sections within the island nation remain sceptical of any further debt traps. Whether the Chinese turn their back to Sri Lanka or not in the given days, one thing remains certain between the power figures of China and India, that is, if China wants, it can easily continue with its 'chequebook diplomacy 'and India would not be able to match up with its 'deeper pockets'. Sri Lanka and China are also making headway to negotiate a Free Trade Agreement (FTA) soon. The island nation has all the right to continue to tap into bilateral loans from both New Delhi and Beijing, and in times of such unprecedented economic crisis, the more the better. Also, the South Asian nation of Nepal has been playing both the sides for years, so why not Sri Lanka try to get the 'best of both worlds?'
Another complicating factor for India to fully extend support Sri Lanka is the 'future of Sri Lankan Tamils', with India consistently calling for just reconciliation process amidst the ethnic groups. China, on the other hand, has never intervened nor spoken on this matter of 'minority rights' or 'human rights' in Sri Lanka, putting itself in a better position to deal with the majority Sinhalese Buddhist-backed staunch nationalist Rajapaksa government. Due to its own concerns of domestic politics as well as a leading democracy in the region, India cannot turn a blind eye to the Tamil concerns overtly. So, whether the recent 'pivot' of Colombo to New Delhi is a more permanent one or simply a matter of economic exigencies remains to be seen. Nonetheless, Sri Lanka must recognise that it does fall in the 'Sphere of Influence' of India and might not be able to shift or drift to the Chinese side so easily.
However, in the current crisis, India must continue to follow its policy of non-reciprocal, benevolent 'Neighbourhood First' and seek for building greater ties with the Lankan people, if not the Lankan government, with its generous neighbourly assistance- basically enhancing the people-to-people contacts on the same lines India did with Afghans throughout all those years. Such goodwill, amidst Chinese actions of luring Pakistan & Sri Lanka into lucrative deals and pushing them into debt traps which fuel economic crises, would contribute to positive-image building of India in the eyes of Lankans, extending its 'regional soft power hegemony' in South Asia, or as New Delhi would like to call it 'its own backyard'.
India needs Sri Lanka for BIMSTEC (Bay of Bengal Initiative for Multisectoral Technical and Economic Cooperation), its own 'SAGAR' doctrine as well as its vision of Indo-Pacific and thus, India should strike the 'strategic iron when it is hot' to secure its Indian Ocean neighbourhood. The latest tour of India's External Affairs Minister to Maldives and Sri Lanka for BIMSTEC summit complement this strategic thought. New Delhi must continue to make strong and genuine efforts as well as aforementioned moral strategies to sustain its 'Sphere of Influence'.
The views and opinions expressed in this article are those of the author and do not necessarily reflect the views of The Kootneeti Team