Biden ensures belligerent Xi Jinping's last laugh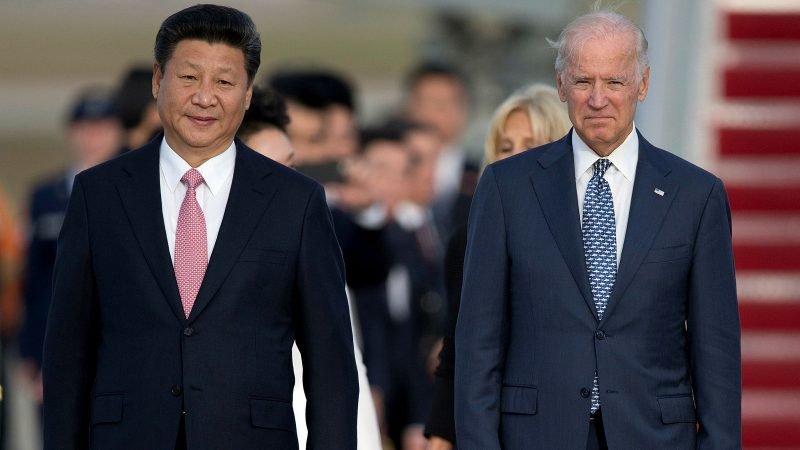 The prominent presence of Taiwan's de facto ambassador in the US Presidential inauguration on 20 January 2021 overcoming four decades of precedent was presumed by many geopolitics experts then that Joe Biden true to his words would bring America to the world central stage in contrast to his predecessor Donald Trump policy of withdrawal with visible exception of Indo-Pacific. In his inaugural address, Biden said, "We will repair our alliances and engage with the world once again, not to meet yesterday's challenges, but today's and tomorrow's. American leadership must meet this new moment of advancing authoritarianism, including the growing ambitions of China to rival the United States and the determination of Russia to damage and disrupt our democracy." Here, it is needed to mention that the Republic of China (RoC) or Taiwan is a frontline democratic state vis-à-vis authoritarian communist China, the latter has been in the meanwhile grew both economically and militarily as the biggest geopolitical competitor of not only superpower democratic US but also poses considerable threats to other vibrant democracies such as Japan, South Korea and India in her immediate vicinity. Already China has butchered democracy in Hong Kong prematurely, she agreed with the United Kingdom, the earlier ruler of the western colony/outpost in Asia, to preserve for fifty years post transfer of governance.
People's Republic of China(PRC) or China becoming a competitor to only superpower, which leads to multipolar from existing unipolar world order, is not a bad idea as only one superpower is not at all good for civil world order. But when the new one and that too an authoritarian regime ruled state grows at the cost of her smaller and weaker neighbours that raise eyebrows. Per example, revisionist China taking advantage of her new status first thwart and later manipulated the World Health Organization (WHO) investigation of Covid19 origin, a dreaded pandemic that killed millions, pushed billions to untold poverty and pushed the world economic back by decade, a crime against humanity. As if this was not enough, China threatened Australia for being outspoken against her over WHO investigation. Apart from above, China has virtually occupied the South China Sea (SCS) -an international water body and common heritage of the entire human civilization- and sabre-rattles its littoral countries. She threatens democratically run Taiwan to occupy her by force calling the island nation a renegade territory of China. And PRC, based on some self-manufactured historical facts, has got border disputes with all her neighbours. Right now People's Liberation Army (PLA)'s lakhs of armed personnel sitting on Himalayan height after bloody skirmishes in 14-15 June 2020 that killed 20 unarmed Indian soldiers throwing to Pangong Tso lake the agreements both India and China signed in the mid-1990s to maintain peace on the LAC till border dispute is settled.
Within a month time of the inauguration, President Biden went on calling over the phone the head of governments of all strategic allies and strategic partners of the country spread all over the world. And he on his own initiatives hold both virtual and physical summits of Quadrilateral Security Dialogue or QUAD with member countries, invigorated in late 2010s thus assured the democratic world that truly US under his leadership was back fully 'engaged' in the world centre stage. Also on 9-10 December 2021, he held 'The Summit for Democracy' as per his post-inauguration statement "Democracy does not happen by accident. We have to defend it, fight for it, strengthen it, renew it."
The statements and promises are made. But when they come to action, President Biden not only has surrendered but also dangerously messed up the existing world order which was comparatively better than what he has been doing contrasting his statement and vow as quoted above. The way President Biden sticked to his predecessor's forces withdrawal plan from Afghanistan saying 'Americans are not there for nation building, and for generations of wars' handing over the burgeoning democracy to dreaded Islamic terror outfit Taliban dismayed all hope of his commitment to defend, strengthen and renew democracy.
On 15 September 2021, a trilateral security pact between Australia, UK and US announced for Indo-Pacific region. Under the pact, the US and the UK will help Australia to acquire nuclear-powered submarines and cooperation on cyber capabilities, artificial intelligence, quantum technologies and additional undersea capabilities. But the pact was signed at the cost of strategic partnership that Australia had with France's Naval Group signed in 2019 for the provisioning of diesel-powered submarines. Within day of announcement of AUKUS pact in The White House, France withdrew her Ambassador to Washington and Canberra. France president E Macron refused to attend the telecall from the Australian PM. After a lot of persuasions, France sent back her Ambassador to the US. France, America and Britain are strategic allies as all of them are members of NATO, the most significant military grouping in the world which survived the Cold War and post-CW and has been active in various conflicts resolution on the surface of the world. AUKUS Pact could have been handled without irritating France which is a residential power with naval bases in Indo-Pacific.
During Covid rein, the US under Joe Biden failed to show the unipolar superpower leadership. Despite agreeing in QUAD summit to lead the world for vaccination, his administration blocked the export of essential ingredients for producing life-saving vaccines in India, the recognized vaccine manufacturer of the world though India reminded her supply of drugs during Covid pick in the US. Later India stopped Indian made ingredients to manufacture vaccines in US as a retaliatory measure that worked. Here, it is very essential to mention about the US blocking of the vaccines 4-5 times of its actual requirements depriving poor countries' shares.   
Coming back to the ongoing war in Eastern Europe, though Vladimir Putin's Russia deserves the most of the blame for the aggression on Ukraine and imposition of untold destruction and miseries on innocent Ukrainians, US President Joe Biden is no less responsible. In fact, many of his countries lead NATO policies in so far as stubborn eastward expansion of the military alliance despite the absence of USSR era threat and 1990s promises not to expand eastward and Biden's own statements have fueled the raging fire in Ukraine which directly and indirectly impacted the entire world which has not yet fully recovered from two-year-long devastations of the dreaded pandemic, allowed by China to spread allegedly for strategic region.
At the time of Afghanistan's withdrawal, many geopolitics experts were of the belief that Biden following the policies of his predecessor in The White House concentrated in the Indo-Pacific in view of the Chinese threat. But instead, he opened another dreaded front in relatively peaceful Eastern Europe over an issue that could have been better handled diplomatically. Many fear the way and manner the Ukraine issue is being handled, it may be Europe's Afghanistan. And who does know what Afghanistan issue contributed to the promotion of monstrous terrorism which surfaces every now and then? During more than one month long ongoing war, the world has witnessed a realignment of countries more dangerously than what had taken place post-WWII mostly in Europe and North America. In this situation, the authoritarian Xi Jinping seems to have the last laugh.
Though NATO has so far remained intact, the crack in it, which had taken birth on 15 September last year with the announcement of AUKUS pact, is now visible when France President Macron said "I wouldn't use those terms" denouncing President Biden abuses of President Putin using terms such as "killer", "butcher", "war criminal" and "can't remain in power" at the cost of diplomacy, and with clear regime change agenda. France, a veto-holding power in UNSC, is second largest economy in European Union, the seventh largest economy in the world and a significant military power. Biden should not forget that Russia meets 40% gas and 35% crude oil needs of Europe. Lately Biden Administration pressuring India and China to join western sanction against Russia though NATO countries continue to procure oil and gas from Russia via Ukraine as most of the gas and oil carrying pipelines passes through war ravaged territory. Here I like to remind all concerns that in diplomacy national interest matters the most. In the meanwhile, Saudi Arabia and UAE refused to concede to US pressure to increase crude production to stabilize fuel price during the war, Brazil joined hands with Russia, war-ravaged anti-US Syria's President Assad visited US ally UAE in the oil-rich gulf region, Japan and Australia refused to condemn India's stand in UN over Ukraine war and China hawkish Foreign Affairs minister visited New Delhi unsought. And oil rich Saudi and UAE getting closure to China. It is only a matter of time before the military superpower Russia is joining China's bandwagon.
The views and opinions expressed in this article are those of the author and do not necessarily reflect the views of The Kootneeti Team