Hun Sen Seeks State Capture World Record with Clan-based Succession
Cambodian Prime Minister Hun Sen will celebrate the 37th anniversary of his accession to power on January 14. The world record for longevity in office as president or head of government is contested with just a handful of African dictators who, like Hun Sen, confuse state capture with the exercise of power.
Having seized the power and wealth which the state represents, the temptation for any autocrat is to try to keep it permanently in his hands. If those hands have blood on them, as those of Hun Sen do, this is the best and only way to guarantee impunity.
Officially, Hun Sen will be 70 years old on April 4, 2021. His real date of birth is unknown, as for many rural Cambodians of his era. As he has grown older, Hun Sen has always looked for every possible pretext to hang on to power. His first argument is that he is indispensable and irreplaceable.
In a speech on January 14, 2018, to celebrate the thirty-third anniversary of his accession to power, Hun Sen said that even if he wanted to retire, he wouldn't be able to "because the country needs me." A few months before that, he had said he intended to stay in power for another 10 years. 
Hun Sen knows that he can determine the length of his rule as he wishes. The police state which he heads and the system of institutionalized electoral cheating that he has put in place will send as many deputies as he wants to the national assembly to rubber-stamp his position.
The only problem is his advanced age, his health problems and the limits of his physical strength. Time is working against Hun Sen, and not in his favor. That is certainly the reason why, for the last three years, he has been less categoric on how much longer he intends to rule. There is a legislative election scheduled for 2023 and another in 2028 when Hun Sen officially will be 77 years old.   
Keep It in the Family
So Hun Sen has recently started to push forward with his succession plan faster and with ever greater insistence. The plan is for his eldest son Hun Manet, now aged 44, to take over.
After studying in the US and the UK, Hun Manet very quickly rose through the ranks to become the interim commander in chief of the army. In the same year, he also joined the very restricted circle of the Cambodian People's Party (CPP) permanent committee, formerly the Politburo. His principal role so far has been to prevent any attempt at a coup d'état and thwart any attempted plot against his father, who is suspicious of some of his CPP colleagues.
The process accelerated on December 2 as Hun Sen declared his "complete support" for Hun Manet's candidacy to become prime minister. This declaration was a surprise in terms of its timing. It was followed by an orchestrated flurry of motions of unconditional support for the plan. This betrays a certain resistance to the family succession within the CPP.
Sar Kheng drags his feet
Minister of the Interior Sar Kheng, who is seen as Hun Sen's principal rival, distinguished his position from that of others by giving his support to "any decision taken collectively by the CPP." The subtext is that this does not apply to an individual decision taken by Hun Sen. The prime minister has not managed to intimidate everyone into taking his desires for orders. Alongside Sar Kheng, there are also army generals like Pol Saroeun, Meas Sophea, Kun Kim and many others who have been marginalized and penalized to make way for the rise of Hun Manet.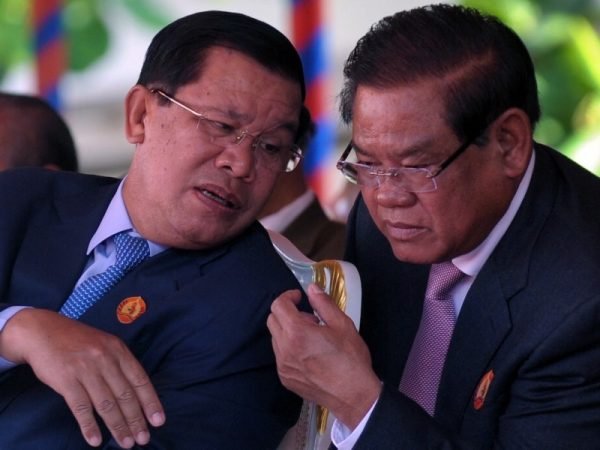 As I wrote in The Kootneeti on March 28, the fall of Egyptian President Hosni Mubarak in 2011 after he sought to hand power to his son must haunt Hun Sen. The prospect was unpalatable to Egypt's military establishment. The army, therefore, allowed the population to protest against Mubarak, who had ruled Egypt for 30 years, without intervention. Using unprecedented popular pressure from the street as a pretext, the military finally forced Mubarak to transfer power to the Supreme Council of the Armed Forces. Mubarak finally had to stand trial for his alleged crimes.
It was probably the need to avoid this "Egyptian risk" that led Hun Sen to take another initiative announced two days after the ambiguous reaction of Sar Kheng. This was to convoke a meeting of the CPP's central committee on December 24 to validate the proposal for a future "government of the young" to take over after the legislative election of 2023. New leaders aged under 60 are to take over from the current generation, most of whom are aged around 70 or even 80.
Succession of the Clan
The most important point of this announcement is that these young leaders in waiting will all be the children of current leaders, notably members of the permanent committee. As well as Hun Manet, there will be the children of Sar Kheng (minister of the interior), Men Sam An (deputy prime minister), Say Chhum (president of the senate) and Tea Banh (minister for defense.)
The political dynasty which Hun Sen wants to establish with his son Hun Manet will become a clan-based succession with other leaders also replaced by their own children. This is a new and probably unique form of political corruption designed to give other CPP figures a stake in ensuring Hun Sen's impunity for the long list of murders and other crimes he has committed in his long reign as prime minister. Time will tell if they will be so easily satisfied. There is nothing more anachronistic than reducing the future of even such an authoritarian country as Cambodia to a family affair.
The views and opinions expressed in this article are those of the author and do not necessarily reflect the views of The Kootneeti Team