[Event] COUNTER EXPO 2022: Women in security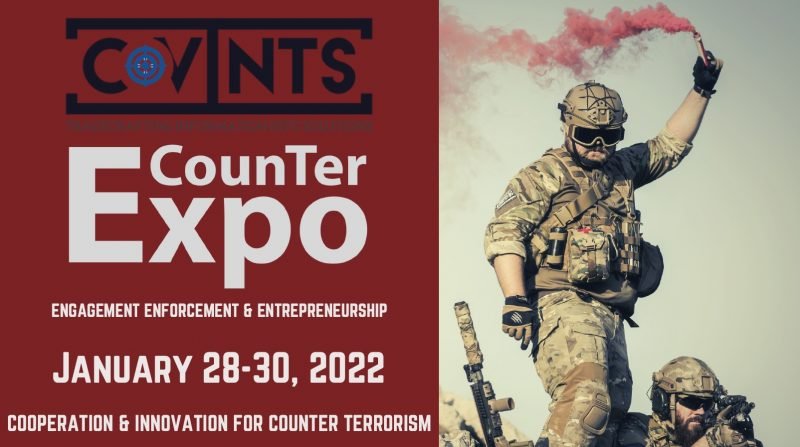 Counter Expo 2022 in a panel discussion carried a discourse on "Women in Security". Panellists included Gillian Sweny, Sqn. Ld. Priyanka Bhattacharya, Maj Neha Patel, Cynthia Farahat, Srwa Khaleel, Dete Aliah and Amalina Abdul Nasir as esteemed Speakers for the Panel Discussion and Sylvia Laksmi was the session chair for the discussion. The session was essentially focusing on the role of women in security and how they as a woman has dealt with both achievements and challenges.
Dete Aliah initiated the session who is working as an Executive Director in SERVE, Indonesia. She introduced herself by making the audience know of her educational qualification. She has completed her postgraduation from South Korea and her expertise lies in apprehending radicalism and terrorism as an issue. She said, "Now women have a considerable inclination towards issues of national concern like terrorism".
She remarked that people ought to think that terrorism is very masculine but today even women are playing their role in radicalizing their husbands with respect to finance extremism.
Sqn. Ld. Priyanka Bhattacharya stated that she has served IAF for 10 years. She said that after her education, she was being exposed to various systems like communication, aircraft and cyber security. Currently, she is working as a Business Operation head of Spica Systems Inc. which specializes in enterprise 5G as well as cybersecurity services. According to her, 'security is the state of being free from danger'. She believes that cybersecurity is pertinent and gaining its momentum from the national, financial and personal perspective. Furthermore, she added "I'm very optimistic about the fact that security is everybody's concern. It is not only about women in terms of getting aware and getting substantial cushioning from the society, but it is also, in fact, the blooming time when women will step out and can add lots of value to the national security".
Srwa Khaleel works as a CBRN Instructor and course designer. She added that CBRN means the use of chemical, biological and radiological nuclear warfare agents by the terrorist as a weapon to attack people and harm the environment. Speaking of her experience as an instructor, she put forwards her responsibilities encompassing detection, monitoring, assessment and rescuing victims. She also articulated her responsibilities as a CBRN advisor where they are accountable to enable the first responders to respond effectively and timely during the terrorist attacks whilst helping the stakeholders and decision-makers to make the right decision during attacks.
Srwa Khaleel added, "During my study and career, I met many women who started to work as CBRN advisors and responders. However, we have noticed that the participation of women is less than the of men." She addressed the challenges faced while working as a CBRN advisor, especially in terms of family as they were questioning her job because of the risk involved in it. Concluding her address, she stated that all the ladies should know the trick to deal with their families. She mentioned that "it is crucial to talk to our families about our work and achievements on a regular basis. It is vital to let them know of our position and importance regarding the field we are into."
The moderator Sylvia Laksmi raised a question with respect to the role of women to play in financial extremism from Dete Aliah. According to her observation, In Indonesia women are in financial extremism for a long time but they mostly work as a domestic support agents backstage like they are becoming the agents to pass the packages from one man to another within the terrorist groups or educate their children to be the part of Jihad and now they are also coming upfront to be suicide bombers, operations etc.
Dete Aliah shared her views on how "women in Indonesia are encouraged to be part of such movements by provoking them religiously and simultaneously propagating that Indonesia is in emergency and as a woman and it's their responsibility to become part of Jihad". After a substantial investigation, it was found that in ISIS, there are 39 women who were arrested and 300 women who travelled to Syria to join the ISIS group. The number is increasing because of the propaganda by ISIS. The agitprop is wrapped up with political, economic and social motivation. Further, their promises are covered with the ideology of getting into heaven and bringing 40 family members with you.
She affirmed that today the government are looking at them as a threat because today women can do what men can. Women are used by these groups as strategies because the government has no qualms. She also stressed the challenges faced by women in security from the side of government as well as terrorist groups. Sometimes government suspects you being on the side of terrorist groups.
Sylvia moved on to the next question and asked Sqn. Ld. Priyanka Bhattacharya that How it was to serve as a female in the Air force and were you treated differently than your counterpart?
She answered that when she joined the air force in 2004, the percentage of women in the Indian Air Force was considerably less but diversity is welcomed by premium organizations like the Indian Army or Indian Air Force. She was cherishing the time she spent with her unit in IAF. She was remembering that there were around 300 men and they were seeing her as if she has come from a different planet as the sensitization was not there. She further added that her supervisor who was also her commander at that juncture imparted her with the principle of professionalism. She said that it is important to be professional and integrity should remain intact. It is about thriving towards excellence because excellence is achieved by ordinary people. It is not achieved by a particular number of genes; I would say dream big and chase that dream. In the last, she concluded "When I entered a man world, it was different from mine because it was supposed to be in the sense that the map is different.
After the significant discussion from the speakers, Sylvia invited Cynthia Farahat who is a Counter-Terrorism Expert and recalled that she originally wanted to be an artist but she mentioned that  at the time of President Mubarak's regime, the government decided what the citizens will study so they decided on behalf of her to go to law school. She mentioned that she is from Egypt and that the government at that point decided who will you going to become and what will you be going to do in everyday life. Gradually, she thought to explore journalism and thus she studied Islamic terrorist groups as she wanted to know how and what they think. She went down memory lane and narrated the events at the time when she found her own liberal party in the history of modern Egypt. She stated that for the first 2 years in the party she was monitoring all the discussions. There were a lot of pushbacks to the presence in her party because she was a woman and some of her ideas were not accepted unless she would run them through a male colleague. She admitted that it required a lot of patience. Eventually, she became the expert in her niche and has written an extensive book on her 23 years of research on Muslim brotherhood which she believes is the core of Islamic terrorism.
She mentioned that presently things are better in Egypt, but when she resided in Egypt, she encountered 50 death threats a day for her work and even had to hide her work from the family. It was until 2-3 years after founding the party, her family knew what she is involved in. She stated that "I told them because I was supposed to be in the newspaper the next day". Further, she added "Before that, I use to tell them that I am going to a dinner with my family" It was a dangerous situation as she spoke briefly of her ban in public and in Egyptian newspapers. She was banned to get entry into Lebanon and Nigeria and was charged for blasphemy. She disclosed that she escaped her assassination attempt on October 9, 2011.
Thus, she decided at that point to migrate to the US where the position of women is strong and the laws are stringent. She happily stated that "the same newspaper which interdicted me before has now asked me to be the columnist on their paper"
She wrapped her address by stating that "Things got changed and I got the significant amount of closure"
Maj Neha Patel served in the Indian Army for 12 and half years. She categorically stated that the population of army officers with respect to women is only 4%. She mentioned that she loved each minute and each second being in the army. She is an MBA graduate from IIM Indore. She was posted to field regions at the time she served in the Indian Army. Being single and physically fit, you are treated as one of the men.  She was operating as DQ who is the advisor to Brigadier. Her expertise lies in logistics and procurement. She recalled her interaction with people in the area infested with terrorism. She said "I realized that women on either side are equally involved in terrorism or security. She shared that if we try and prove our metal with work and professionalism, then gender biases are not an issue.
Gillian Sweny, the Director Marketing of Agile Blue, New York recalled her time when she commenced her career as an executive marketing assistant. At that period she also picked up To prove herself, she worked day and night. Gradually, she worked with some big brands as well and then moved back to Ohio because of her family which is important to her too. She clearly stated "I started working there in an agency space but I understood that agency is not for me and I switched over to cybersecurity.
She mentioned that the conversation that we do on daily basis are mostly driven by men and in order for her to be heard in the meetings, she vouches to speak up. She further concluded that her team is supportive and patient with her.
The last speaker for the session was Amalina Abdul Nasir who is a Global Intelligence Analyst. She belongs from Singapore and she started her career as a counter-terrorism specialist in a think tank in the United Kingdom.  She has been a part of distinctive themes in South-East Asia. She commented on the government's concern of threat from women in regards to terror networks which is not limited to the private but also the public sphere.  
Amalina concluded the session by enunciating the importance of having a mentor or someone who can guide you as a young woman in a male dominated field. Her mentor is her supervisor. She uttered "As I embark on this journey, I learned how you carry yourself and earn respect through professionalism and guidance."
The views and opinions expressed in this article are those of the author and do not necessarily reflect the views of The Kootneeti Team