Power-sharing in Afghanistan: A Peace process or promotion of terroristrocracy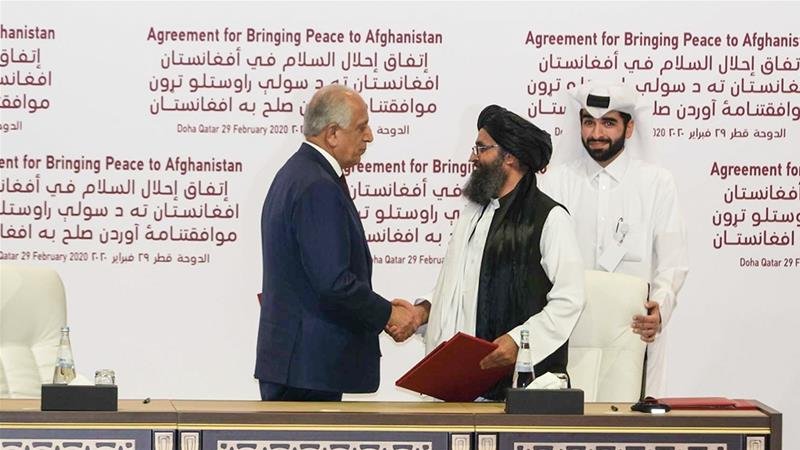 Relentless terrorist attacks perpetrated by the Afghan Taliban, which had erupted just after Afghanistan's Soviet civil war, creating the environment of apprehension for the fulfilment of some political objective has been destabilizing entire Afghanistan leading to an adverse impact on the strategic connectivity between South Asia and the Middle East. It is noteworthy that the peace and stability is prerequisite to the sustainable and inclusive development of any country. Afghan peace talk has been more relevant after the Trump administration's announcement regarding the withdrawal of all US troops from Afghanistan by May 1, 2021.   
In fact, the assassination of the commander of the anti-Taliban Northern alliance Ahmad Shah Massoud by al-Qaeda operatives on September 9, 2001, had manifested the nexus between Afghan Taliban and al-Qaeda. Terrorism expert Peter Bergen has conceived of this assassination as the "curtain-raiser for the attacks of 9/11". It is noteworthy that US President George W Bush launched the "war on terror" by signing into a joint resolution for using force against those who were responsible for 9/11. It has been embraced as the legal rationale for invading Afghanistan, eavesdropping on US citizens without a judicial order, and operating detention camps at Guantanamo Bay, Cuba as counter-terrorism measures.  
It is noteworthy that the Biden administration has emphasized restarting negotiation with the Afghan Taliban for ensuring long-lasting peace and complete withdrawal of US troops by May 1, 2021. For this, unlike the previous Trump administration's conviction that India has played no serious role for peace in Afghanistan except openings som libraries, Anthony Blinken's letter to Afghan President Ashraf Ghani has insisted to work with regional powers including India, which share the common national interests in peaceful and stable Afghanistan. 
US administration has proposed the urgent power-sharing of the Afghan Government with the Afghan Taliban alongside proper compliance of commitments by both sides in order to bring about a permanent and comprehensive ceasefire. Moreover, the USA's high-level diplomatic efforts including a request to the UN for convening a meeting among foreign ministers of Russia, China, Pakistan, Iran, India and the USA have been discussed. The USA has even finalized Turkey as a host nation for this unprecedented and absurd peace-cum-power sharing agreement. 
A revised proposal for 90 days reduction in violence to prevent a "spring offensive" by the Afghan Taliban in the absence of the US forces was also described. Unity and inclusivity on the Islamic republic side have been conceived as the prerequisite to get rid of up-coming challenges. Blinken has argued with Ashraf Ghani to build consensus with other political leaders to make unanimity on specific goals and objective for negotiation with the Afghan Taliban about governance, power-sharing, and other guiding principles.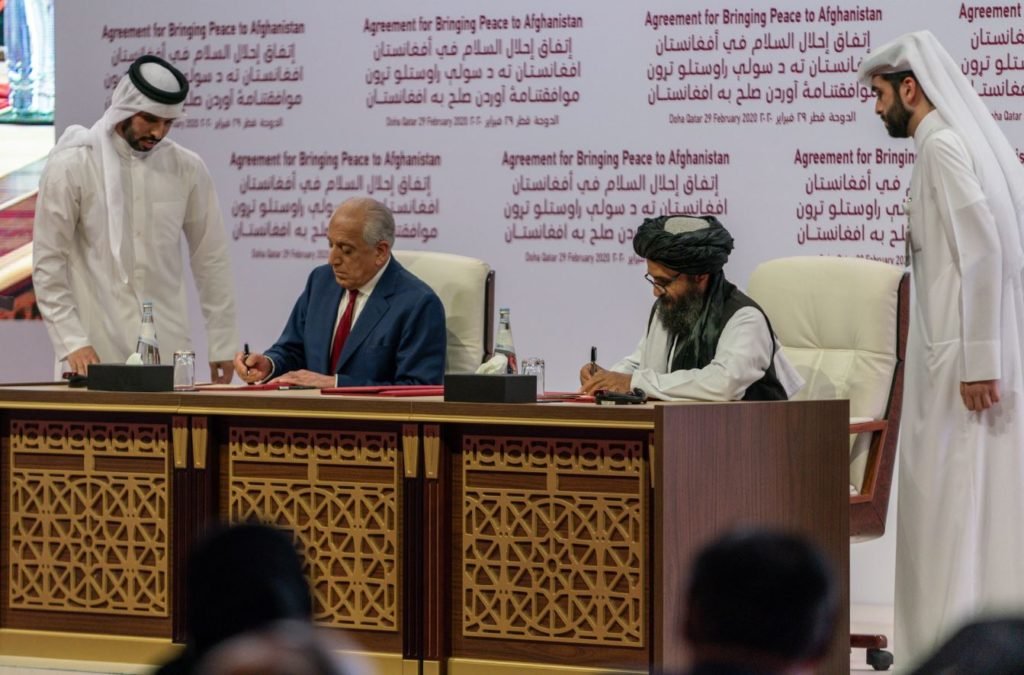 It is noteworthy that a proposal published on 28th February in Tolo news pointed out guiding principles of interim government; which includes Islam as the official religion of Afghanistan, a high council of Islamic jurisprudence for guiding all level of government along with independent judiciary possessing the last word, protection of women's rights and national policy of transitional justice. It pointed out that the "transitional peace government of Afghanistan" shall include separate but coequal executive, legislature and judiciary. This proposal includes two options for the executive- a president and unspecified numbers of vice-presidents or a president and a prime minister and an option of equal number of judges to be appointed from both sides in the supreme court.  
But another aspect of the USA's this proposal raised questions regarding the effectiveness, relevance and credibility of compliance by both sides. It is conferring the power-sharing in Afghanistan's governance to the Taliban, which has been relentlessly launching terrorist attacks intimidating the entire humanity along with perpetrating a massacre of the innocent peoples. In the Munich security conference, US President Biden has emphasized consolidating democracy globally, but this proposal of the Afghan peace process is explicitly contradictory to it. Power-sharing is being awarded to the terrorist group as a consequence of its all terrorist activities. This entire proposal puts absurdly the democratically elected government and terrorist groups side by side. But it has been ignored in this entire process that there is no guarantee of complete compliances of the negotiations from the Taliban side, which is not responsible at all. If power-sharing is carried out, the terrorist organization will also have an opportunity to use even armed forces as per their personal interests; that condition would be much more catastrophic when even Afghan armed forces will not be able to launch counter-terror operations against any terrorist group including Afghan Taliban. Thus, it will be a very suicidal attempt for Afghanistan; democracy will be transformed into self-sustaining terroristrocracy.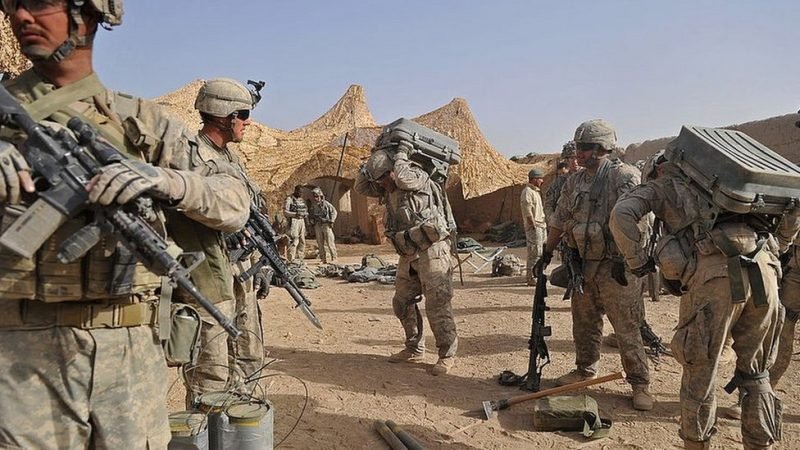 Furthermore, the USA's this proposal demands the important role of Pakistan, whose "proxy war," as Canada's former ambassador to Afghanistan Chris Alexander has asserted, was a conclusive obstacle in restoring peace in the country. Alexander has further highlighted that the Afghan Taliban and its allies had continuously received support from Pakistan's army particularly Inter service intelligence (ISI) and there would be no peace without the end of this proxy war game of Pakistan. Taliban has realized, as Chris Alexander has contended, that violence is the only leverage. He further pointed out that Afghanistan has been the main threat for the ISI in the irregular warfare efforts; because the Taliban regime installed between 1996 and 2001 by ISI had fallen, which Pakistan want to reinvigorate in order to subjugate the neighbouring country. In the Moscow conference, Russian foreign minister Lavrov has contended that Afghan peace can be restored only through negotiation, compromise and signing an agreement that would serve the interests of all key ethnic and political forces of the country. But it has also not rejected the power-sharing formula. 
In fact, all these proposals have completely manifested the lack of confidence in Afghan security forces. USA has only contended that without power-sharing, the Taliban would launch a total war for territorial gain after the complete withdrawal of US forces from Afghanistan. Contrary to this, there is a need to facilitate the Afghan forces to enhance their counter-terrorism operations capability. It will not only obstruct the further spread of terrorism in Afghanistan, but it will also prevent any type of compromise with democracy. All the developmental activities will enhance the anti-terrorism environment as well as restoration of long-lasting peace. Ashraf Ghani's reiteration during his meeting with US envoy Khalilzad in Kabul that any transfer of power can be carried out only through a democratic process rather than the apprehension of further terrorist attacks is a welcome step. Option of the power-sharing only through democratic elections has been slammed promptly by the Afghan Taliban. So the only reasonable option for peace and stability in Afghanistan is the strengthening of the Afghan army for counter-terror operations as well as promoting developmental activities.  
The views and opinions expressed in this article are those of the author and do not necessarily reflect the views of The Kootneeti Team