Chinese blitz on Wrangling Waters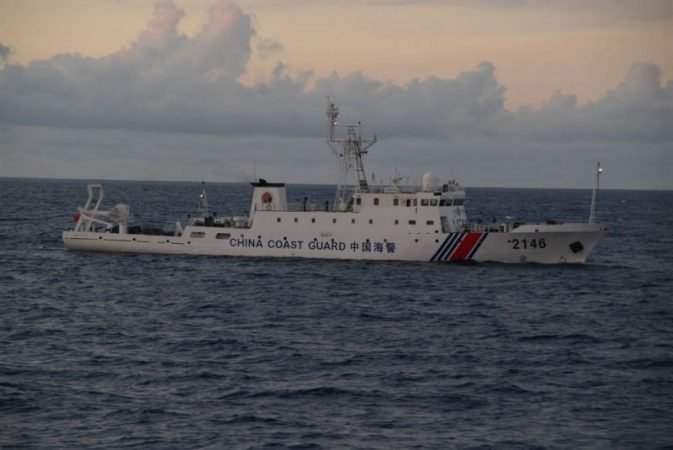 Chinese vessels repeatedly entering into claimed islets/waters of Japan
This group of uninhabited islands are one of the biggest issues of contention between China, Japan and Taiwan. It's not only an issue of territorial dispute it poses an opportunity for Japan to extend its EEZ cover over the East China sea. China has reservations on the basis of its legacy lasted on islets from 1372 AD while Japan claimed its rights based on Potsdam declaration. From 2005 onwards the conflict grew as China forcibly expanding its operation deeper into the islets by patrolling, fishing trawlers, mapping sensors etc. Taiwan extends its claims post-2005 push by opposition KMT on the democratic establishment.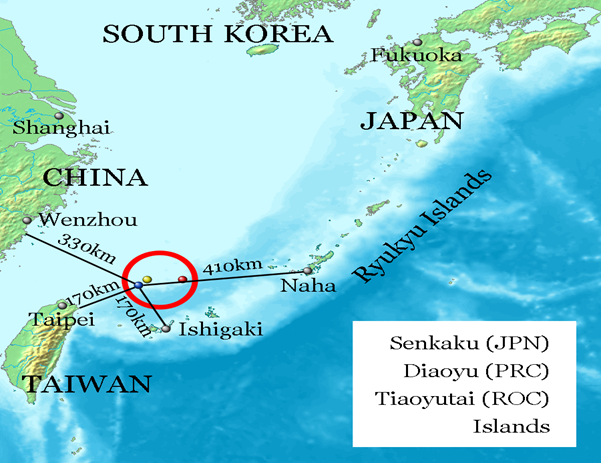 Composition of Islets
The total area is only 5.53 sq. km. And it only contains flora and fauna including endemic species. But the important thing here is to notice is that it has a rich fishing ground. Japan claimed after the incorporarion of these islets in 1895, around 200 Japanese citizens resides and ran businesses there like dried bonito, bird feather collection etc. But the same claims are drawn by Chinese government that they habituated islets from 1325 AD onwards, prior to Japan.
| | | |
| --- | --- | --- |
| Uotsuri Island | 3.81km2 | 170 km northwest of Ishigaki Island (Westernmost point of the Senkaku Islands) |
| Kuba Island | 0.91km2 | 160 km north of Ishigaki Island, 22 km Northeast of Uotsuri Island |
| Kitakojima Island | 0.31km2 | 160 km north of Iriomote Island |
| Taisho Island | 0.06km2 | 150 km north of Ishigaki Island, 103 km east of Uotsuri Island (Easternmost point of the Senkaku Islands) |
| Minamikojima Island | 0.40km2 | 160 km north of Iriomote Island |
| Okinokitaiwa Island | 0.03km2 | 160 km north of Ishigaki Island, 6 km northeast of Uotsuri Island |
| Okinominamiiwa Island | 0.01km2 | 160 km north of Ishigaki Island, 7.5 km northeast of Uotsuri Island |
| Tobise Island | 0.002km2 | 160 km north of Ishigaki Island, 1.5 km east of Uotsuri Island[1] |
Flammable Pointers
Currently the Chinese vessels are pointing their bows toward the Japanese fishing boats as the newly unilateral crafted law empowers them to fire on foreign vessels in disputed waters. In the current condition neither Chinese nor Japanese leaders are in position to handle this prolonged confrontation as both are in reviving stage of respective economies. As the anti-Japan protests recently halted in China, escalation of conflict results into interrupted production and will trigger respective boycotts. As we know, in the last decade bilateral trade of these countries tripled to ~$350 billion and China is now Japan's major export destination. In East Asian production network, these two nations are complementary to one another hence resulted in largest share of sophisticated device manufacturation. If this conflict arise, manhandling of trade and commerce will surely upsurge which can cost around 6-7% rise in production. Processing related imports from South Asia will facilitate by China which will bump costs of electronic components in international market by at least 2-3%. Regional economic and trade considerations also affect the calculus. Both countries are competing for access to resources from hydrocarbons to base metals. Bilateral tensions are raised every time a deal is struck, such as determining the route for the Russian oil pipeline serving Asia or awarding extraction contracts in Myanmar. Surely, the Japan's growth is less resource intensive compared to China but the 40-45% cost cutting is possible due to Chinese mini tech capabilities.
The other aspect is politically tinged international trade system in East Asia. Post-TPP Japan is busy in carving new trade architecture in the region which will ensure its free operations but will tame Chinese exposure to global trade. Shifting of production facilities from Chinese lands to South Asian coastal countries is one among the strategies.
China also has to consider the fact that Senkaku islets comes under the jurisdiction of US-Japan Defense Pact which ensures Japan its safety and security under common umbrella. In the very first interaction between newly elected POTUS Joe Biden and Japanese PM Yoshihide Suga; the former assured Japan specifically on these islets. China has to consider role of USA as the trade sanctions are new fashion in this globalised form of economical model (i.e. Economic Globalisation by Immanuel Wallerstein). Mercantilism and Consumerism are market hinders which restrict China to escalate this issue prominently.
As per the observations it has rich fishing grounds where a larger population of Bonito fish is found. It is widely marketed as Tuna fish which is consumed throughout the world commercially. According to the WWF, Japan's huge appetite for tuna will take the most sought-after stocks to the brink of commercial extinction. In recent years, opening day fish auctions at Tokyo's Tsukiji fish market and Toyosu Market have seen record-setting prices for tuna, reflecting market demand. Not only in Japan, tuna is integral to East Asian and French meals atleast once in a week. Some very delicious, cultural valued and famous foods have important ingredient of Tuna fish like Sushi, Tekkadon, Mojama etc. Unverified but touted experiences of fishing experts assert that the rich population of Bonito fish reflects the huge availability of oil resources. This possibility also attracts the contenders for future gains in the islets.
On Taiwanese side, native politics of territorial security as well as the Europeans are favouring them to escalate the conflict upto certain level where countering Chinese aspirations on marine borders to be contained. As Taiwan is the very soft pinpoint for global powers neighbouring to China, any mishap with territorial manipulation will lead to big repercussions for regional stability of power.
Conclusion
Nationalist sentiments in all the three countries forcing their leaders to maintain tough stand of islets resulting in exacerbation from time to time. It results into unilateral law making and creating ruckus by minor advancements in high waters. Despite conflict, Japan is seen as serious participant to resolve this long pending issue unlike Taiwan and China. Immediate solution is no say here but joint exploration and share responsibility is the only way out as of now, unless a full-fledged war imposed by assertive China.
The choices before the countries are crystal clear that they can't grab islets individually in any manner. So the ancestral claims will not be settled under new UNCLOS rules, and will result to extend the conflict. Negotiations and common sharing principle among these three countries is the only way out to end this long standing jeopardy. Peaceful rise of contenders has to be the ultimate aim to maintain regional peace and order.
---
[1] Source: Ministry of Foreign Affairs, Government of Japan.
https://www.mofa.go.jp/a_o/c_m1/senkaku/page1we_000009.html
The views and opinions expressed in this article are those of the author and do not necessarily reflect the views of The Kootneeti Team