India calls out Sri Lanka to honour its commitment of ECT Port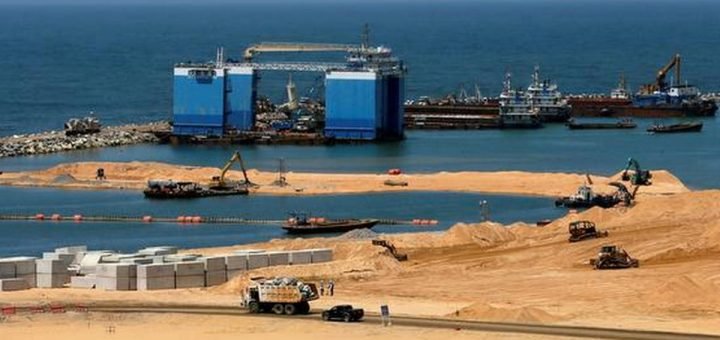 On 1st February 2021, Sri Lankan Prime Minister Mahindra Rajapaksa released an official statement stating that the Eastern Container Terminal (ECT) of Colombo port will now be 100% operated by Sri Lankan Ports' Authority (SLPA), turning down the joint venture of MoC 2019 between Sri Lanka, India, and Japan. Soon after the press release, India bluntly demanded Sri Lanka to fully implement the terms of MoC 2019 and honour its previous commitment to ECT agreement. Further, the spokesperson of Indian High Commission in Colombo claimed that the Sri Lankan government time and again communicated its commitment regarding the ECT to India, including at the leadership level, hence "all sides should continue to abide by the existing understanding and commitment", he added.
Initially, the ECT MoC 2019 instructed for a joint venture in which 100% ownership of ECT will be retained by the SLPA, whereas the Terminal Operation Company (TOC) established for the port development and management purpose will be jointly owned by Sri Lanka, India, and Japan; SLPA retaining a 51% share of the company and 49% share held jointly by the remaining two partners. However, the Colombo Port trade unions opposed this proposal of foreign investors (India and Japan) buying 49 per cent stake in the ETC and demands SPLA to retain full control over the terminal – a demand which has recently mount considerable public opinion against the MoC deal, as trade unions gain the support of SLPP politicians itself. 
It should be noted that ECT agreement from the beginning has witnessed opposition. First, protests by port employees broke out in reaction to the signing of MoC 2019 on May 28, 2019, following which Sri Lankan People's Party (SLPP) members Gotabaya Rajapaksa and Mahinda Rajapaksa came to power as President and Prime minister respectively with a promise that the national assets will "not" be sold out under SLPP government to any foreign country. Then later, Lankan Cabinet memorandum was formulated on October 22, 2020, which stated "It (Sri Lanka) has been decided to award ECT to Adani Group (Indian investor) and Japan in a joint venture", following which Janatha Vimukhti Permun (JVP) induced port workers to carry out protests and strikes against the 'sell-out' to India, thus disrupting the work at the ECT port resulting in economic loss to the country.
As for January 2021 when the Indian External Affair Minister S. Jaishankar paid a bilateral visit to Sri Lanka to put forth Indian's inclination for speedy implementation of ECT amidst protest stalling, the Lankan Prime Minister assured the workers and the parliament that no decision has been made to sell away ECT to any foreign entity and further made strikes of workers' union illegal by declaring port work as an essential service, hence resuming the port's work. Then subsequently, on 13 January 2021, announced Indian Adani Group's and allies' 49% investment in ECT port-project, which again fueled opposition with a final blow-out on 30th January 2021, as port workers and opposition parties staged a work-for-rule campaign in front of SLPA office.
Therefore, succumbed by the ongoing nation-wide protests, Prime Minister Rajapaksa's issued an official statement calling off the Tripartite Agreement with India and Japan, thus assuring 23 protesting Trade Unions and opposition politicians that the Lankan national assets are not being sold out to foreign countries. He further emphasized that negotiation between Lankan committee appointed by Ports Minister and Adani Group failed, as the latter refused to accede the demands of the committee, therefore, the deal has been scrapped. On the other hand, the trade unions have called off their work-for-rule campaign as the Lankan government assured them that cabinet papers regarding the new ECT proposal will be submitted soon.  
Sri Lanka must recognize the daunting financial crisis being faced by the country due to COVID 19 restrictions as Colombo port holds both strategic and commercial importance and is one of the main sources of income for the island and break off from the ECT deal might endanger its 80% of transhipment Cargo for Colombo Port which comes from India. Though, Sri Lankan cabinet looks willing to invite India & Japan to partner in the development of West Container Terminal (WCT), currently non-existent. As foreign partnership for WCT will not generate opposition as it was mentioned in President Gotabaya Rajapaksa's election manifesto that WCT will attract private investment, Industries Minister Wimal Weerawansa stated. Sri Lanka's willingness to switch India from ECT to WCT project can be a substitute move to honour its commitment for upholding New-Delhi and Colombo's cordial relations but given Beijing's stronghold over Colombo port city, one might surmise its intention to stall India's reach to Colombo port, given the strategic location of ECT 3 km away from China-backed Colombo South Harbor (CICT) and Hambantota port and ECT half done while WCT still on paper. 
The views and opinions expressed in this article are those of the author and do not necessarily reflect the views of The Kootneeti Team