India-Myanmar Commercial Relations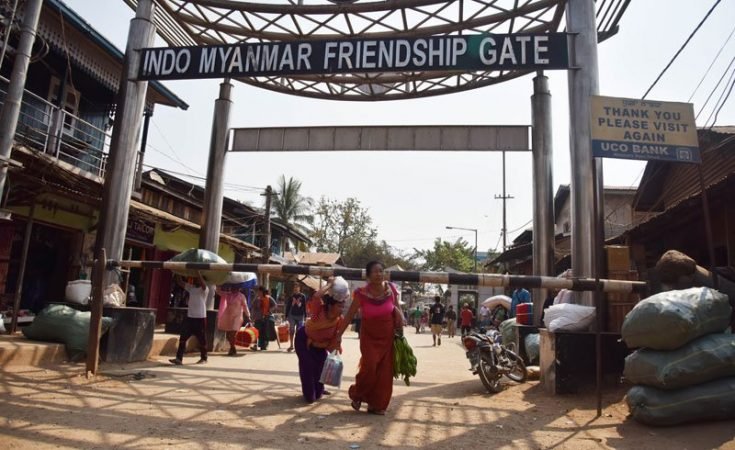 India shares a long land border of over 1,643 kms with Myanmar as well as a maritime boundary in the Bay of Bengal. The Indo-Burmese border separates the Indian states of Mizoram, Manipur, Nagaland and Arunachal Pradesh in North-East India from Kachin State, Sagaing Region and Chin State in Myanmar. India shares religious, linguistic and ethnic ties with Myanmar. It is the only ASEAN country adjoining India. Hence, Myanmar is the first stop for India's Act East Policy as well as its neighbourhood first policy. India's focus on Indo-Pacific, as recently articulated by the India Foreign Minister, S Jaishankar, is also seen as 'logical step of further exploration, beyond Look and Act East policy and break out from the confines of South Asia'.
It is from this vantage that there is a growing realization at New Delhi level to accord significant focus on Indo-Myanmar relations. This has also been reflected in the fact that there have been Heads of Government level visits between both countries almost every year during the past few years, expanding the areas of cooperation between the two countries. People to people and political party visits also reflect the growing all-round interest in both countries.
India-Myanmar relations
Historically, the bonding between the two countries goes back millennia, a shared anti-imperialist struggle provided the foundation for close relations until the establishment of military rule in 1962. The nationalization programme under the "Burmese way to Socialism" particularly affected the Indian minority. Relations have improved since the establishment of a quasi-civilian regime in 2016.
India and Myanmar have several institutional mechanisms to ensure regular consultations between the two governments. The Foreign Office Consultations is led by Foreign Secretary and Permanent Secretary of Myanmar. Commercial issues are discussed in the Joint Trade Committee (JTC) held at Commerce Minister-level. Joint Working Groups are in existence to discuss cooperation on Border Trade and Border Haats, Railways and Shipping. JWs have also recently been set up to discuss cooperation in the energy and health sectors.
Commercial Cooperation
India has been a major trading partner of Myanmar for ages. Since the signing of the India Myanmar trade agreement in 1970, bilateral trade has grown steadily, albeit with a slight decline in the '80s. The growth is, however, not commensurate with the potential and targets set bilaterally at the Joint Trade Committee of the two countries. The bilateral trade has risen from US$ 328 million in 1997-98 to US$ 921 million in 2006-7; US$ 2.18 billion in 2013-14; US $2.17 billion in 2016-17 and the US $1.6 billion in 2017-18.
Bilateral trade has witnessed a 7.53% growth in 2018-19 and current trade figures stand at the US $1.7 Billion. While India's imports from Myanmar saw a decline of 18.47%, India's export to Myanmar witnessed 24.74% growth during the same period. India is the fifth-largest trading partner of Myanmar (though Myanmar's trade statistics are lower). The bilateral trade figures indicate a decline in 2017-18 which is attributable to import restrictions imposed by India on pulses and beans.
Since opening up of Myanmar's economy, new players have started to enter the country aggressively both in trade and investment. There is a huge potential for bilateral trade, investment and other forms of economic cooperation with Myanmar. Thailand, China, Singapore, Korean, Vietnam and Japan have actively seized business opportunities in Myanmar.
The Indian government has worked to extend air, land and sea routes to strengthen trade links with Myanmar. While the involvement of India's private sector has been low and growing at a slow pace, both governments are proceeding to enhance cooperation in agriculture, telecommunications, information technology, steel, oil, natural gas, hydrocarbons and food processing.
Energy security
Energy cooperation is an important pillar of bilateral relations, with India's state-owned and private companies acquiring gas blocs in that country. India has been given the right to build, operate and use the offshore hub for Myanmar gas. Myanmar is potentially an important partner in the energy sector as future offshore gas finds can be piped to India. India currently has a JWG on Oil and Gas and JSC & JWG on Power cooperation.
Food security
Myanmar is the second-largest supplier of beans and pulses to India. Pulses contribute as the single largest item in Myanmar's limited export basket. Another important component of Myanmar's exports to India has been timber & wood articles. Timber exports have, however, slowed down since 2014.
Other than these, Myanmar exports farm, forest, mining, marine and animal products, industrial finished products and other products and imports capital goods, raw materials and personal goods.
Indian export of pharmaceuticals, which enjoys a good reputation in Myanmar, has grown from about US$ 50 million in 2010 to US$ 199.67 Million in 2018-19 which is about 40% of market share in Myanmar.
Potential areas for Indian exports are pharmaceuticals, agricultural machinery, agrochemicals, electrical goods, iron and steel, pulses and beans, investment in plantations, ICT and IT-related products and services.
Investment
In terms of investment, India stands at 11th position with an approved investment of US$ 771.488 million by 33 Indian enterprises as of November 2019. Myanmar's investment in India is US$ 8.97 Million. 13 Indian Public Sector Undertakings have a presence in Myanmar in different sectors. Most of India's investments have been in the oil & gas sector.
Potential sectors for Indian investment are power, renewable energy, agribusiness, food processing, construction-related industries, hospital & healthcare, vocational training & education, mining, oil and gas, refinery, fertilizer, pharmaceuticals & iron and steel.
India and Myanmar have signed a Bilateral Investment Promotion & Protection Agreement (BIPPA) and Double Taxation Avoidance Agreement (DTAA). These agreements are aimed at providing an easy flow of bilateral investments and business profits and for taxation-related matters. Both the agreements have been ratified by India and Myanmar.
38,062 Indian tourists visited Myanmar from January to October 2019.
India's Ministry of Commerce is working on identifying sectors and ways of enhancing trade between the two countries. The LDC status of Myanmar can also be an advantage for Indian companies to benefit from, by having a manufacturing base in Myanmar.
Myanmar can do more in terms of attracting Indian investments from the private sector by organizing investment promotion events in different cities of India showcasing the policies, incentives and potential for investment in Myanmar. The nascent India-Myanmar Chamber of Commerce as a networking body can forge partnerships between Indian and Myanmar private sector players. More interactions with various ministries of Myanmar Government would help in understanding the policy regime, schemes and incentives proposed by the government.
Due to COVID-19 pandemic, there is an impact and loss in the business, trade and travel between India and Myanmar, highlighting the deals and exchanges between India and Myanmar on the export of pharmaceuticals.
Banking and insurance
Cooperation in the banking sector, which is crucial for investment and trade, is moving ahead steadily. United Bank of India and EXIM Bank have representative offices in Yangon. In March 2016, State Bank of India was awarded a Commercial Banking License and it has commenced operations. SBI is one of the 13 foreign banks operating in Myanmar.
There is further need to ease the regulations on operational ease for the Indian Banking system to work more intensely in Myanmar so that investments from India can go up. Currently, some of the Indian companies are using the Singapore route to channelize investments into Myanmar, and they do not figure as an Indian investment.
India and Myanmar have decided to work together to launch India's RuPay Card in that country at the earliest and explore the creation of a digital payment gateway. Its launch would stimulate the economy of Myanmar and facilitate tourism and business from India. The countries expressed that the proposed creation of an India-Myanmar digital payment gateway would help expand options for cross border remittance between the two countries.
Border trade
The bilateral border trade agreement of 1994 provides for border trade to be carried out from three designated border points, one each in Manipur, Mizoram and Nagaland. Bilateral trade through the India- Myanmar land border is extremely low in comparison to overall trade between the two countries and has accounted for less than 1 per cent of total India- Myanmar trade during the period 2011-12 to 2017-18. This is because formal trade across a border involves high transaction cost due to factors such as poor connectivity, lack of quality infrastructure border crossing points, non-tariff barriers, limited trade financing institutions and rampant extortion of informal/ side payments (by insurgents).
In addition, in 2015, the Reserve Bank of India decided to do away with the barter system of trade at the Indo-Myanmar border with the expectation that barter trade will become normal trade. Instead, it adversely impacted border trade due to increased documentation and increased customs duties on imports from Myanmar and trade has shifted primarily to the informal channels, making normal trade negligible. Also, there is a problem of diversion of third-country goods, mainly from China and Thailand, which give stiff competition to Indian domestic producers.
Connectivity lags behind China
China is forming economic ties with Myanmar through the Belt and Road Initiative (BRI) where projects such as the Muse-Mandalay Railway project and Kyaukphyu Deep seaport are in the pipeline. The Kyaukphyu port will be a starting point for an oil-gas pipeline and a railroad link to Yunnan state in China.
Though Bilateral trade between India and Myanmar has grown over the years, it remains below China's trade relations. India exports to Myanmar over US$1 billion and imports from Myanmar are at over US$500 million. However, China's exports to Myanmar are more than US$10 billion (World Bank 2018). Partly, the reason for poor export and import showings is that Myanmar's global exports consist of mainly food, fuel and non-food agricultural products. Myanmar has a high demand for manufactured goods which are met by China that has a competitive advantage over India.
India's bilateral trade with Myanmar has grown gradually but 'connectivity' lags behind China with its massive investments and first-mover advantage in the country.
Conclusion
As pointed out by India's current ambassador to Myanmar, Saurabh Kumar, "In the coming years, with India's ambitious 'Act East' foreign policy, there is going to be a qualitative enhancement of relations between India and Myanmar. This would be realized not only through government to government efforts, but also through a sustained people's awareness, promotion of investment and partnerships with the private sector, businesses and people. Both countries need to work together and learn about each other."
While India-Myanmar shares trade relations in many areas, but post-COVID-19 they can expand their trade relations further in areas such as pharmaceuticals, healthcare, transport, food processing, steel, renewable energy, communication, education and others which can help both the countries to revive and generate employment. Given the sub-optimal performance vis a vis trade and investment, there is tremendous potential and optimism to expand the same.
The views and opinions expressed in this article are those of the author and do not necessarily reflect the views of The Kootneeti Team