The normalisation of Ties Between Israel & UAE a Boon for India, Curse for Pakistan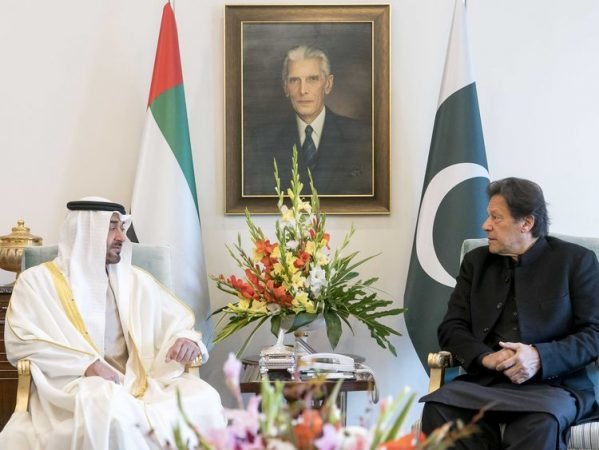 As US President Donald Trump announced landmark normalization of relations between seven-decade-old adversaries-UAE and Israel last week, it brought sudden cheer in South Block as both the countries are closely aligned to India.
Another important factor is that UAE accepting Israel as a legitimate country and moving towards close relations with the Jewish state means putting Pakistan in a fix. Since last few years, UAE has been steadfast in its support to India, be it on trade, human resource emancipation or the Kashmir issue. India gets huge remittances from UAE as 40% of the Emirate's population is Indian. Around 20% of Indians in the UAE are white-collar professionals. As we know, remittances increase the purchasing power of people which drives the consumption market and keeps ticking the demand and supply forward.
Estimating from several reports, at least 40,000 Indian millionaires live in the UAE. Due to income-tax-free provisions of the gulf country, a majority of the money is remitted to the families in India which in turn pushes the Indian economy. UAE has also served as a venue of Indian Premier League (IPL) and other cricket tournaments. Bollywood and south Indian cinema are hugely popular in the UAE and contributes to cultural diplomacy.
India's happiness is natural because Israel is proving to be an 'all-weather friend' for India since PM Modi's ascent to power in 2014. Be it defence expertise, agriculture know-how or recent scientific advancement sharing regarding coronavirus, Tel Aviv and the Israeli people have shown unwavering support for us. Israeli top leadership wishing India in major national days and festivals has become a regular norm. Both countries know that their alliance is mutually beneficial and both have a lot to gain from each other.
Now coming to Pakistan's uneasiness, it's due to multiple factors. It has been a consistent foreign policy of Pakistan to allege atrocities on Muslims in India and isolate New Delhi in global forums, majorly in Organisation of Islamic Countries (OIC) and Organisation of Petroleum Exporting Countries (OPEC). Since abrogation of Articles 370 and 35(A), implementation of Citizenship Amendment Act (CAA) and Supreme Court verdict on Ram Mandir, Pakistan doesn't spare a day in reaching out to major powers and other countries of Muslim Ulema spreading venom against Modi government and inciting them to act against India. In this backdrop, another country hated among Muslims, that is Israel signing a peace deal with a major Muslim Arab nation, the UAE is a blow to Muslim unity because it signals that issue of Palestinian Muslims is no longer coming in way of normalizing ties with Israel. Basically UAE and some other countries which have been reported to move forward towards signing similar peace agreements with the state of Israel have de-hyphenated Israel-Palestine issue. They are no more adopting the same prism to look at both issues.
Reasons are these Arab countries are adopting a path of pragmatism and realism. Israel is a powerful country which has stood the test of times. It has foiled so many attempts of being defeated, dismantled and bruised but it has vanquished all its foes, of course USA has supported it like a rock. With growing Shia-Sunni divide and threat of nuclear Iran, Gulf Cooperation Council (GCC) countries and other Arab states feel that to deter a common threat, aligning with Israel serves a purpose. To assure their core audience, they are promising to continue work for a two-state solution but their actions don't sound that serious.
UAE is also a strong donor to Pakistan, given Islamabad's fragile economic condition. We all know that Pakistan has been saved from near bankruptcy by IMF and World Bank, much to the backing of UAE and Saudi Arabia. Like India, a huge Pakistani population earns bread and butter working in UAE so rejecting or condemning this peace deal is not at all an option for Islamabad. Abu Dhabi's aid to Pakistan is very essential to keep its sinking economy afloat. Islamabad also understands that it's 'cash-cow' Saudi Arabia is also working to normalize relations with Israel. Again, to deter common threat Iran and fall in line with Donald Trump's pro-Israel Middle East Peace Plan.
Hence, the dilemma and isolation of Pakistan grow. Neither can it welcome the plan nor reject it. A country born on the basis of Islam can never side with Jewish Israel over Muslim Palestinian interests. Islamabad cannot dare forget that bombs dropped in Balakot by Indian Air Force last year were made by Israel.
The Pakistani public has reacted violently against this Abraham Accord. Tens of thousands of Pakistanis protested against the normalisation deal across Pakistan, including the capital, Islamabad, the port city of Karachi, Lahore, Rawalpindi, Peshawar, Quetta, Faisalabad and Multan. Jamaat-e-Islami (JI) clerics have vowed never to accept the state of Israel. In such circumstances, they cannot welcome nor show interest in dialogue with the Jewish state, forget about normalizing.
But on the other hand, monarchies like Oman and Qatar may follow UAE's footprints. Informal relations with Israel have existed for some time.
Israeli PMs Yitzhak Rabin and Benjamin Netanyahu have visited Oman. Foreign Minister Tzipi Lipi has recently visited Qatar.
Though these meetings have been kept secret, there is no denying that regional compulsions have softened these Sunni Arab states on Israel. Even, Bahrain and Kuwait, the other two GCC countries, may also follow suit.
The crack in Muslim unity is good news for India. It's clear that Muslim states can no longer be swayed on the issue of Kashmir because similar allegations of Israeli atrocities on Palestinians have not deterred Arab countries from having normal ties with Israel. Times have changed and confidence in India is huge today. Saudi Arabia, Bahrain, UAE and even Palestine have granted highest civilian honours on Narendra Modi. The message is very clear-Arab states understand India's potential and have decided to move ahead to have normal ties. They don't buy Pakistan's argument and see the Kashmir issue as bilateral. They will not intervene, no matter how much Shah Mehmood Qureshi urges them.
US President Trump's excellent equation with PM Modi is another factor that is helping India. In spite of Pakistan PM Imran Khan Niazi provoking White House on Kashmir, Trump has bought Modi's argument and refused to put any pressure on India. India has received the fullest support from America on Kashmir. Francis Rooney, a senior Republican US Congressman from Florida, has asserted that "India is an important ally of the United States and we should support its position in Kashmir". The ruling Republican party has added strength to India's position.
June 2020 Ladakh standoff with China has further impressed USA lawmakers that to keep China at bay, India is a very important ally which it will no way antagonize. Trump's support to Israel in annexing West Bank territories should have outraged the Islamic world but it hasn't. It's because they see Iran as a much bigger threat than Israel, the American presence in Gulf or what India does in Kashmir.
Considering all these factors, Pakistan has been pushed to the wall. It understands that in no way can they accept Israel as it will have to give up Kashmir as well because the same situation applies there. Not to forget, the passport of Pakistan says: "This passport is valid for all countries of the world except Israel." Apart from Turkey, no country is willing to talk Kashmir on Islamabad's narrative. China is already cornered and honestly, it's arguments on human rights don't make much sense anyway given what Beijing does in Hong Kong and Uighur Muslims.
Saudi Arabia, UAE and other Gulf states advocating normalization of ties with Israel under US command help India because it is a great strategic success to be on the same side with all major players. New Delhi's goals are compatible with the Abraham Accord.
Both Saudi Arabia and UAE have rejected Pakistan's repeated request to convene meetings of the OIC to discuss the Kashmir issue. This proves that India's priorities are the Arab states' priorities. Hence India's partnership with Arab states and Israel is bound to flourish unhindered as Pakistan gets isolated and out of favour from its traditional allies and America.
Indian diplomacy is bound to triumph as a result of Israel-UAE normalization much to the chagrin of Pakistan.
The views and opinions expressed in this article are those of the author and do not necessarily reflect the views of The Kootneeti Team