Former advisor of President Trump arrested in light of fraud over Mexico wall funds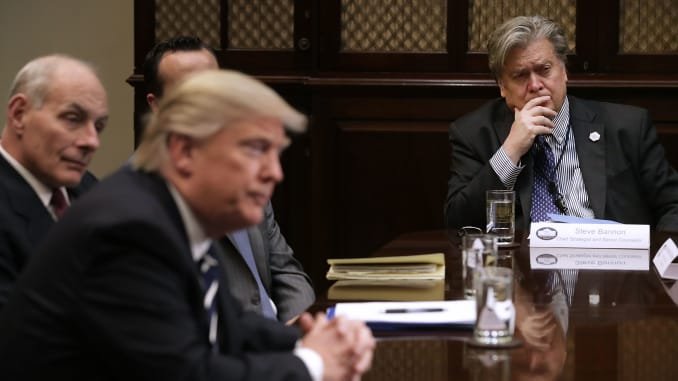 Former advisor of President of The United States, Steve Bannon was arrested and charged with fraud over a fundraising campaign to build a wall on US Mexico border. The US Department of Justice said that Mr Bannon along with three others were charged with misleading scores of people in connection with the 'We Build the Wall' campaign which according to an estimate raised around 25 million dollars. It is alleged that Mr Bannon received more than 1 million dollars which he used for his personal needs.
What are the charges against Mr Bannon?
After it was publicly made clear that Mr Bannon has been charged with fraud he was later released on bail. 'We Build the Wall' campaign that was started by Mr Bannon was committed to using the donations that were made by the donors to built parts of the wall on the US Mexico border. The construction of the wall on the US Mexico border was a key promise that President Trump made during the 2016 election.
Audrey Strauss, the acting US Attorney for the Southern District of New York said that Mr Bannon along with Brian Kolfage, Andrew Badolato and Timothy Shea have misled tens of thousands of donors under the pretence that the money raised will be used for building the segments of the wall. It was also said that Mr Kolfage, the founder of 'We Build the Wall' campaign used approximately 350000 dollars to cover his personal expenses. Southern District of New York Inspector- in-Charge Philip R Bartlett said that the four of them used the money raised during the fundraising campaign to cover up their crimes and had utter disregard for either law or truth. Mr Bartlett further added that Mr Bannon's case would serve as a warning to the others that no one is above the rule of law, not even millionaire a political strategist for that matter.
All the four fraudsters have been charged with cases of conspiracy one to commit wire fraud and another to commit money laundering, each of which can land them for twenty years in prison. Mr Bannon appeared in federal court after his arrest on Thursday. Mr Kolfage and Mr Badolato will appear in separate courts in Florida and Mr Shea will appear in Colorado. Although Mr Bannon had been released on bail yet he will not be allowed to travel on his private planes or boats or leave the country.
Who is Steve Bannon?
Mr Steve Bannon, a former investment banker was a key person behind Mr Trump's 2016 election victory. He served in the White House as a chief strategist. It was partially under his influence that the US under the presidency of Mr Donald Trump withdrew from the Paris Climate Agreement in 2017. Mr Bannon left the post in August 2017 and joint the right-wing Breitbart news website once again. He was yet again forced to step down after he pointed a finger at Mr Trump's decisions. He changed his rhetoric and said that Steve Bannon had nothing to do with him or his presidency. He also added that when he was fired he not only lost his job but also his mind.
Mr Bannon's right-wing anti- American ideology gave a push to President Trump's 'America First' campaign. Mr Bannon is sixth-former key men of Mr Trump to face criminal charges after ex-Trump campaign chairman Paul Manafort,  Rodger Stone,ex-Trump lawyer Michael Cohen, ex-Deputy campaign manager Rick Gates and ex-National Security Advisor Michael Flynn. In response to Mr Bannon's arrest, President Trump said that he felt very bad. He also wanted to clear his stand and therefore said that he was not in any way associated with 'We Build the Wall' campaign. Mr Bannon's case can impact Mr Trump's election campaign with about two months to go for the US presidential elections scheduled for 3rd November 2020.
Since Mr Bannon had to leave his post, his presence has become controversial at events with Scottish First Minister Nicola Sturgeon pulling out of an event that was co-hosted by BBC at which Mr Bannon appeared and his appearance at Oxford University Union invited protests.
What is up with the wall on the US Mexico border?
The decision to build a wall on the US Mexico border has perhaps been President Trump's most significant promise after he was voted to power in 2016. To add to that President Trump even said that he will get the wall built and Mexico will have to pay. Before the POTUS took office in 2016 there was over 1000 kilometre of barrier along the southern border with Mexico. But Mr Trump promised to build a barrier along the entire border of 2000 mile in length. He also added that nature will take care of the rest of it as there were natural barriers as to the mountains and the rivers and he will have to get only half of it done.
The money to get the wall built has come in from funding that was approved by the Congress as well as the extra money that Mr Trump has gained access to since a state of emergency was declared by him in February 2019 after a sudden rise in a number of migrants entering the US along the southern border were reported. The aim of Trump administration was to at least have 509 miles of the barrier ready by the end of 2020. The actual estimate of the total cost that will be incurred in building the barrier is much over 12 billion dollars.
The views and opinions expressed in this article are those of the author and do not necessarily reflect the views of The Kootneeti Team