This Week in Indian Diplomacy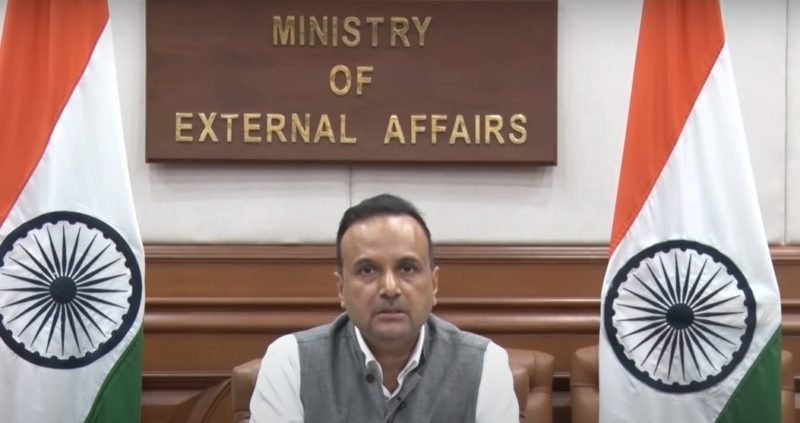 The Ministry of External Affairs issued their weekly brief on Thursday as their official spokesperson, Anurag Srivastava gave an update on the "Vande Bharat" mission, Kulbhushan Jadhav Case, India and Nepal Border Talks and Indian Foreign Secretary's visit to Bangladesh.
"Vande Bharat" Mission
As of 19th August 2020, 11.23 Lakh Indians stranded Abroad have been brought back to India through different modes.
In accordance with Phase – five of this mission around 500 international flights and 130 domestic feeders have been operated so far from 22 different countries and they reach 23 different airports in India. Around 375 more international flights are to be operated this month. Based on the assessment of demands for a comeback to India, flights have been added for Kuwait, Maldives, Malaysia, Singapore, Philippines, Australia, UK and Canada. In addition, more flights from GCC countries have been augmented.
Kulbhushan Jadhav Case
Update on Kulbhushan Jadhav an Indian national who is on the death row in Pakistan was given by MEA Spokesperson, as to that India is in touch with Pakistan through diplomatic channels. India believes for a free and fair trial, by keeping the letter by ICJ in spirit, that Jadhav be represented by an Indian Lawyer. The spokesperson further added that there is a need for Pakistan to address the core issues. These core issues involve, providing all the necessary documents in this case. As well as providing unimpeded consular access to Kulbhushan Jhadav.
India and Nepal Border Talks
There has been a huge tension regarding India and Nepal's border. Hence, a comment was made on the oversight mechanism by the spokesperson, stating that this was a bilateral oversight mechanism which was established In 2016 between the two sights. Regarding the outcome of this meeting, there have been releases made by the Indian Embassy in Kathmandu. This meeting is a part of regular consultations and as a part of the mandate of this particular mechanism, there was a comprehensive review of all Indian bilateral projects in Nepal.
Foreign Secretary visit to Bangladesh on 18th and 19th of August
There were discussions between Foreign Secretary Harsh Vardan Shringla and Her Excellency Sheikh Hassina, these were centred on the importance of the 100th Birth Anniversary of Banga Bandhu Sheikh Mujibur Rahman from March 2020 – March 2021. Also, completion of 50 years of liberation of Bangladesh as well establishment of India and Bangladesh diplomatic ties in 2021. India plans to issue a commemorative stamp on Banga Bandhu during Mujib Barso. The two countries also propose to hold joint events on this occasion.
Both sides during this also discussed the COVID-19 situation, India has provided assistance to Bangladesh for COVID-19. Also, held capacity building courses for Bangladesh's medical personnel. This was following the video conference of SAARC leaders, and the creation of SAARC emergency response fund. Bangladesh has already committed 1.5 Million Dollars to this fund. Foreign Secretary also informed PM Sheikh Hassina about India's contribution to developing the vaccine for COVID-19 and it's distribution. Both sides agreed to continue the discussion on vaccine development and distribution.
In this visit, the Foreign Secretary of Bangladesh Mr Masood Bin Momin had a chat with Foreign Secretary of India about the Tablighi Jamaat activists. In regards to this discussion, the MEA spokesperson stated that The Tablighi Jamaat activists had put a plea bargain in our court which was accepted, and they were asked to pay a fine and leave the country. About 1,030 Tablighi Jamat foreigners have been let go, to leave for their country. Out of which 550 have left for their country. For Bangladesh, the Foreign Secretary of the state confirmed that a majority of Tablighis from Bangladesh are back in the state.
Other Information
The spokesperson commented upon Russia developing the vaccine for COVID-19 and stated that India has set up a national expert group on vaccine administration for COVID-19, the purpose of this group is to keep India in the forefront for any ongoing effort to innovate, prepare, produce launch candidate vaccine to deal with the COVID-19 pandemic.
This expert group through the support of the MEA will connect any Indian Companies which are interested in any candidate vaccines and facilitate the process of ensuring that relevant testing data is made available to our regulatory agencies. Once this testing data is made available it depends on the regulator to decide on the nature of trials before a decision can be taken on the use of any candidate vaccine in India.
The views and opinions expressed in this article are those of the author and do not necessarily reflect the views of The Kootneeti Team