The resurrection of India-Nepal relations after a long Resentment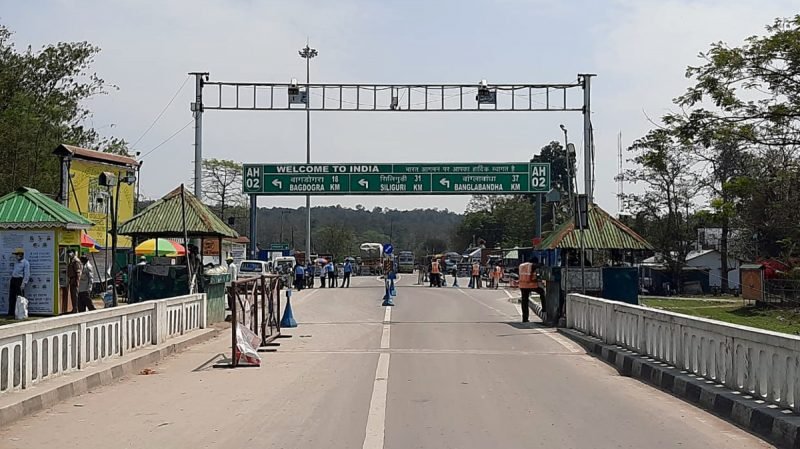 India and Nepal, two neighbouring countries of South Asia, have strived to resurrect bilateral relations, which had been derailed after Nepal's new map controversy accompanied by resentment emanated from K P Sharma Oli's statement regarding the birthplace of Lord Ram and furthered subsequent actions. This bitter strife has culminated in the militarization of the border between two neighbouring countries, which have not been even facilitating passport and visa-free permeations of citizens. But, Nepal's Prime Minister's congratulations to India in a telephonic conversation with Indian counterpart for 74th Independence day and being elected as a non-permanent member of UN security council, has apparently broken the ice. That has been furthered with a meeting, between Indian ambassador to Nepal Vinay Mohan Kwatra and Nepal's Foreign Secretary Shankar Das Bairagi, convened for reviewing all ongoing projects of mutual cooperation in Nepal.
It is noteworthy that India and Nepal, has been enjoying very cordial relations not since the signing of Treaty of Peace of Friendship between Government of India and Government of Nepal (1950) but from long before. Close historical and cultural relations between both nations has been well known in the world. But, the controversy between both the neighbours emerged with the inauguration of Dharchula (Uttarakhand) to Lipulekh road passing through Kalapani area by Indian Defence minister Rajnath Singh. Nepal has been indignant by claiming Kalapani as its territory. But bilateral relations has been extremely deteriorated with the publication of a new political map of Nepal exhibiting Kalapani area, which is a part of India as per the Treaty of Sugauli (1816) and demonstrated in the new political map of India published after bifurcation of the state of Jammu and Kashmir, as a part of Nepal's territory by disdaining India's proposal of resolution of this contentious issue through mutual talks and negotiation.
In fact, the argument of Nepal's Prime minister, that real Lord Ram was born in Nepal rather than in India, has been conceived as a deliberate attempt to enfeeble Indian cultural heritage leading to incapacitating the very foundation of people to people cultural relations at the individual level of citizens of both the countries. Furthermore, Nepal has expressed grief concern over Indian External affairs minister's assertion presenting Lord Buddha as an Indian. Government of Nepal has further enacted an act making the provision of attaining citizenship arduous for merely Indian brides getting married to Nepali grooms. But, simultaneously, all these mistrusts have culminated in the militarization of the international border between both the nations and ban on the broadcasting of Indian news channels in Nepal. Issue faithfulness of Gorkha soldiers recruited in the Indian Army, as well as the possibility of Nepal's influence on it, was also erupted as an issue of discussion, with Nepal's foreign minister's controversial assertion pertaining to a repudiation of the India-UK-Nepal tripartite treaty. Thus relations has been adversely impacted because of a series of resentments. That could not be acceptable for a long period of time.
Mutual Significance
It is noteworthy that Nepal, Himalayan and a landlocked nation, needs transit corridor for international economic intercourse, which has been fulfilled by India through India-Nepal transit treaty(1960) and further modified transit treaty of 1991. Most importantly, visa-free transit of Nepali citizens and their employment in India is rendering the importance of India on a new apex. Mutually developed hydroelectric projects as well as different infrastructure projects including Nepal's lifeline project of East-West highway from Mahendra Nagar to Mechi, Tarai road projects, electrification project,
cross border railways projects, etc manifest India's cooperation as well as significance for Nepal. This cooperation is strengthened by a continuous supply of basic amenities from India. Refined petroleum products ensuring energy security of Nepal in comparatively lower prices is being relentlessly provided by India. In fact, the alternative corridor offered by China, which connects Nepal to South China sea, is not feasible because it will culminate in a wild increase in transportation cost of all imported goods of Nepal. Furthermore, the double taxation avoidance agreement of 2011 between India and Nepal stimulates bilateral trades and allied activities. It is noteworthy that, based on non-reciprocal relations, India has been relentlessly assisting Nepal for getting rid of any contingency; which has again manifested in gifting 23 tonnes of medicine to Nepal for fighting with corona.
Moreover, Nepal being a buffer state, between India and China after Tibetan annexation, became very crucial for the security concerns of India. That has been further deepened in 2017 when Nepal have become a part of Chinese Belt and Road Initiative (BRI), which will ensure Chinese direct and hurdle free connectivity with Nepal up to India' border. So a sense of security dilemma is emanating here for India, which can be curtailed and defied with the positive cooperation of Nepal.
In fact, Buddhism, as well as Hinduism, encompass very predominant place in shared cultural heritages possessing the enormous potential of shared prosperity through cultural tourism between both the nations. For the sake of stimulating this, both the nations have already agreed to develop "Buddha circuit" as well as "Ramayana circuit". It will also enhance people to people ties between both nations.
Inclination towards Normalization of relations
It is noteworthy that the close friendly relations through cooperation as well as the continuous pacific settlement of all contentious issues are prerequisite to shared prosperity. Indian prime minister's re-emphasis, from the rampart of Red Fort, on "Neighbourhood First Policy" along with the extended neighbourhood manifests India's positive ambition for mutual cooperation with all the neighbouring countries including Nepal. Furthermore, India's commitment after being elected as the non-permanent member of UN Security Council for '5s' approach which encompasses Samman (Respect), Samwad (Dialogue), Sahyog (cooperation), Shanti (Peace), and Samridhi (Prosperity) for global peace and prosperity, is also creating a positive environment for better relations worldwide.
But, most importantly, after K P Sharma Oli's telephonic conversation with Indian counterpart on the occasion of Indian independence day, mutual review of ongoing developmental projects by officials of both the sides also explicitly manifesting a positive sign of the resurrection of cooperation between both the nations. It has been furthered with Nepal's assertion that Lord Ram and Buddha are uniting rather than dividing us.
Thus, it would not be wrong to say that mutual deep cooperation between both the nations is not only mutually beneficial, but it will also be strengthening the Indian philosophy of SAGAR (security and growth for all in the region) by dismantling all the resentments.
The views and opinions expressed in this article are those of the author and do not necessarily reflect the views of The Kootneeti Team