Paradoxes of online learning in pandemic Covid-19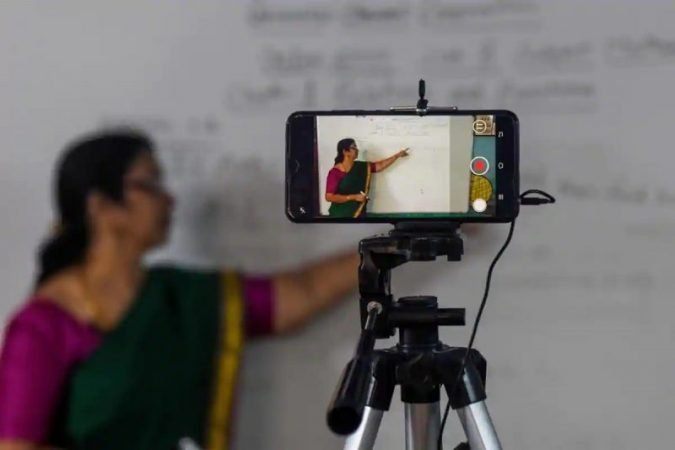 The current ongoing pandemic Covid-19 has not only played around with the immunity of the human body but also with the basic human right of education. It has widened the earlier educational gap existed among different strata of Indian society It seems that there is an educational sub-divide created between Pre and Post Covid-19 teaching-learning frameworks. Where, on one hand, much heard words like digital, online, e-resources, cloud learning, smart classrooms, MOOCs, Swayam initiatives, e-studios shoulder a bigger responsibility to metamorphose the gen Z (between 1995 – 2012) and gen Alpha (2013 – 2025), at the same time the central questions that arise are – what is our preparedness to go live on these platforms?  Are these adequate and secure to cater to different sections of the society at large?  Are we capable to implement and adopt the dynamics of these rapid changes?. These and many other relevant questions are being asked which raised our natural doubts with no solution in the near future.
Inherent contradictions and conflict
During the phase of COVID-19, all the academic institutions are struggling today with almost no options available except the virtual platforms to continue the teaching-learning process. Since the corona pandemic outbreak, we all are well versed with the fact that none of the academic institutions are going to be functional like earlier times any soon. Undoubtedly, things are already delayed way beyond, of course, at the cost of shaping future human capital. Just to quote; the current academic sessions are delayed for the colleges, new admissions are stuck due to several uncertainties of unknown procedures. The story doesn't complete here due to even cumbersome and herculean tasks now required for the primary and secondary education for the kids with gadgets like tabs and similar devices to be additionally hitting the pockets of guardians. The important point that remains unaddressed in the entire scenario is for the Indian rural population of 65.97 percent . In 2018, as the World Bank estimated who neither have any access to cope up nor have the resources to meet the preliminary requirements of these platforms. It is quite ironical that the teachers themselves now, need to learn as students first, before teaching 'gen-next' who may be better equipped than the teachers in the current scenario.
In addition, different teachers are using different tools to reach out to students. The problem is that no single tool (platform) is yet able to provide a one-stop solution to the teachers for extending the live classroom experience, assessments, evaluations, lab experiments, extra-curricular activities, material handling and attendance marking. This is further aggravating the entire problem due to shifting to virtual platforms, adding only to chaos and confusion. Do we really want to get the physical classrooms substituted by virtual ones when the physical ones used to remain insufficient? And certainly, these electronic mediums are always found deficient on important lifestyle-based connotations that are instrumental to the entire teaching-learning process. Virtual presence is essentially an e-presence but may not ensure mind-body presence. Hence, the adequacy of e-platforms to develop effective and efficient human manpower is a big question to be addressed.
Status in Asian countries
In a country like India and other SAARC nations, where access and speed of the internet at outskirts always poses a greater concern; virtual reality to teach could only remain in dreams. Just to mention, as per one of the studies, only 8 percent of homes have a computer with required internet bandwidth, too poor to cross any milestone. The problem is more prominent at primary and secondary schooling, where the parents now need to equip themselves with the current technological-driven advancements in order to remain competent for their children to learn and deliver. Smart classes may or may not make a child smart but have made their parents' smarter. Incongruously, such classes are wholly dependent upon uninterrupted and smooth internet connectivity so as to enable live video streaming for not less than four hours per day on an average which would require additional expenditure to enable such facility, apart from allocation over and above school fees and incidental expenses.
 It is quite unfortunate that premium benefit comes at premium pricing, which means that in order to establish hassle-free pedagogy framework, there is a dire need of premium e-platforms which could be made available for free only in initial months but certainly not forever. Hence, these virtual paid versions/ subscription-based modules/ e-studios set-up for varsities, schools, and other professional academic institutions shall disturb the complete cost economies of not just the institutes but also the ultimate user. Wherefrom such funding and infrastructure to set-up would come to make it an effective teaching-learning experience? We strongly feel that there could not be any direct answer to this question. The situation remains even grim for marginalized households who barely could afford daily meals and are still struggling with the dilemma of choosing between lives vs livelihood under Covid-19 situation.
Preparedness and suggestions
In the context so far as the usage of technological tools is concerned, current generation outperform the resource person but at the same time, it has equal chances of getting misused. Already, there is a much hue and cry among the students' fraternity regarding the conduct of the examination. This time the same has been scrapped by MHRD but what about the time to come. Virtual platforms are not full-proof. Moreover, Gen Z is far more superior to find out their ways and means to find an easy way to score excellent by existing loopholes in the virtual setup. If students are ready, so shall the teachers. The assessments and evaluations must be drafted in virtual modus-operandi even more carefully so that students shall not have any chance of escaping or misusing the e-platform set-ups. Also, it is going to be far more difficult to spot and differentiate extraordinary brains from rest among all. Of course, the students at the graduate and post-graduate levels are ready for the current intellectual reform, which is going to be the first time for the teachers as well as for students.
The current shift to virtual/ online pedagogy is further going to impact the entire scenario adversely due to India and other emerging nations still being in the nascent stage to shift from theoretical driven methodologies to practical corporate realities. So, the entire focus of the new virtual-friendly curriculum (post-COVID) should be to uplift the quality of education in terms of practical proficiency so as to make the future human capital globally productive and hence, employable. At the same time, COVID crisis will indeed endow our teachers to teach virtually on these platforms. The entire syllabi of universities including the postgraduate level and the style of examination conduct need to be revisited in consultation with respective think-tanks in order to have the least dependence on the pre-COVID scenario. Needless to mention, the earlier New Education Policy needs to be reconsidered keeping in view the COVID changes to make the distant dream of online pedagogy a reality.
The views and opinions expressed in this article are those of the author and do not necessarily reflect the views of The Kootneeti Team