Is COVID 19 an opportunity for India's manufacturing sector?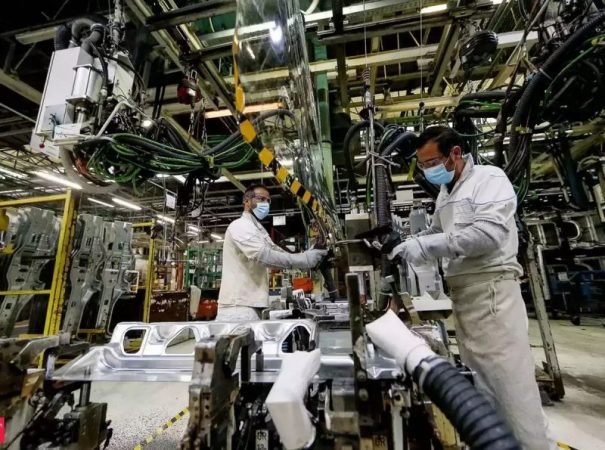 Covid-19 has spooked one and all, from businesses and policymakers to economists and central bankers, and led to a disruption of global value chains, severely impacting the manufacturing sector due to lockdowns across several countries. Covid-19 can be viewed as a supply shock similar to the oil shock of the 1970s, when oil prices rose substantially, along with a slowdown in economic growth. But unlike the oil shock, COVID-19 has reduced demand for primary commodities such as crude oil, hence its prices have moderated. Change is buffeting the industrial manufacturing industry comprising the most disruptive innovations that would address the customer's pain point. However, there is no one-size-fits-all strategy that suits all industries.
As countries work towards redefining the global manufacturing order dominated by China, the manufacturing world itself is undergoing a paradigm shift driven by two critical trends – relocation and automation. While relocation is a geographical shift, automation entails a dynamic change in the fundamental process of manufacturing. In 2019, during the first phase of the exodus from China, India failed to impress global investors. A study done by Nomura, a Japanese financial group, showcased that between April 2018 and August 2019 out of 56 companies that moved their production out of China, Vietnam emerged as the preferred destination with 26 companies shifting there, while only three moved to India. Taiwan and Thailand also fared better than India, attracting 11 and eight companies respectively. The second wave of companies exiting China has seen Indonesia gain high traction with 27 US factories relocating to Indonesia, while India is still pushing to attract US and Japanese investments as they venture into China plus one strategy. Despite favourable demographics and low labour costs, India has not been able to attract investments due to existing cost disabilities such as corporate tax rates, land and labour laws, infrastructure, etc. In the case of the first manufacturing trend i.e. relocation wherein India has to overcome internal challenges as well as compete with other countries, the challenge arising from the second trend i.e. automation is a race against time.
According to McKinsey estimates Government's "Make in India" programme seeks to increase manufacturing's share of GDP from about 16 percent to 25 percent by 2022, digital transformation is likely with the government taking measures on implementation of more digital technologies to allow supply-chain consolidation & analysis. The key factors driving digital manufacturing in India include predictive maintenance, connected supply chain, reduced energy consumption, production optimisation, lower price of sensors and high computing needs and connected customers. In addition, overall monitoring and visualisation is the most sought-after use case by manufacturing firms, followed by track and trace of the product across the value chain. However, unclear economic benefits from digital investments stand as a major constraint. Inefficient people skills on technology, analytics, cyber-security remain a significant concern. Rebooting post lockdown would drive adoption of digital solutions/platforms. Disruption to the ecosystem both at the individual and at the industrial level will foster innovation taking on Industry 4.0. Automation is likely to impact jobs with highly structured and predictable physical activities such as manufacturing. As India strives to become a preferred China + ONE manufacturing destination for MNCs, it is important to step back and evaluate the merits of the same in the context of the shifting manufacturing paradigm. India needs to improve its current infrastructure in order to support manufacturers and potential firms planning to set up their plants in the country. We need to be on par with the kind of facilities and amenities that China has had in place since many years. This includes improving roads, highways and also providing stable power and electric supply in order for manufacturers to sustain a stable flow in production.
One of the biggest challenges for the Indian electronics manufacturing sector is its excessive dependence on imports. China is the largest manufacturer of electronics in the world and also the largest exporter. India imports almost US$ 60 billion worth of electronic equipment, assemblies, components and raw materials every year, and a majority of this is sourced from China. Wuhan is a major manufacturing centre for the electronics industry and companies based there are important suppliers for Indian manufacturers. MSMEs are bearing the brunt of the disruption in supplies caused due to the coronavirus, which has resulted in the lockdown of several cities and towns. MSMEs have limited resources and generally do not have many suppliers or alternative sources. The only saving grace has been that the COVID-19 outbreak happened just before the Chinese New Year holidays when Indian companies usually arrange for extra stocks on account of the holidays. Market experts have already stated that this global pandemic will impact India, though there is a chance that the situation will be under control by the end of April. India imports components from various parts of the world for the top 20 products that it makes, in which China accounts for the most significant share. Of our country's total electronic imports, 45 per cent are from China. Around one-third of machinery and almost two-fifths of organic chemicals that India imports, come from China. The leading consumer electronics and smartphone companies in India have announced a decrease in production and there is a high chance that the launch of new products will be delayed. China produces 75 per cent of the total value of the components used in TVs and almost 85 per cent, in the case of smartphones, claims the ET. In fact, the pivotal components such as mobile displays, open cell TV panels, printed circuit boards, capacitors, memory and LED chips, are all imported from China. The market lockdown has forced Chinese vendors to increase the cost of components by 2-3 per cent due to the shortage of supplies. This will ultimately increase the prices of Indian electronic products. The giant manufacturers such as Panasonic, Haier, Samsung, Voltas and LG have decided to raise prices of their products by 3-5 per cent, depending on the models, which implies a hike of Rs 3000- Rs 4000 on premium and flagship models. The Budget had increased the import duty on the refrigerator and air-conditioner compressors from 10 per cent to 12.5 per cent. On motors used in washing machines and some other products, the import tax has gone up from 7.5 per cent to 10 per cent.
There is a need to step back and re-strategize as the short term policies will not reap any benefits, rather not even be sustainable given the present scenario. What is needed is a supportive policy as well as the political will, backed by adequate financial resources to ramp up the industry over the next ten years, until India becomes strong and self-propelled. The government's own Invest India arm has identified 767 pre-operation licences that an investor is obliged to get from 35 ministries before starting a business. The government needs to have a quick redressal and approvals department, a single dedicated department that coordinates with the others in itself so as to ease and facilitate the speeder procurement of land, license and other tools. There is a dire need to cut down red-tapism and bring some fundamental changes in the bureaucracy. It is not just big investors who are hounded at every step by inspectors and regulators, even modest investors find it hard to grow their businesses in today's India. Old bureaucrats cannot be the only stakeholders when it comes to new business investments and infrastructure planning, we need private participation in a regulated way so as to put a fresher perspective and revamp the old un-updated structure. The Chinese virus and international disenchantment with China offer PM Modi a second chance to change course and make the administrative changes that are necessary if India is to move from poverty to prosperity.
The views and opinions expressed in this article are those of the author and do not necessarily reflect the views of The Kootneeti Team