India-France Maritime Security Co-operation in Indo-Pacific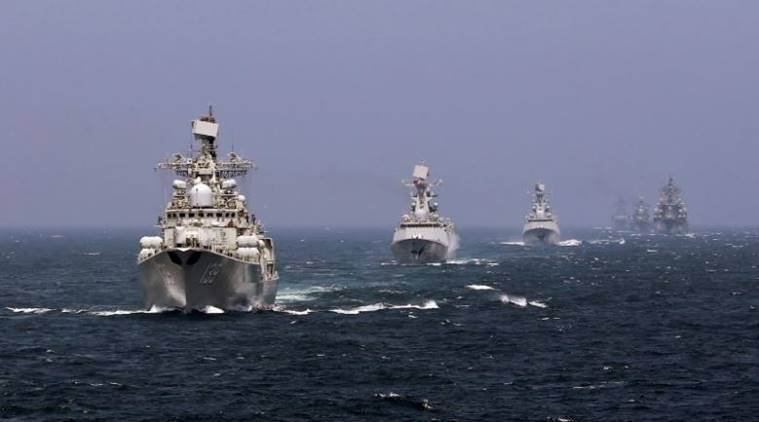 Indo-Pacific is a geopolitical construct which emerging and being popular in contemporary global politics. The Indo-Pacific construct is based upon maritime space. It connects both the Indian Ocean and the Pacific Ocean region. 60% of the global population lives in the Indo-Pacific. Emerging powers like China, India, Japan ASEAN countries, are part of the Indo-Pacific region. it's a major economic hub in the world.
Majority of the countries in the Indo-Pacific have access to sea and ocean. Issues like Piracy, trafficking, maritime terrorism are the pertinent questions in Indo-Pacific. Since 1983, the two major countries, India and France having maritime security co-operation in the Indo-Pacific region.
The co-operation between the two countries gradually increased and reached up to the 'Strategic Partnership agreement' in 1998. Today, As far as maritime domain is concerned, the co-operation between the two countries not only limited to maritime security but it also extends up to various other domains. In 2019, Indian Prime minister Narendra Modi used the term 'INFRA' (India-France) for closer co-operation and friendship.
Significance of Indo-Pacific and collective issues for Indo-France
The Indo-Pacific region consists of three (Asia, Africa, Antarctica) continents. The Indian Ocean Region (IOR) connects West Asian, Southeast Asian, and African countries. West Asia is oil-rich, Southeast and East Asian countries are economic hubs, whereas Africa is rich in resource. Being one of the busiest trade and oil routes, IOR connects significant Oil, natural resources, and economic factors altogether. The dependency on oil and natural gases as well as international trade made this region strategically and geopolitically significant.
India has large access to the Indian Ocean, with 7,517 kilometres of coastline and 2.37 million square kilometres of the Exclusive economic zone(EEZ). The security of this region is the primary responsibility of India. The security of the trade route and Sea lines of communication (SLOC) is an important element of maritime security for India. Issues like piracy, trafficking, are threats to India's trade security. The security of shipping vessels and the security of sailors are responsible and significant factors for India. India has to counter such threats beyond the Indian waters to secure its EEZ and Coastline.
The threats of Piracy and trafficking, maritime terrorism are found across IOR. The gulf of the Aden, and the eastern coast of Africa and the coast of Somalia are the most affected region of piracy and trafficking. The security of Indo-Pacific is vital for India's economic and overall national development. The security issues and conflicts in Indo-Pacific indirectly affect India's Security and growth. It also affects on the International trade route. The security and International trade both are intertwined in Indo-Pacific thus it is extremely important for India to ensure the security for stability and peace in the region. The Indian Ocean is the only region in the world which names after a country's name. The emergence of India as a net security provider in IOR increases the responsibility to ensure the security of the region.
On the other hand, France has its naval presence since the last several decades in the Indo-Pacific. The French islands of Mayotte, La-Reunion, and French Southern and Atlantic lands are in the Indian Ocean and New Caledonia and Wallis, and Futuna are in the South Pacific region.
It is an extra-regional power in the region with its islands and naval bases with nearly 2 million nationals living in the region and about EEZ of 9 million Square kilometres.
France has military facilities on the island at La-Reunion, Mayotte, and the French southern and Atlantic islands to ensuring the safety, security, and sovereignty of its islands. It has seven thousand personnel in the Indo-Pacific region. The security of oil tankers which passes through the Gulf of Aden is another major task of France naval forces. France has to ensure its energy security by its presence in Indo-Pacific. France also has important economic links in Indo-Pacific. In 2018, 9.3% of French imports came from the region, and 10.6 percent of its export was destined for it. Thus the strategy of France in Indo-Pacific is three-fold, one is to ensure the safety and sovereignty of Island and its deployed personnel. Second, the security of (Sea Lines of Communication) SLOC for smooth trade, and third, freedom of navigation and over-flight in international spaces.
The security issues like Piracy, Arms/ Drug/ Human trafficking, the security of energy supply, and security of the international SLOC are common issues for India and France. Both countries have their limitations to deal with such issues, but with the joint collective actions they would be able to effectively tackle the security problems in the region. 'INFRA' maritime security co-operation deals with such issues to ensure peace and stability in the region. Both countries have a joint strategic vision in Indo-Pacific.
China factor
Over the last several years, China has significantly increased its naval capabilities, as well as, Chinese naval presence has increased in the Indian Ocean region. Indian navy tracked several Chinese ships and nuclear submarines in near Indian waters. Beijing has invested extensively to build 47 ports in the African continent and several other economic and exploration activities.
Thus, Chinese shipping vessels and naval presence have been drastically increased. Apart from that, its investment at Hambantota port in Sri-Lanka and its naval presence on significant geostrategic location is suspicious and not in the interest of India. From the past few years, China has initiated to conduct a hydrographical survey in IOR, which is useful to collect data of the underwater marine environment. The data can be used to upgrade naval ships and submarines. The concern in Indian security establishment is that the data can be used in Submarine warfare or to upgrade warfare capabilities.
China-Pakistan initiated a programme to build submarines in Karachi for Pakistan. China will provide eight diesel class Submarine with Air Propulsion System (APS). This definitely will increases Pakistan's naval forces sea denial and submarine warfare capabilities. Thus, China is a significant factor for India to reshape its maritime policies.
France has a similar concern, speaking about the growing Chinese presence in the western Indian Ocean and the threat it poses, Admiral Christophe Prazuck noted that, before piracy issues flared up in Somalia in 2008, there were no Chinese vessels. But clearly, piracy has become an excuse for China to send its ships and they are still sending them even though the threat from piracy has diminished significantly. In addition to ships, china has also been sending nuclear attack submarines into the western Indian Ocean. The nuclear submarines are not required for anti-piracy missions. Thus it increases doubt and security dilemma in the region.
Points of Co-operation
Both India-France has a joint strategic vision in Indo-Pacific. Visit of France President Emmanuel Macron in 2018, and Indian Prime Minister Narendra Modi's Visit to France boosted the strategic relationship between the two countries.
Annual Maritime Exercise
Both countries, since 1983 conduct annual maritime exercises in the Indian ocean. In 2001, it named to 'Varuna' bilateral naval exercise. Maritime exercises increase Interoperability, Information sharing, collective efforts between the two countries. In 2019, Joint Naval exercise held at Goa.
The joint exercises are held either in the Indian Ocean or the Mediterranean sea aiming to improve coordination of the two navies on capabilities like cross-deck operations, replenishment-at-sea, minesweeping, Anti-submarine warfare, and information sharing. Despite the global pandemic of Covid-19, Indian and French navies are fully engaged in the 'Samudra-Setu' and Resilience operations respectively to aid people facing the ordeal of the COVID-19 pandemic.
Search and rescue operation
In 2013, France naval frigate evacuated Indian dhow crew from off Somali coast. European Union's naval force is active near the Gulf of Aden in counter-piracy missions. In the year 2013, NATO forces saved 14 Indian sailors from the Gulf of Aden. In 2014 France naval vessel rescues 11 Indian sailors from presumed pirates. In 2018 French Navy frigate rescues 12 shipwrecked Indian crew. Such help from France and co-operation in difficult times enhanced the trust and bilateral relationship between India and France.
Logistic exchange agreement
India-France signed a reciprocal logistic exchange agreement in 2018. It is a mutually beneficial agreement for both countries. It will reduce the logistic maintenance cost, it also saves cost, and ensures secure logistic support to naval fleets across the Indian ocean. Indian warships and military aircraft can utilise the French base in Djibouti near the Horn of Africa or the French territory of Re-Union islands in the Indian ocean for quick 'turn around' of its assets. The French navy anti-aircraft destroyer FNS Cassard had docked at the military port of Mumbai for the implementation of reciprocal logistical support.
For the first time in March 2020, India-France conducted Coordinated patrol (CORPAT) from Reunion island, the patrol was conducted by a P-8I aircraft with French Navy personnel on board. France also deployed its Liaison officer at Indian Navy's Information Fusion Centre (IFC-IOR) as part to improve maritime domain awareness. French personnel on P8-I aircraft and Liason officer at Information fusion centre receipts the mutual trust, attachment and maritime co-operation between the two countries.
The Indian navy is currently inducting French Scorpene conventional submarines, being built in India under technology transfer.
Anti-Piracy
Both countries are committed for Anti-piracy initiatives, Operation Atlanta has been initiated by the European Union from 2008. France is an active participant in mission Atlanta to counter piracy in Somalia. India is in support of operation Atlanta. Recently, on 24-25 December 2018, the Indian Navy escorted a World food programme (WFP) vessel in support of Operation Atlanta. This is a clear example of the Indian Navy and the EU working together to ensure safe, free, unhindered navigation around the Horn of Africa.
Information and data sharing
India and France have signed a White shipping agreement in the year 2017. It would help to share the information for the security of shipping vessels. French Space Agency CNES has signed an agreement with India's ISRO to establish maritime surveillance centre in India. It is a space-based maritime surveillance system.
India has established a Coastal surveillance radar system in Seychelles, Sri-Lanka, and Maldives. France has its own surveillance radar system developed by Thales group, but in future France-India might co-ordinate for the development of Coastal surveillance radar system and intelligence information sharing. It is one of the crucial factors to put forward join Strategic vision by Indo-France in Indo-Pacific. India-France can monitor Chinese naval presence in IOR and can exchange the data.
Way Ahed
INFRA has a strategic vision in Indo-Pacific. Both have common objectives for peaceful, stable, prosperous, open, and inclusive Indo-Pacific. However, both the countries shall conduct a joint operation in Eastern IOR, and Western IOR. New Delhi must join hand with France to combat piracy in Western IOR. France's Djibouti Naval base near the Gulf of Aden would contribute to providing logistic support facilities to Indian naval ships. Apart from that, both democratic nations believe in multilateralism in Indo-Pacific.
Australia is another major player in the Indian Ocean region. India-Australia-France can conduct joint venture to maintain multilateralism and conduct multilateral operations or exercises in the region. The bilateral co-operation between India-France is not only limited to Maritime Security, but also it extends in the fields of Climate and Security of Oceans, Blue Economy, Defence, Space, Economy, Technology, and Cyber domain. Both the nations are a major contributor in Indo-Pacific. Thus the co-operation, friendship, and strategic partnership between the two nations need to enhance more, it would surely extensively contribute to the peace and stability in the region.
References
Defence archives.(2013,2014,2018) France in India. Accessed Date- 5th June 2020.
France in India (May 2020) Indo-French naval co-operation continues during Pandemic. Accessed Date- 5th June 2020.
MEA Media centre (March 2018). Joint Strategic Vision of India-France co-operation in the Indian ocean region Accessed Date- 5th June 2020.
The views and opinions expressed in this article are those of the author and do not necessarily reflect the views of The Kootneeti Team