Burundi latest to join the list of 'Rigged' African Elections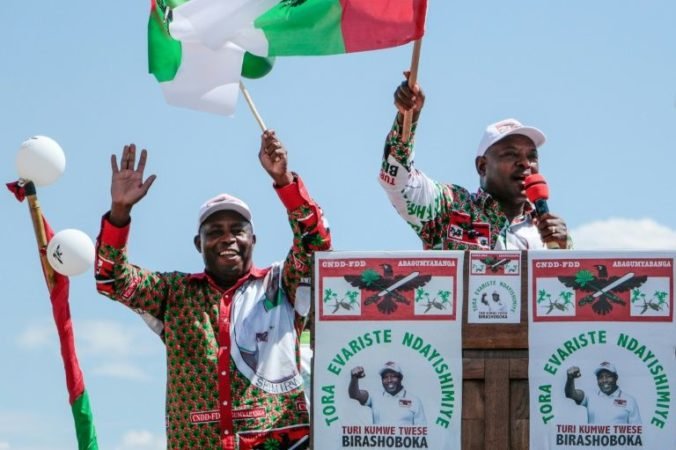 The results of presidential elections held amidst COVID-19 pandemic last week in Burundi have declared the governing party's candidate, Evariste Ndayishimiye, as the winner.
According to Burundi's electoral commission, Ndayishimiye secured 68 percent of the vote, while the country's main opposition leader, Agathon Rwasa, took just over 24 percent. General Ndayishimiye was handpicked by the outgoing President Pierre Nkurunziza who was in office for three consecutive terms since 2005.
General Ndayishimiye will be sworn in in August, at the end of Mr Nkurunziza's seven-year term. He has promised to make the economic recovery of the country his priority.
This election was contested by seven candidates and is considered a historic event as it was the first democratic transfer of power in 58 years of independence. However, the main opposition party, CNL, has made allegations against the governing party, CNDD-FDD, of massive fraud and election-rigging.
"These are fabricated results, which are not reliable. The tally sheets that we could gather don't correspond to those that have been announced by the media," said Agathon Rwasa.
Rwasa shared an instance where thousands of additional names were supposedly added to an electoral list of an area, and described the list as "a pure and simple fantasy." The CNL party has also alleged in a statement published on Sunday that at least 200 of its supporters were arrested on polling day and that their polling agents were harassed. In addition, three CNL members were killed, more than a dozen forcibly disappeared, some 50 injured and 300 arrested during the campaign period, according to the opposition.
"We are going to go through the appropriate channels to demand that the vote be recounted. We have a lot of facts that undeniably demonstrate that the results announced by CENI do not reflect the will of the people," CNL party spokesman Terence Manirambona has told media.
There have also been a number of complaints regarding access to social media and the censorship of media on the day of voting. Mr Rwasa condemned social media cuts, saying that it was a way of committing election fraud.
The authorities have claimed that CNL supports have been unruly as they have attacked, injured and killed members of CNDD-FDD in the run-up to the election.
Human rights experts have been appalled by the increasing violence in the campaign period. Various rights groups say that the government is pressing ahead with the vote irresponsibly, and accuse the ruling party and its youth wing of systematically crushing dissent.
A member of the research organization International Crisis Group, Nelleke van de Walle, said, "You do see certain elements of a real election … but political space is really limited. There are almost no local or international media left. This is definitely not an election where people can express their opinions freely."
Concerns were raised over holding elections during the pandemic but the spokesperson of President Nkurunziza had declared that "We have faith in our God, especially now that in our country we put God first, he will protect us from all calamity."  Earlier in May, Burundi expelled WHO's team of experts that were working on COVID-19. 
Last year the government had shut down the UN human rights office after repeated criticism that members of the CNDD-FDD's youth wing and the security services were torturing, gang-raping and murdering political opponents.
Burundi has grown increasingly isolated since the country's last election in 2015 after President Nkurunziza's controversial third term faced protests and demonstrations, resulting in an attempted coup by a breakaway military faction. It had left at least 1200 dead and over 400,000 had fled the country. Consequently, foreign donors had cut ties and stopped sending aid to one of the poorest countries in the world.
Corruption remains a rampant problem in the continent of Africa. Of the 50 countries considered to be most corrupt by Transparency International, 29 are located in the region. Most heads-of-state depend on rigging the system to stay in power and it is considered a norm. The result of elections usually depends on who has control over the voting populace and data aggregation rather than the public opinion.
The views and opinions expressed in this article are those of the author and do not necessarily reflect the views of The Kootneeti Team