Kra Canal: An unworthy pursuit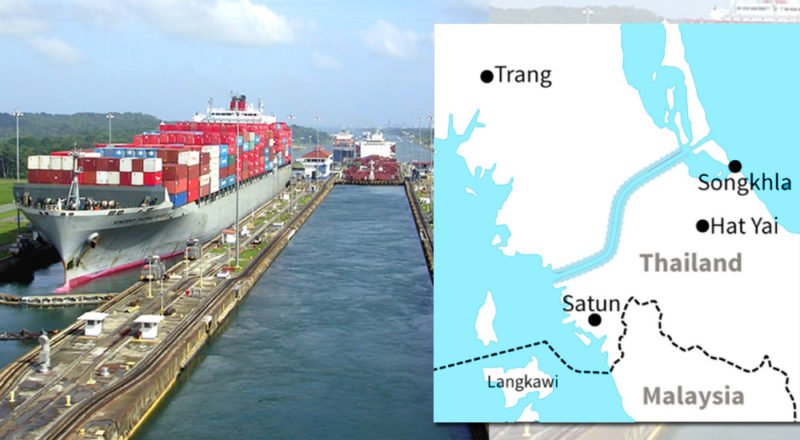 Envisioning a canal that would connect the Gulf of Siam with the Andaman sea is no novelty. In the 17th century Thailand the issue was first assessed but later disposed of due to British arm-twisting. The agenda though economically promising has been consistently denounced due to threats it poses to the region. A few years ago, the Thai government decided to carve out a plan for constructing the canal as a part of China's Belt and Road initiative. Thailand would call it Kra canal.
The geo-political questions it poses deserve to be discussed. Broadly, there are three contestations: First- Would such a construction disturbs the balance of power in the region? Second- Would it result in any environmental consequences such as climate change? Third- Does the project impairs Thailand's sovereignty?
Understand the Structure
Thailand is a Southeast-Asian country which enjoys its borders both with the South China Sea and the Andaman sea. Its strategic importance is commendable. For now, there are three major straits in the region: Malacca Strait, Lombok Strait, and Sunda Strait. The preponderance of trade happens through the Malacca strait making it the busiest strait in the world. The proposed project strives to bifurcate the Kra Isthmus of Thailand and create a new canal that would directly connect the South-china sea with the Andaman sea thereby excluding the Malacca.
How would a balance of power get affected?
In the Indian Ocean, Malacca is a lifeline as it aids the thirty percent of global trade transit each year with eighty percent of Chinese oil import is attributed to Malacca. If China adopts a different route(via proposed Kra canal) to expedite the movement, it would save her close to 1200 km and seventy-two hours of journey to catch the Indian Ocean. This alternative route will earn a strategic edge to China over other neighbours including the US Allies, whose trade with China through Malacca is tremendous. It is a direct threat to India,  as it would virtually besiege India by excessive surveillance and easy deployment of Chinese vessels in the Indian ocean. In a crisis situation, this alternative route to US allies would be vulnerable to blockade. Another concern is its polarization of the ASEAN( Association of  South-East Asian Nations) evident from gains to Vietnam, Thailand, and Cambodia, and losses to Singapore and Malaysia, whose ports shall not receive
Implications on Climate Change and Economic Viability
The most discussed devil of Climate Change is to be a deciding factor; the only instance where the international community could hold water while interfering in the issue. Thailand is indeed a tourist's paradise; for it gain close to 20 percent of its GDP from tourism alone. Building the canal would negatively affect the tourist sites as well as the marine ecology. Even though the gains for Thailand shall be substantial, they could still not match up to the cost it employs. The canal would take no less than ten years to be built and expenditure of 28 billion USD. Therefore, a political consensus with farsightedness at environmental concerns and future fluctuations in global politics is needed.
Impairment of Sovereignty
It's an urgent necessity to learn lessons from Egypt and Panama. Egypt compromised its security and paid the price by decades of foreign control. Thailand is not Egypt though, they have another reason to worry; a North and South divide, which is a religious division besides regional. South Thailand is disturbed by continuous conflicts between Buddhists and Muslims. A division would act as a catalyst for such conflicts. Kra isthmus connects northern Thailand to the Malay peninsula, a strategic point for Thailand and Malaysian affairs. A canal could impede affinities for Thailand in the region.
Conclusion
Kra is as better an idea today as it was decades and centuries ago. The discussions seem promising; China may be a game-changer this time but there pertains little for Thailand to gain. Thailand would lose in the gain. A compromise with Sovereignty, spending a glut of money, and even funded by China, it would again Thailand lead to "debt-trap". Further, pressure from both US Allies and India would make it rather difficult for Thailand to concede. For Thailand construction of Kra canal serves economic growth and non-construction offers sovereignty, peaceful coexistence, and protection of the climate. The choice is easy. Kra is a difficult idea to be garnished on the map.
The views and opinions expressed in this article are those of the author and do not necessarily reflect the views of The Kootneeti Team