Bangladesh PM's visit to India: Connectivity tops the agenda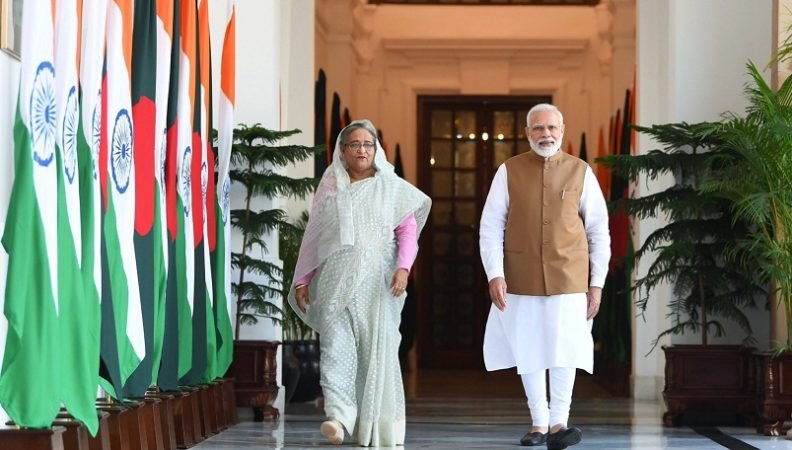 Ties between India and Bangladesh has seen all the different phases. But as Former Indian Prime Minister Vajpeyi has said, "We can choose our friends and enemies, not the neighbours".
Sticking to the requirements for warm bilateral ties, and achieving economic goals both the countries have maintained cordial relations despite small irritants like water, border security, illegal immigration etc.
Sheikh Haseena is on her official visit to India, she was invited as Chief Guest at India Economic Summit organised by World Economic Forum. In the summit, speaking on Bangladesh's economic development, Prime Minister Haseena focused on Bangladesh's liberal economic policies. She stressed on the need for connectivity and called Bangladesh a geographically favourable location to become a trade hub in South Asia.
Also Read: As the Sino-Bangladesh ties deepen: Is India out of the game?
Her entire visit reflects her strong leadership at home. Her thoughts reflect a vision for a developed Bangladesh by 2041. She understands the need for connectivity in Bangladesh's economic growth. The key takeaway from her visit remained greater cooperation with India by ensuring smooth connectivity between the two nations.
During the joint statement with PM Modi, she stressed on increasing connectivity through air, water, rail, the road offers mutually beneficial opportunity for enhancing economic cooperation between Bangladesh and the North Eastern States of India and beyond. Both the Leaders welcomed the conclusion of Standard Operating Procedures for the use of Chattogram and Mongla ports for movement of goods to and from India, particularly to and from the North East of India, which could create a win-win situation for both economies.
Bearing in mind the possible benefits to both economies from greater use of each others' seaports for trans-shipment of their respective export cargoes, the two sides agreed to expedite discussions on requisite modalities.
Both the countries also entered into a bilateral Comprehensive Economic Partnership Agreement (CEPA). In response to India's request to withdraw port restrictions on products being traded through Akhaura-Agartala port, the Bangladesh side informed that the restrictions will be removed on most items of a regular trade in the near future.
Both the leaders have shown their optimistic attitude on the operationalization of the BBIN Motor Vehicles Agreement for movement of goods and passengers and also welcomed plans for the commencement of Dhaka-Siliguri Bus service.
Similar, statements were released on Air and Railways services, frequencies of both the means of connectivity will be increased for both passengers and goods.
Other MOUs were signed in the areas of water supply, extending the line of credits, coastal surveillance, education, culture, youth affairs.
List of MOUs exchanged between India & Bangladesh
Standard Operating Procedure (SOP) on the use of Chattogram and Mongla ports
MoU on withdrawal of 1.82 cusecs of water from Feni river by India for drinking water supply, scheme for Sabroom town, Tripura, India
Agreement concerning the implementation of GoI Line of Credits (LOC) extended to Bangladesh
MoU between the University of Hyderabad and University of Dhaka
Cultural Exchange Programme- Renewal
MoU on Co-operation in Youth Affairs
MoU on providing Coastal Surveillance System
The views and opinions expressed in this article are those of the author and do not necessarily reflect the views of The Kootneeti Team