Inching towards a Russia-West rapprochement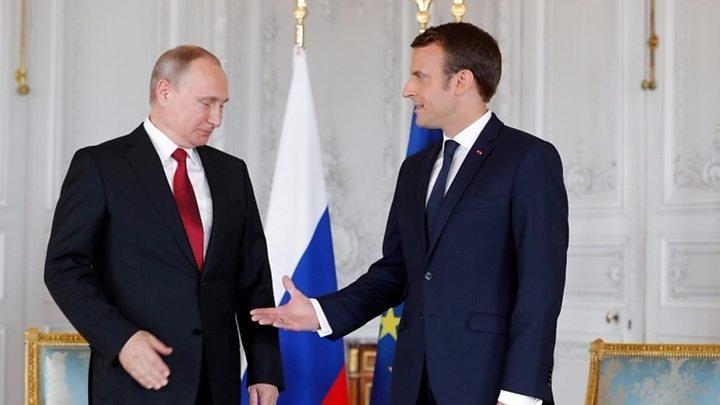 There is now a discernible change in the tempo and tenor of Russia's engagement with the West. The tentative steps forward in relations with the US (Review, 6 &7/19) are being reinforced by a stronger thrust from Europe, led by France's President Macron, who invited President Putin to France about a week before the G7 summit hosted by him. He announced that the discussions with Russia on major international issues would feed into G7 deliberations.
In his public statements, President Macron made a strong case for a rapprochement between Europe and Russia, saying that in the effort to rebuild the world order, Russia-France and Russia-EU relations would play a "key and determinative role". He said Russia is at the heart of "a Europe extending from Lisbon to Vladivostok", and hence has a "full place" in the European family. He said France will make every effort to "revise the architecture of trust" between Russia and the European Union. He recalled France's pivotal role in getting Russia readmitted to full participation in the Council of Europe (which is a European political body promoting human rights and democracy in the continent) last June. France chairs the Committee of Ministers of the Council.
The Macron-Putin consultations covered Iran and the salvaging of its nuclear deal, on which France has lately been involved in intensive discussions with the Rouhani and Trump Administrations. Russian FM Lavrov said in a subsequent media interaction that some promising progress is being made and that Russia is strongly with France in these efforts.
Of greater import for Russia are French efforts for de-escalation of tensions with Ukraine. Both France and Germany have built on the positive signals sent out by the new Ukrainian President for reduction of hostility with Russia, including in a few telephone conversations between him and President Putin. Forward movement on implementation of ceasefire agreements, withdrawal of heavy artillery to agreed positions, amnesty and exchange of prisoners (which subsequently took place in September) has encouraged consideration of a summit meeting of the Normandy Group (France, Germany, Russia & Ukraine). Recent French and German statements (echoed also in Russia) indicate some optimism for progress in resolving the crisis. The resurrection of the Normandy process, which had been derailed after the appointment of a US special envoy on Ukraine (as described in earlier Reviews), would seem to indicate US acquiescence to these European initiatives.
President Macron said frankly that the Ukraine tensions had to be resolved, since they stood in the way of normalizing EU-Russia relations. While progress is being made on the implementation of the Minsk protocols of 2014-15, the sticking point will be Crimea. The Minsk agreements spell out actions for dealing with the tensions in eastern Ukraine; they do not touch on Crimea's "accession" to Russia or its return to Ukraine. Full implementation of the Minsk agreements (which, despite the progress, still seems some distance away) will address the issues that have provoked a large body of Western sanctions against Russia. The important question is how the Crimea-related sanctions would be dealt with. Russia may be amenable to concessions on the eastern Ukraine issues; it is, however, most unlikely to return Crimea to Ukraine. The journey to full normalization of EU-Russia relations is, therefore, still uphill. The same holds for Russia's re-induction into G8: Crimea may remain the obstacle, even if other Ukraine issues are settled.
The Macron-Putin talks also covered Syria in depth. The Syrian aspiration to regain sovereignty over the last rebel outpost in Idlib, and the Russian desire to eliminate the terrorist attacks from Idlib on its airbase, come up against Turkish strategic interests, European concerns about civilian casualties, and apprehensions (stoked by Turkey) of another refugee influx into Europe. However, there are some indications of a softening of the Western opposition to humanitarian operations and reconstruction efforts in Assad-controlled Syria. Again, this cannot happen without US acquiescence.
President Macron has also signalled the need for Russia-France discussions on European security in the light of the US withdrawal from the Intermediate-range Nuclear Forces (INF) treaty. Russia hopes that its stated position that it will not deploy missiles, except in response to placement of US missiles, will open up some room for negotiation.
While speaking expansively of the need for a Russia-Europe rapprochement, President Macron did not shy away from expressing concern on human rights issues. He reminded President Putin that membership of the Council of Europe carries with it some obligations to safeguard human rights and freedom of expression. France had earlier strongly criticized the arrests of over 2000 anti-government protesters in Moscow, on the eve of local elections, as a "clearly excessive use of force." When this came up at the Macron-Putin joint press conference, President Macron reiterated this position, President Putin responded with a comparison to the French response to the yellow vests protests, and President Macron counter-responded. But this exchange (which was carried in the Kremlin website) did not mar the cordiality of the bilateral exchanges.
Russian Foreign Minister Lavrov's interactions with his German counterpart, during his visit to Germany, were along similar lines. As with France, Russia's economic and cultural engagement with Germany has been intensifying over the past two years, side by side with the political dialogue. A project for science and education partnerships over 2018-20 has drawn huge response from both countries. Several important joint research projects have been initiated. Civil society interactions have increased.
Russia's business interactions with Germany and France have strengthened apace and drive the urge for normalization of relations. Russia-Germany trade in 2018 was $59.6 billion, about 20% higher than in 2017; Germany is Russia's third largest trade partner and continues to be its largest foreign investor: significant investments were announced in 2019 by Daimler Benz and Volkswagen. France is also a significant trade and investment partner and the upward trend in both is being sustained.
Both France and Germany are strongly committed to the Nord Stream 2 project that will bring Russian natural gas to Germany across the Baltic Sea. Their companies, along with those of Austria, UK and the Netherlands are implementing the project. The controversies over this project in the EU and the opposition to it from the US have been extensively covered in earlier Reviews. The construction of the pipeline is reported to be continuing satisfactorily, with over three-fourths of its total length of 1880 kilometres having been laid. Challenges to its commissioning are, however, still to be overcome – including from Congressional action for sanctions being contemplated in the US.
-via Ananta Aspen Centre
The views and opinions expressed in this article are those of the author and do not necessarily reflect the views of The Kootneeti Team