India – US: Again a Bond of Unity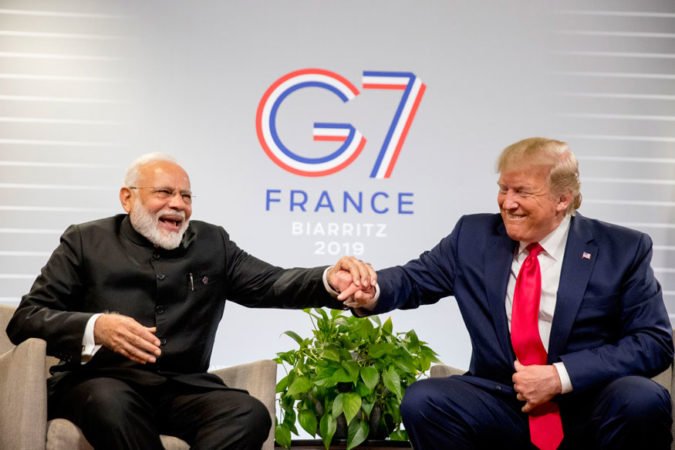 As the Indian Government decided for the abrogation of Article 370 from Jammu and Kashmir on August 5 2019, the regional politics surrounding the issue got escalated to the International forums. Ahead of this, Pakistan Prime Minister Imran Khan on his visit to the United States (before scrapping article 370) asked President Donald Trump for mediation on the issue of Kashmir. Trump showed his intention for the mediation between India and Pakistan on Kashmir. Which further backfired and India reacted in the manner that stress Kashmir issue as a bilateral one and no outsiders would be allowed to jump in the matter.
At the G7 summit in Biarritz, France, in a meeting between President Donald Trump and Prime Minister Narendra Modi, the latter said, the Kashmir issue had been discussed between the two leaders and there is nothing that is to be worried about.
The meeting between Prime Minister Modi and President Trump went better than expected. Both leaders conducted themselves with a certain amount of efficiency that relations between the two important democracies demand and deserve.
Modi was clear on what he wanted to discuss with Trump and finally was successful in pulling away from the Kashmir issue. Reaffirming that Kashmir is a bilateral issue, Prime Minister Modi categorically rejected any scope for a third party mediation between India and Pakistan on Kashmir, saying the two countries can discuss and resolve all issues bilaterally and "we don't want to trouble any third country." Even in the official declaration of G7 summit Kashmir was not mentioned.
Without directly referring to the Kashmir issue, PM Modi said, "There are many issues with Pakistan which are bilateral, We don't bother other countries about these issues. We can find solutions through discussions." India and Pakistan were together before 1947 and I'm confident that we can discuss our problems and solve them together," PM Modi added.
The US and India's relationship has been volatile in recent months. Whether the Trade war, Iran issue or India buying S-400 Air Defense system with Russia. The worsening tensions between the United States and Iran and Washington's demanded that India comply with the US sanctions on Tehran. This all has not gone down well in New Delhi because India sees Iran as a strategically important partner and also an important geopolitical ally to flank out  Pakistan away.
The US decision of leaving Afghanistan as also created some tensions to the policymakers in New Delhi. India has been left out of the discussions on the future of Afghanistan and it feels abandoned by the United States. In addition, Trump's withdrawal of the Generalized System of Preferences (GSP) on India and the tariff war between the two countries are not helping either.
The Trump administration wants India to lower the trade barriers and embrace "fair and reciprocal" trade. Trump has also criticized India's high import tariff on the iconic Harley- Davidson motorcycles as "unacceptable". Many US companies like Google, MasterCard, Visa and Amazon have raised concerns over the issue of data localization and its impact on their operational cost.
In April last year, the Reserve Bank of India issued a directive on 'Storage of Payment System Data'. It had advised all system providers to ensure that within six months, the entire data relating to payment systems operated by them is stored in a system only in India, for effective monitoring, India too has also dragged the US to the WTO's dispute settlement mechanism over the imposition of import duties on steel and aluminium.
But after the G7 summit, India has decided to break the deadlock from its end. Prime Minister Modi said that "India plans to further step up imports, including oil, from the US and that $4 billion worth of imports were already "in the pipeline", as the two countries sought to overcome differences over trade issues."
This Modi-Trump meeting assumes significance in the wake of the strain that has popped up in the bilateral relationship on a host of trade and economic issues. Presidential Elections are near in US and Trump will never want this opportunity to go away from him. Balance is a must for the sustained relations from both sides and the result of this effort is yet to come.
The views and opinions expressed in this article are those of the author and do not necessarily reflect the views of The Kootneeti Team