The growing trust deficit between Hong Kong and Mainland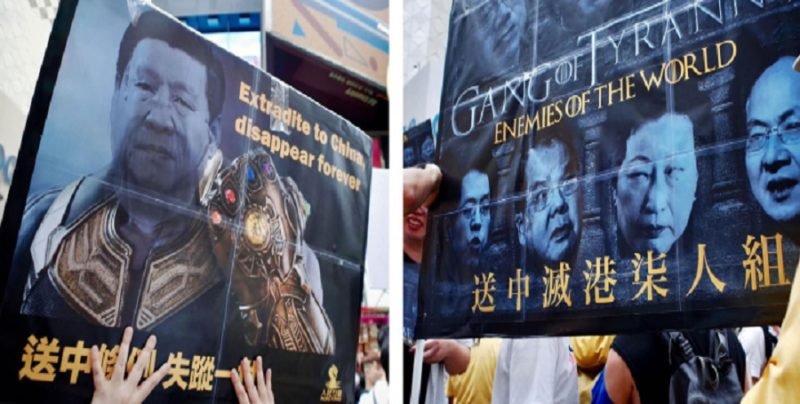 The mild reminiscent of 79 days Umbrella Movement in Hong Kong is once again revived with a newly emerged controversial issue i.e. Extradition Bill and a different course of actions that follow. By the recent wave of protest, which is regarded as one of the largest protests Hong Kong has ever witnessed since 1997. Political stability and rule of law are the utmost essential parameters as the free and open market, particularly in this age of complex interdependence. Thousands of protestors of all age groups are marching on the streets of Hong Kong, a sight which has become quite normal to the former British Colony in recent years.
Hong Kong a former British Colony and one of the "Asian Tigers" has seen huge leaps in its fate with the rising economic hub, business activity and continuous flow of investments from OECD countries. It was handed over to China in 1997 with a formula of one country two systems, a special administrative region (SAR). The resultant treat called "Joint Declaration" guaranteed a high degree of local autonomy and the survival of its freedom under the rule of law for 50years i.e. until 2047. It has got freedom over all its activities, except for defence. One of the prominent financial hubs in the world, boasting of GDP of US$341.5 million in 2017, according to World Bank and a six largest stock exchange in terms of market capitalization in the entire world. One can understand from the fact that many Mainland Chinese top companies list their IPOs at Hong Kong Stock Exchange which also, complemented with tons of intense economic, socio-cultural exchanges with Mainland China on a daily basis.
The proposed controversial so-called Fugitive Offenders and Mutual Legal Assistance in Criminal Matter Legislation (Amendment) Bill 2019 would allow the extradition of people not only to China but to any jurisdiction in the world with which Hong Kong has no existing formal agreement, Taiwan and Macau in particular. As there is no extradition treaty with China because of the nature of system and clauses attached with the 1997 treaty, which specifically enshrined judicial independence and a high degree of autonomy for 50 years. However, commercial offences such as Tax Evasion have been removed from the list of extraditable list of offences amid concerns from the business community. Under the pretext of Transboundary crimes likes murder and rape, a recent case in which Hong Kong national, admitted killing his pregnant girlfriend in Taiwan.
China legal system is opaque and characterized by arbitrary detention, torture and serious violation of rights to a fair trial in the country. And as such business leaders, legal professionals, media organization and human rights group fear the law could be abused, allowing Beijing to seize fugitives not just for criminal offences but also for political and commercial reasons.
The global media and Western democracies, particularly the UK and US following the situation intensely, given their economic stakes and the ongoing trade war with China, which halted the post-G20 summit at Osaka. Several European countries envoys in addition to Canadian and US envoy met the Hong Kong chief executive Carrie Lam to protest formally. A statement by Hong Kong last British Governor Chris Patten said: "It's a proposal or set of proposals which strike a terrible blow…against the rule of law, against Hong Kong stability and security, against Hong Kong's position as a great international trading hub,"

This issue is causing an irritant between the government of the UK and China and could affect their economic relations.
Hong Kong International Chamber of Commerce mentioned that ongoing events could cause the business to reconsider selecting the city as regional headquarters and in a long term would include political risk analysis for the business groups. The US congressional commission said the proposed changes would make Honk Kong more susceptible to "China's political coercion" and would erode China's autonomy.
China on the other hand with its state censored media is barely covering the issue and try to dilute and downsize the number of protestors, as published in China Daily. An article titled "Undermining Hong Kong stability and prosperity" and the role of "foreign force" find its place in Chinese premier newspapers. Likewise, Chinese foreign ministry in an official statement depicts that the protestors didn't represent the "mainstream" in Hong Kong. Later on, China condemned violent protests in Hong Kong as an "undisguised challenge" to the formula under which the city is ruled. And China constantly taking a passive side to this and depicting it as internal affairs of Hong Kong and PLA has assured Pentagon officials that Chinese troops will not interfere in the city's affair.
In the nutshell, the ongoing protest has wider ramifications beyond the boundaries of Hong Kong. It carries both symbolism and substance and should be read accordingly. For China, it's a challenge, a crisis and an international embarrassment, which west particularly the US utilize as a bargaining chip. Also, for the Western democracies its' a big lesson to evaluate things both in economic and strategic terms, as protest is becoming new normal and any disruption will affect them as well. Ultimately, the onus lies on the citizens of Hong Kong who have shown the world their prime concerns and enchanting political rights would not be negotiable in any case, given the growing trust deficit between them and Mainland China.
---
Bibliography:
"China's PLA Signals Ti Will Keep Hong Kong Based Troops in Barracks." Economic Times, July 2019, file


"Hong Kong's Future Won't Be Held Hostage by Opposition and Western Supporters." Global Times, 10 June 2019,


Nicolle Liu. "What Is Hong Kong Extradition Bill." Financial Times, 11 June 2019.


Tiezzi, Shannon. "What China Is Saying about the Hong Kong Protests." The Diplomat, June 2019,


Torode, Greg. "Why Proposed Changes to Hong Kong's Extradition Law Fueled Protest." Reuters, 2019,
Winkler, Janina. "The 4 Asian Tigers Economy Growth." Docurex® Dataroom, Janina Winkler /Wp-Content/Uploads/docurex_logo_header-300×60.Png, 18 Aug. 2017, www.docurex.com/en/four-4-asian-tigers-economy-growth/.
The views and opinions expressed in this article are those of the author and do not necessarily reflect the views of The Kootneeti Team