Turkey 2019 local elections: An unusually attractive local ballot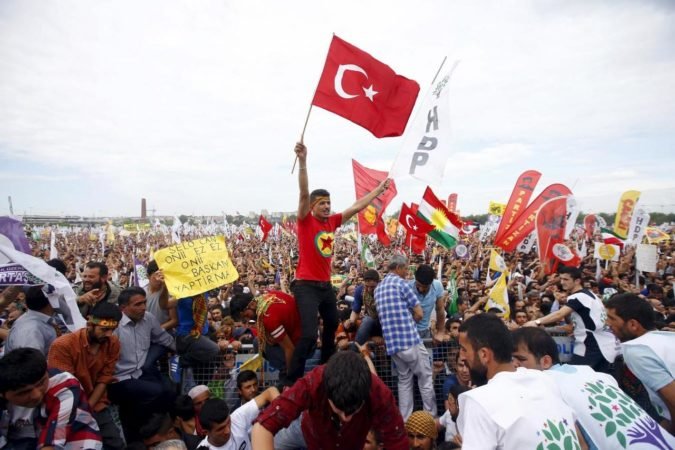 The local elections to be held in Turkey on 31 March 2019 are of special significance, bearing in mind the opposition parties' desire to return to the political scene after a series of election failures.
At the same time, the ruling coalition led by the Justice and Development Party (AKP) wants to realise its political and economic plans. The Republic of Turkey's nineteenth local elections to be held since 1930 will have an immense economic and political impact on the future of this country. They will be the first elections since the country introduced the new presidential political system last year.
In the 81 provinces of Turkey a total of 30 metropolitan and 1,351 district municipal mayors, alongside 1,251 provincial and 20,500 municipal councillors will be elected, in addition to numerous local non-partisan positions such as neighbourhood wardens (muhtars) and elderly people's councils.
According to the data from the Supreme Election Council (YSK), 13 political parties will run on the ballot. The main competitors remain the same as in previous elections: the ruling Justice and Development Party (AKP) run by Turkey's President Recep Tayyip Erdoğan, which will again ally with the right-wing Nationalist Movement Party (MHP) presided by Devlet Bahçeli, to form the People's Alliance (Cumhur İttifakı). Kemal Kılıçdaroğlu's Republican People's Party (CHP) and Meral Akşener's Good Party (IYI) will form the Nations Alliance (Millet İttifakı). The leftwing pro-Kurdish party (HDP) with its new co-Chairs Pervin Buldan and Sezai Temelli will not form any coalition. Nevertheless, it is expected to call upon its voters in the large cities of Istanbul, Ankara and Izmir to vote for CHP's coalition, bearing in mind that HDP itself has no candidate for the local elections in Istanbul.
The forthcoming local elections will be followed by a long four-year period without any elections in Turkey, which will enable stability and yield positive indicators that are especially important for the economy and foreign investments.
AKP's victory at the elections will enable Erdoğan to realise his programme that he promised to the citizens at last year's presidential election. On the other hand, the forthcoming elections are also of great significance for the Turkish opposition which has lost presidential and parliamentary elections last year when competing with the coalition led by AKP. Now the opposition has an opportunity to regain its electorate by competing for the leading positions in large cities throughout Turkey, provided the Turkish citizens prove their trust by casting a vote for the opposition at the forthcoming elections.
AKP runs at local elections with the strongest candidates
The significance of the forthcoming local elections for AKP is also proven by the fact that AKP listed former Prime Minister and Turkish Parliament Speaker Binali Yildirim as a candidate for Istanbul mayor as well as other former ministers for leading local government positions. Moreover, several renowned members of AKP and even some of its co-founders are planning to establish a new party whose programme is identical to AKP's programme. They are well known and respected in domestic and foreign political and economic circles, such as former President Abdullah Gül, former Prime Minister Ahmet Davutoğlu, former Deputy Prime Minister in charge of the economy Ali Babacan, and former Deputy Prime Minister and Minister of Finance Mehmet Şimşek. They will make their calculations based on the results of the 31 March 2019 local elections – should AKP lose a share of its votes they will be encouraged to continue with their project. However, it is not realistically expected that the new party would be established very soon. It lacks the specialised staff and a clear identity, not to mention the ideological disagreements between Gül and Davutoğlu as well as Babacan's and Şimşek's discord in opinion regarding the Turkish economy.
On the other hand, Turkish opposition is trying to persuade the voters that it is time for changes in the country after 16 years under AKP's government and its supremacy over the weak opposition led by the Republican People's Party CHP. The latter has allied with the Good Party (IYI) to form a block that would be able to disrupt AKP's continued election victories.
The forthcoming local elections do not pose a threat to Erdoğan, although their results will be used to check how the public is satisfied with AKP, especially in terms of the economy. Bad election results in large cities such as Istanbul, Ankara and even Izmir which is regarded as the republican bastion could mean that the citizens are losing their trust in the "economic charm" that Erdoğan radiated during his 16 years in office as Prime Minister and President of the Republic.
Nevertheless, the opposition still has not formed any clear plan. Their only cohesive factor and main election motto is to overthrow Erdoğan. CHP's president Kemal Kılıçdaroğlu has lost nine elections during the past 16 years but has still not resigned from CHP.
It has been noted that in their election programmes and positions regarding the events and problems in Turkey, CHP and other opposition parties mainly focus on attacking AKP and Turkey's President Erdoğan while neglecting the issues which are of vital interests for Turkish citizens.
Elections marked by inappropriate political rhetoric
During the election campaign, some rash words have come from the ruling AKP and President Erdoğan who said in his message to HDP: "They can not divide this country. If they like Kurdistan, they should go there." He said there was no region called Kurdistan in Turkey, referring to the Kurdish federal entity in Iraq. The answer did not come from HDP but from IYI leader Merala Akşenera, who stated that Erdoğan should not classify the six million citizens who voted for HDP as a terrorist element that allegedly belongs to the terrorist PKK party.
Moreover, Erdogan accused CHP leader Kemal Kılıçdaroğlu of collaborating with the coup plotters during the coup d'état on the night of 15 July 2016 with the following words: "Mr Kemal, you are a coup plotter".
AKP immediately tried to redress the negative effects of those statements. So its high officials hurried to explain that AKP is not in conflict with Kurds but with PKK, and that Erdoğan's right hand and candidate for the mayor of Istanbul Binali Yildirim is of Kurdish origin.
AKP's continued election victories stem from the fact that Turkish voters see it as a symbol of religiosity, transparency and reconciliation, acting as a bridge between the past and the present, between Islam on one hand and nationalism and secularism on the other hand.
The gravity of American influence on events in Turkey
As far as Turkey's external debt is concerned, experts and research centres have noted that Turkey is one of the least indebted countries among the world's largest economies. Turkey's external debt is still below a quarter of its GDP, while Japan's external debt has exceeded 250% of Japanese GDP. Thus the total debt of the Turkish Government does not exceed 27% GDP. Turkey ranks 21st in the world in terms of size and has less debt than most European countries, Japan and the United States of America (USA).
The USA is trying to use Turkey's debt as a part of the campaign to exert pressure on the Turkish economy and politics. According to data for the current year, USA national debt tops 22 billion for the first time in history.
In his tweet of 14 January 2019 American President Donald Trump threatened to "devastate Turkey economically if they hit Kurds", referring to People's Protection Units (YPG) in Syria.
Turkey about to face economic challenges
The Republic of Turkey will face its greatest challenges after the forthcoming local elections. Most of those challenges will be of economic character. According to recent public opinion polls, the voters' main concern is the collapse of the Turkish economy. Unlike in the past, when terrorism was regarded as the main problem, voters now regard unemployment and Syrian refugees as the greatest challenges.
Industrial production has sunk by 6% and retail trade by 7%. Total growth fell from 7.4% in 2017 to 2% according to 2019 forecast. The unemployment rate reached 11%, while for the young from the 15-24 age group, which accounts for around 20% of Turkey's population, it goes as high as 22%.
Turkey's economic meltdown is the result of political mistakes from previous years when the amount of loans doubled in order to achieve a high growth rate that depended on consumption rather than on productivity. The economic growth rate of over 7% was induced by massive granting of loans instead of stimulating productive development.
Turkish lira lost about 40% against other currencies last year, which was not due to economic reasons. This drop is not comparable with the inflation from the period before AKP's government. It should be noted that during the period 1991-2002 Turkish lira lost 368 times more value, while during 2002-2018, under AKP's rule, it lost its value no more than three times.
Turkey has no problems with debt repayment, its total external debt of USD 460 billion being less than half of its GDP. The private sector debt accounts for about USD 300 billion and the government debt remains under 160 billion. It should be noted that the largest share of debt was invested in industrial and service projects which are to start generating income in the next months. For example, the new Istanbul airport will create an annual income of USD 8-10 billion. To make this investment five companies joined their funds in the value of USD 22 billion. The impact of the above debts, which are mostly valid and carried out by the Turkish Central Bank, depends on the global economic situation. All the debts are under natural debt limit and may even be financed through other loans and debt rescheduling.
The biggest threat for Turkish economy comes from the political sphere and the relations between Turkey and the USA, i.e. the intention of President Trump's administration to introduce measures that could have negative repercussions on the Turkish economy. Turkey supports Venezuela's President Nicolás Maduro and intends to continue buying gold from Caracas. It also intends to use gold for purchasing oil from Iran, which represents a violation of USA sanctions. In that case, there is a reason to believe that the USA will try to undermine Erdoğan's position by impeding the use of the IMF's financing or imposing other severe sanctions.
An unusually attractive local ballot
Local elections usually do not attract much attention from internal and external factors, but the ruling Justice and Development Party (AKP) says the ballot scheduled for 31 March 2019 will determine the future of Turkey and its economic prosperity. Aggravation of the economic situation including inflation and the fall in currency value has increased tensions in the country. The state unnecessarily (mis)used the economy for the purposes of local elections, while it should have focused on regulating cities in terms of infrastructure and other municipal utility services.
AKP's defeat at local elections would represent a symbolic blow to the party, reflecting the frustrations of Turkish voters who complain about the weakening economy and a drop in the standard of living. For Erdoğan, it is a matter of prestige. During the last two election cycles, he had to form two coalitions, which had not been necessary for the past. Eventual defeat in Istanbul or Ankara may initiate internal friction within AKP. In the worst case scenario, external forces may be misused to destabilise Turkey, as was the case of Taksim Gezi Park in Istanbul in 2013.
Bakhtyar Aljaf & Dr Zijad Becirovic, PhD are Directors at International Institute for Middle-East and Balkan Studies (IFIMES) – Ljubljana
The views and opinions expressed in this article are those of the author and do not necessarily reflect the views of The Kootneeti Team