High time to recognize fully Israeli's Sovereignty over the Golan Heights: Trump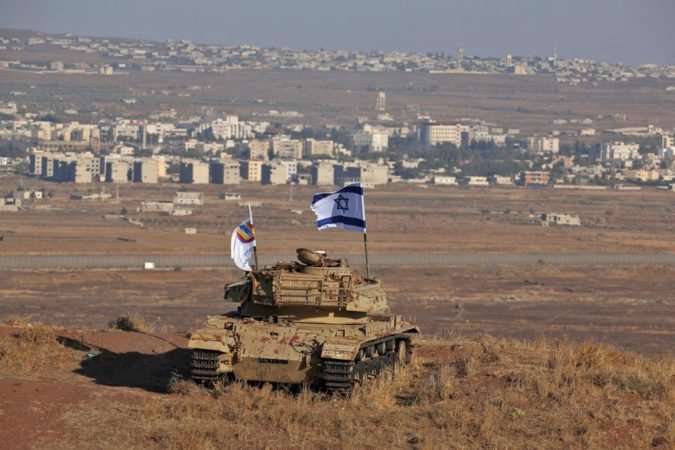 The US President Donald Trump said that it was time to aback Israeli Sovereignty over their occupation of the Golan Heights before the visit of Prime Minister Netanyahu to the White House in the coming few days.
The Golan Heights is a region in the Levant which was occupied by Syria and then Israel during the Six-Day War in 1967 leading to its annexation in 1981 which was never recognized by the International Community.
Trump, in a tweet, said that it is high time to recognize fully Israeli's Sovereignty over the Golan Heights which is of high strategic and security importance to the state. His remarks are highly controversial and when the US Secretary, Mike Pompeo, was asked about his comments, he did not say anything. 
However Prime Minister of Israel, Benjamin Netanyahu did not remain silent. After Donald Trump made his comments on the social media, minutes after it, he updated that Trump has recognized Israel's sovereignty at a time when Iran is using Syria as a medium to destroy Israel with a "Thank You". He further said that if Golan Heights were not in the hands of Israel, USA would have access over the Golan Heights which was the sole motive of the Prime Minister.
Many like Richard Hass, a former senior State Department official highly disagreed with Trump's say. The move by Trump actually violates the UN Security Council Resolution 242 which rules out acquiring territory by war and serves Israel as it says that all states have right to live in peace.
During the visit of Pompeo, he served warm hands with Israel and vowed to give up pressure on Israel which had a great impact on the Prime Minister during elections' re-campaign. However many have said that Pompeo's visit to Israel have actually lessened peace hopes in Israel.
The officials were also upset of US's description recently which used "Israeli controlled" instead of "Israeli Occupied" Golan Heights in its latest Annual Human Rights report which actually said "Israeli Occupied" before.
The United States have attempted actually to remain impartial in the conflict over the Golan Heights, Trump administration has strengthened ties with Israel on the other front. In 2017, Trump even recognised Jerusalem as Israel's capital whereas in a recent description as mentioned above by the U.S said "Israeli Controlled" instead of "Israeli Occupied".
No one really knows what is there in Trump's mind but surely he wants to have a good tie with Syria in some kind of fulfilment of US's motives.
The views and opinions expressed in this article are those of the author and do not necessarily reflect the views of The Kootneeti Team