Montenegro: Milo Djukanovic rule ends?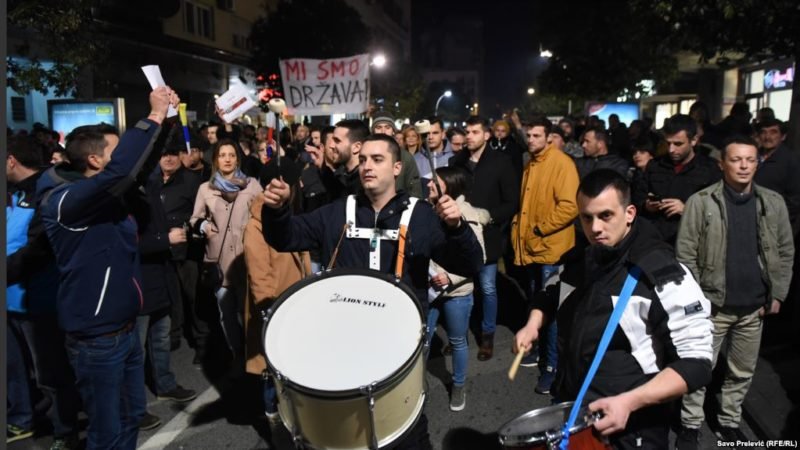 Thousands of the citizens marched and protested against President Milo Djukanovic of Montenegro this Sunday, March 16th demanding his resignation as he and his government have been accused of abusing office, grafts and cronyism. There was a huge crowd of students who had shouted for his resignation under the slogan "Milo thief" and "We are the State."
The protest started after Dusko Knezevic who is a businessman and a former ally of Milo Djukanovic accused the country's president of abusing office and some financial deals. However, the President and his government have denied the protest but added that the protest is fine until it does not turn violent.
The President has served the country either as a President or a Prime Minister for three decades, the country which is a NATO member and a European Union Member.
Many have protested saying that they want a change in the membership, a change in the dictator who had ruled the country for almost 30 years.
Montenegrin attorney have accused Knezevic of fraud and laundering money issuing an international arrest for the escapee banker who fled to Britain. Knezevic in return has said that he would provide some more evidence against the corrupted President and also to his long term government to bring their rule to an end.
However, before it joins the EU, Montenegro has to root out its records of crime, corruption, nepotism, bureaucracy and red tape. Montenegrin protestors have said that they want the opposition parties to stay away from the rallies.
Since date, there have been five protests against the President in Montenegro. The protests have begun since 2nd February 2019 on the inventiveness of a grassroots group called "Odupri se 97000" which composed of 30 major activists and citizens of no clear affiliations. The main demands of the group have been the resignation of the President, the Prime Minister Dusko Markovic, the Supreme State Prosecutor Ivica Stankovic and the Montenegrin chief prosecutor for organised crime, the group getting its support from Montenegrin political opposition.
The protests have been so strong that despite bad weather and strong winds, the protests continued.
The President's rule has been the longest rule in the country, serving as Prime Minister first from 1991- 1998, then as the President from 1998-2002, as Prime Minister again under various governments between 2003-2016 and again getting re-elected in May 2018.
People are greatly upset against his rule. They want the end of his dictatorship hence protesting to their fullest to overthrow his authoritative rule.
The views and opinions expressed in this article are those of the author and do not necessarily reflect the views of The Kootneeti Team