Productive and Comprehensive 5th India-Philippines Joint Commission on Bilateral Cooperation Meeting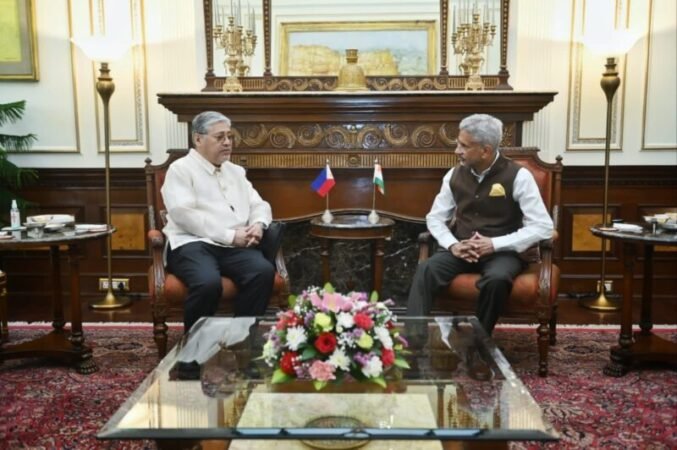 The 5th India-Philippines Joint Commission on Bilateral Cooperation (JCBC) meeting took place on Thursday, co-chaired by External Affairs Minister S Jaishankar and Philippines Foreign Affairs Secretary Enrique Manalo. The meeting, held in the national capital, was described by Jaishankar as "productive and comprehensive," covering various areas of cooperation between the two nations as they approach the 75th anniversary of their diplomatic ties.
Discussions during the meeting focused on several key topics, including defence, maritime security, counter-terrorism, and transnational crimes. The agenda also encompassed growing economic ties, trade and investments, development cooperation, health and pharmaceuticals, tourism, air services, agriculture, fintech, science and technology, and space cooperation.
The collaborative efforts between India and the Philippines in ASEAN and other multilateral forums were acknowledged during the meeting. The importance of strengthening people-to-people ties, particularly in the tourism and education sectors, was emphasized. Both countries, as Indo-Pacific nations, highlighted their shared interests and strong convergence on key issues.
In a significant development, the visiting Philippines Foreign Secretary announced that his country has ratified the updated Air Services Agreement with India, further enhancing bilateral cooperation.
During the delegation-level talks, External Affairs Minister Jaishankar emphasized the necessity of stabilizing the Indo-Pacific region, upholding the rule of law, and promoting inclusive multilateralism. He commended the Philippines Foreign Secretary's participation in the Voice of Global South Summit, highlighting the shared values, common perspectives on global and continental developments, and the economic complementarities between the two nations, which are expected to contribute to the productivity of the commission.
In his address, Secretary Manalo expressed gratitude for the warm hospitality and welcome extended by Jaishankar and the Government of India to the Philippine delegation. He emphasized the significance of the relationship between the two countries, noting the progress made in various areas of cooperation, such as science and technology, trade and investment, defence, health, medicine, agriculture, tourism, and financial technology. Both sides expressed their commitment to further strengthening these ties, with India currently being the Philippines' 15th trading partner.
The 75th anniversary of diplomatic relations between India and the Philippines will be celebrated this year, marking an important milestone in their bilateral engagement. The meeting between Jaishankar and Manalo in Cambodia on the sidelines of the ASEAN summit in November of the previous year was mentioned, highlighting the continuity and ongoing engagement between the two nations.
The views and opinions expressed in this article are those of the author and do not necessarily reflect the views of The Kootneeti Team