Japanese PM Fumio Kishida visits India; Plans to announce a new plan for a Free and Open Indo-Pacific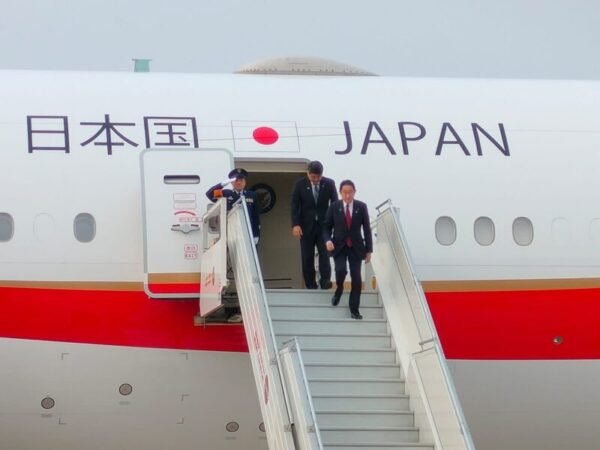 Japanese Prime Minister Fumio Kishida arrived in India on Monday for a two-day visit, during which he was received and greeted by Union Minister Rajeev Chandrasekhar at the airport in Delhi. Kishida's visit aimed to strengthen the partnership between India and Japan, particularly on regional and global issues of mutual interest.
During his visit, Kishida will hold a meeting with Prime Minister Narendra Modi and deliver a speech on Japan's Indo-Pacific strategy and its new defence posture. The two prime ministers will also take a walk together at the Buddha Jayanti park in Delhi to visit the Bal Bodhi tree, a venerated tree with deep roots to Gautam Buddha's time.
India and Japan have a longstanding relationship, which has been elevated to 'Special Strategic and Global Partnership' since 2014. The two countries have conducted regular yearly summits since 2006, with the last Annual Summit held in March 2022 in New Delhi. The partnership between both countries ranges in various sectors, including defence and security, trade and investment, Science and Technology, Education, healthcare, and critical and emerging technologies.
Kishida said that during his stay in India, he will announce a new plan for a Free and Open Indo-Pacific, presenting concrete ideas about the future of FOIP at this historical turning point. The Ministry of External Affairs said that the two leaders discussed bilateral and regional issues of mutual interest, but did not reveal details regarding the talking points of the discussion.
Since the last meeting between India and Japan held in March 2022, now is a significant time to engage on a bilateral level as both New Delhi and Tokyo are holding the Presidencies of the G20 and G7, respectively. The visit reaffirmed the importance of the partnership between India and Japan and its potential to contribute to peace, stability, and prosperity in the Indo-Pacific region.
The views and opinions expressed in this article are those of the author and do not necessarily reflect the views of The Kootneeti Team