Former Russian President warns NATO of nuclear war if Russia is defeated in Ukraine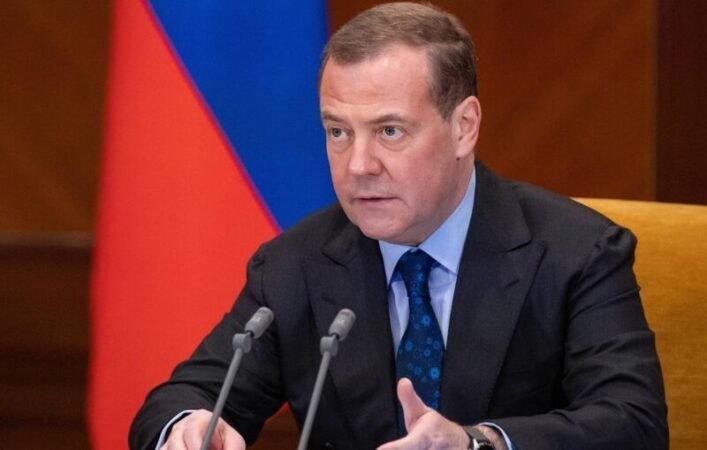 Former Russian President Dmitry Medvedev, who serves as deputy chairman of Putin's powerful security council, has warned that a defeat of Russia in Ukraine could trigger a nuclear war. This statement came on the eve of a meeting of Ukraine's allies to discuss providing Kyiv with more weapons. The head of the Russian Orthodox Church also commented that the world would end if the West attempted to destroy Russia.
This apocalyptic rhetoric is seen as an attempt to deter the U.S.-led NATO military alliance from getting more involved in the war. However, Medvedev's recognition that Russia might lose on the battlefield is a rare moment of public doubt from a prominent member of Putin's inner circle. He urged NATO and other defence leaders to consider the risks of their policy before meeting at Ramstein Air Base in Germany to discuss strategy and support for the West's efforts to defeat Russia in Ukraine.
Putin views Russia's actions in Ukraine as an existential battle with an aggressive and arrogant West and has stated that Russia will use all means necessary to protect itself and its people.
Nuclear Threat
Since the invasion, Russia has repeatedly threatened nuclear war, but the recent admission of the possibility of defeat by Medvedev shows Moscow's growing concern over increased Western weapons deliveries to Ukraine. As the largest nuclear powers, Russia and the United States hold around 90% of the world's nuclear warheads.
When asked if Medvedev's statements signify an escalation of the crisis, Kremlin spokesman Dmitry Peskov stated that it does not and that Medvedev's comments were in line with Russia's nuclear doctrine which allows for a nuclear strike if the existence of the state is threatened by aggression with conventional weapons.
The views and opinions expressed in this article are those of the author and do not necessarily reflect the views of The Kootneeti Team