Tying up International Year of Millets with India's G20 presidency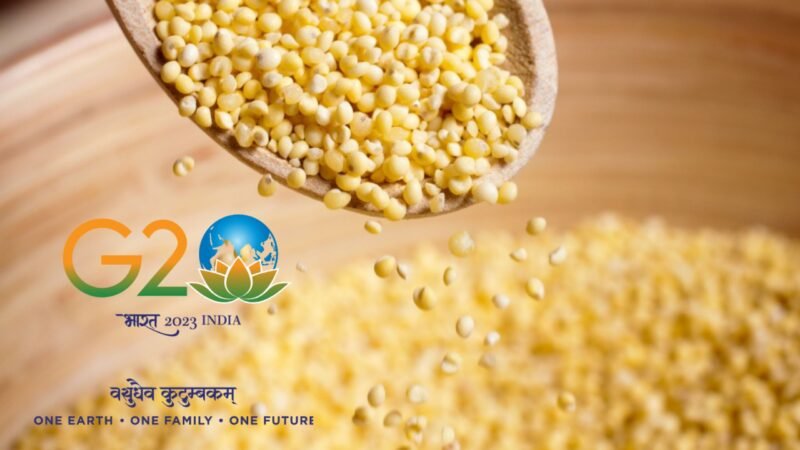 The year 2023 has just arrived. While the pandemic-ridden tumultuous world is giving way to more and more of pre-pandemic equanimity, so is India at the cusp of donning the diplomatic hats as chairs of critical international organisations as well as steering important international missions. From a foreign policy analyst and researcher's point of view, without a doubt, 2023 is going to be one of immense significance for India. Through this article, I would like to argue that tying up certain agendas offer a unique diplomatic opportunity for India to cross-propagate these missions. I take the case of India's G20 presidency and the observation of the International Year of Millets by the United Nations General Assembly (UNGA) at India's proposal.
First and foremost, starting from December 2022 India has taken up the presidency of G20 for the coming year i.e., 2023. This is a watershed moment in India's diplomatic history and a unique prospect at showcasing the country's overall propensity of organising a yearlong international event. This shall also allow the opportunity for showcasing and putting to the table issues and matters of concern for discussions and deliberations which would finally lead up to policy implementations at various levels. The G20 Summit is held annually under the rotating presidency of member states and has evolved from just focusing on broad macroeconomic issues. It has now expanded to include trade, climate change, sustainable development, health, agriculture, energy, environment, climate change, and anti-corruption in its agenda.
While we are at G20's 2023 edition, it is worth noting that the year 2023 is also declared the International Year of Millets by the United Nations General Assembly. The proposal for declaring the same was put forth by India and was subsequently supported by 72 countries of the General Assembly. While speaking at the pre-launch celebration of the International Year of Millets in November 2022 in Delhi, Indian External Affairs Minister Dr S Jaishankar did highlight three big "Cs"- challenges facing the global economy, including covid, conflict, and the climate. He included that all three have had grave impacts on food security in very many ways. For instance, during the height of the pandemic, food security was challenged globally but the scenario was especially acute in the Gulf countries. With the ongoing Ukraine-Russia crisis, Ukraine is no longer the highest producer and exporter of wheat globally, leading to shortage and inflation of commodity prices. In the face of alarming climate change, millets, or Nutri-cereals as they are alternatively known hold immense potential, he added. De-centralisation and diversification of production globally will empower the global community to face another pandemic if at all it surfaces in the future.
Both these events present India with a unique opportunity of catapulting the traditional know-how of our indigenous millet production at the global level. Indian farms have traditionally boasted of naturally farming these sturdy cereals year round. Millets as described by FAO are small-seeded annual grasses that are grown as grain crops, primarily on marginal land in dry areas of temperate, sub-tropical, and tropical regions. India produces more than 170 lakh tons of millet annually which makes it around 80% of Asia's and 20% of the global production. While the global yield per hectare is 1229 kg, India's rate stands at around 1239 kg/ha. A lot is planned to generate awareness regarding the nutritional and health benefits while deliberating on value addition, processing, and recipe development of millets. International outreach is envisaged with the help of global promotion through the Food and Agriculture Organisation's Action plan, roping in Indian embassies and the diasporas through food festivals, international food influencer marketing as well as engaging international donors.
While all this is appreciable, the G20 platform can also be availed to better broadcast and streamline the initiative. G20 Agriculture Ministers meeting and the research group is a veritable platform that is wielded extensively to deliberate on matters of food security and food availability that concerns the member community. G20 countries comprise 85% of the global GDP, 75% of global trade, and 2/3rds of the world population that encompass many local conditions, cultures, histories, production systems, consumption patterns, and traditions. The diversity and inclusivity of the forum is a far-fetched one to disseminate the message of the benefits of millets and their production agility. Looking back, the Chair's Summary of the 2020 and 2021 G20 Agriculture Ministers' Meeting equivocally emphasised the centrality of 2030 Agenda for Sustainable Development and the Paris Agreement in bringing about an institutional, collaborative and financial framework to ensure sustainable and resilient food systems.
India presents itself with a huge opportunity to popularise and propagate its traditional agricultural know-how of social sustainability of food systems. One such system is the Indian system of natural farming in general and millets in particular. Bharatiya Prakritik Krishi Padhatti or the Indian system of natural farming holds potential for crops such as millets which are drought and disease-resistant and an excellent source of nutrition for developing countries' agroecology. Also, they require lesser input and reduced labour costs. The intention of this article is not to deliberate on the detailed benefits from an agriculturalists' point of view but underline the immense possibility that the G20 Agriculture Research group holds in hoisting the agenda of food sustainability through millet production and cultivation. In doing so, India can project and disseminate the agenda that it is already rooting for, at the global level. This can be a strategy that furthers the "Indian" image and stands true to the official motto of G20 2023 – Vasudhaiva Kutumbakam: One Earth, One Family, and One Future.
The views and opinions expressed in this article are those of the author and do not necessarily reflect the views of The Kootneeti Team