Rhetoric vs. Reality – China's Diminishing Ambition in Afghanistan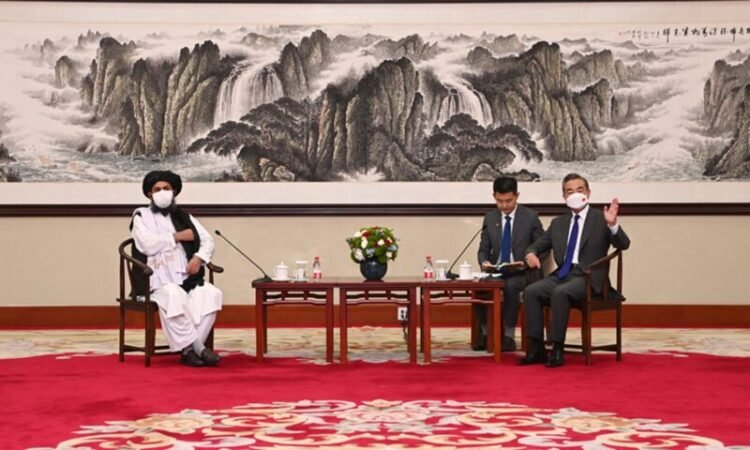 The unpremeditated United States retreat from Afghanistan following the August 15, 2021 capture of Kabul by the Taliban had many observers assume that the vacant space unceremoniously left by the West after two decades of state-building endeavor will be swiftly filled by regional heavyweights, particularly by the superpower aspirant China. The retreat of the West provided Beijing with the prospects to bring Kabul under its influence and access its vast mineral deposit awaiting to be unearthed. It has been over a year since the Taliban's complete takeover of the country; however, with each passing day the assumption of the expert observers seems to be losing ground since Taliban-Chinese expansive cooperation has failed to take off till date. The economic crisis confronting the Afghan state has severe repercussion for its population, half of which is in danger of acute hunger. So far, no major investment or economic aid has been forthcoming from China which begs the question as to why Beijing, which has been proactive in expanding its tentacles through infrastructure and economic development aid in the far reaches of the globe, has not done so in Afghanistan despite its restive Xinjiang province sharing a 76 km long border through a narrow strip of land called Wakhan Corridor located in Afghanistan's Badakhshan province.
Sino-Afghan Relationship
The relationship between Beijing and Kabul has been mostly limited to the economic domain. During the international military presence of the past two decades in Afghanistan, China took advantage of the security stability by expanding its connectivity projects in the neighboring countries. China pushed for closer ties between Afghanistan and Pakistan, and indicated the need for dealing with terrorism collectively. Beijing chose to take a selective approach to terrorism, as it often does, by ensuring that Islamabad cracks down on the members of the East Turkestan Islamic Movement (ETIM) involved in terrorism in Xinjiang but did not put any pressure on Pakistan regarding its dealings with the Taliban when the Afghan democratic government was still in power. In fact China invariably refrained from naming the Taliban while denouncing terrorism in Afghanistan. In June 2019, China hosted the Taliban's chief peace negotiator, Mullah Abdul Ghani Baradar which signaled Beijing's growing interest in playing a greater role in the Afghan peace process and in October 2019, facilitated an intra-Afghan meeting between Taliban and Afghan officials. It held a formal meeting with a nine-member Taliban delegation in July 2021 in which Beijing acknowledged the group as a crucial military and political force, and extracted an assurance that Afghanistan will not be used as a terrorist launch pad to attack China.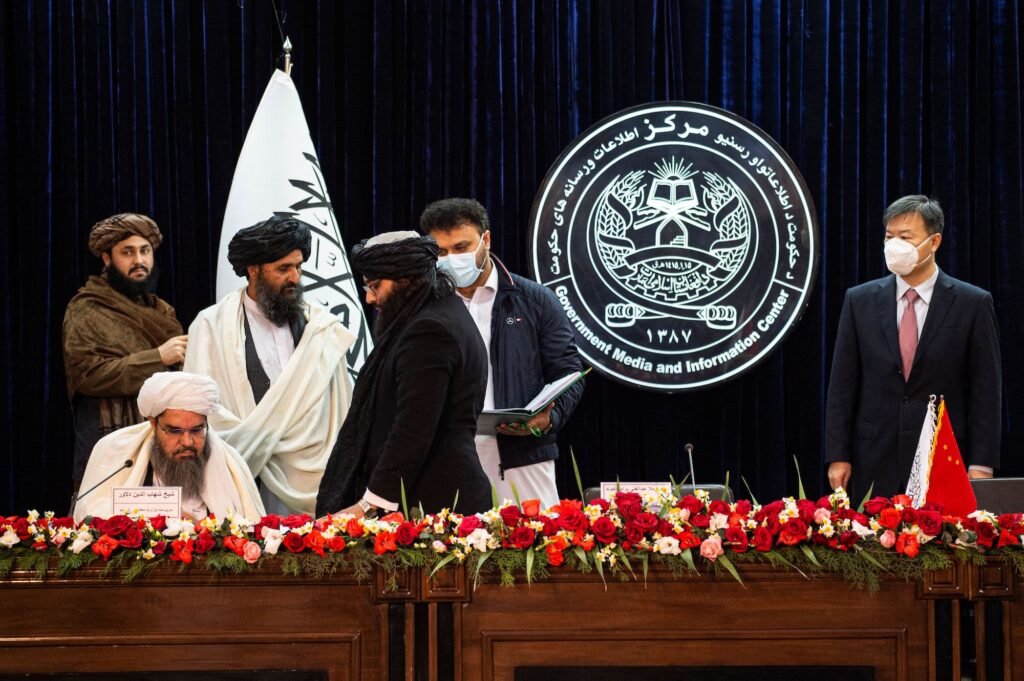 China's interests in Afghanistan are guided by its geographical contiguity, ambition for transcontinental connectivity, perception of Afghanistan's importance as a transitional country and potentials in natural resources, economy and commerce. Beijing's Afghan policy is also shaped by several geopolitical considerations and security concerns, such as Chinese fear of Afghanistan becoming a breeding ground for Uyghur separatists; drug trafficking; ensuring that Afghanistan is not antagonistic towards its ally Pakistan; and developing a global perception which portrays Beijing as a powerful regional and global power with the potential to resolve South Asia's longest insurgency. When the Taliban toppled the Islamic Republic, China was one of the few countries that kept its embassy functional, did not criticize the group and declared that it respects the decision of the Afghan people, indicating its embrace of the narrative that the new Taliban government has the backing of the whole populace. As the global donors withheld their development assistance following the return of the Taliban to power, Beijing was expected to step in to provide the much needed economic support with the benefit of protection promised by the Taliban to Chinese investments. Taliban spokesperson Zabihullah Mujahid reiterated that China is the group's most important partner and it will primarily rely on Beijing's financial support for investment and reconstruction of Afghanistan. During a meeting with his Pakistani and Afghan counterparts, Chinese Foreign Minister Wang Yi had said, "We will jointly build the Belt and Road Initiative, extend the China-Pakistan Economic Corridor to Afghanistan, and help Afghanistan participate in regional connectivity."
A Reality Check
Despite Taliban's high expectation from Beijing, China has remained very cautious in its engagement and refrained from providing any major economic aid or diplomatic recognition so far. Khan Jan Alokozay, the vice president of Afghanistan's Chamber of Commerce and Investment, stated that "There has not even been a penny of investment by China." Further revealing his disappointment, he goes on to divulge that "Many of their companies came, met with us, conducted research and then left and vanished, which is frustrating." China's projects in the Mes Aynak copper mine and Amu Dariya oil project have not seen much progress and Taliban's proposal to renegotiate some of the previously agreed upon terms has not helped the situation either. In its defense, China feels that Taliban has not dealt sufficiently against the ETIM which seeks to establish an Islamic state in the region that includes the Xinjiang province. This is a major red line for Beijing. Taliban insists that the ETIM does not operate in Afghanistan. Faran Jeffery from the Islamic Theology of Counter Terrorism (ITCT) claims that the Taliban has allegedly relocated the ETIM militants away from the Badakhshan province to alleviate China's concerns. It is unlikely for the Taliban to abandon the ETIM as it has been part of an alliance of transnational jihadis that had helped Taliban to come to power. Jeffrey had also predicted China coming under the Islamic State Khorasan's (ISIS-K) radar due to the organization's recruitment of Uyghurs. In December 2022, Chinese interests in Afghanistan came under attack when the Kabul Longan Hotel, frequented by Chinese businessmen and diplomats, was stormed by ISIS-K militants. Following the incident China advised its citizens to leave Afghanistan as soon as possible. This incident highlights the dire security situation in Afghanistan and further diminishes any chance of Chinese investment in the near future.
Foreseeing an overflow of Uygur separatists into Xinjiang from Afghanistan through Tajikistan at the time of Taliban's takeover last year, Beijing had beefed up its security aid and cooperation with Dushanbe. But Chinese security and interests in the region faced increasing threats in another neighboring and ally country Pakistan, where many of its nationals were targeted in recent time. In addition to this, the slow progress of the China-Pakistan Economic Corridor (CPEC), Islamabad's faltering economy and diminishing capacity to strategically manoeuvre between the US and China have all added to the stress in the Sino-Pakistan relationship. At the same time Afghanistan-Pakistan relations have shown rifts due to cross-border conflicts at the Durand Line and Taliban's lack of interest in taming Tehrik-i-Taliban Pakistan (TTP). To top it all, the COVID-19 pandemic and the Russia-Ukraine conflict had adverse impact on China's capacity and willingness to pursue global investment through Belt and Road Initiative (BRI). Emerging economies have been hit hard and they have faltered in meeting their debt obligations. An estimated 60 percent of Chinese foreign loans are to countries that are facing debt crisis. A slowdown of the Chinese economy has also led it to turn its focus inward. This further reduces any prospects for China to invest in Afghanistan that has absolutely no economic stability and ample security risks.
Conclusion
Even though China was expected to wield unprecedented influence over Afghanistan following the Western withdrawal, multiple factors within Afghanistan, the region and global developments have created barriers for the relationship to take off. The Taliban's promise to not allow Afghanistan from becoming a terrorist launch pad while allowing transnational Jihadis to find safe haven in Afghanistan all along, particularly the ETIM, has failed to allay China's fear. On the other hand, a Sino-Pakistan nexus in Afghanistan has failed due to Islamabad's souring relationship with the Taliban, and a rising disharmony in partnership between the iron brothers Beijing and Islamabad. Ultimately it is the Covid-19 pandemic and the Russia-Ukraine conflict that have reduced Beijing's risk appetite for investing in unstable countries which will defer China from undertaking any major economic ventures in Afghanistan. The Taliban had high expectations from China and had hoped Beijing to rescue Afghanistan from an economic meltdown. However, help has not been forthcoming raising frustration among the group. If Beijing fails to deliver after all the wooing, Taliban might no longer be able to reign in terrorist organizations such as the ETIM from pursuing their ambition of global jihad.
The views and opinions expressed in this article are those of the author and do not necessarily reflect the views of The Kootneeti Team