Let Japan defend themselves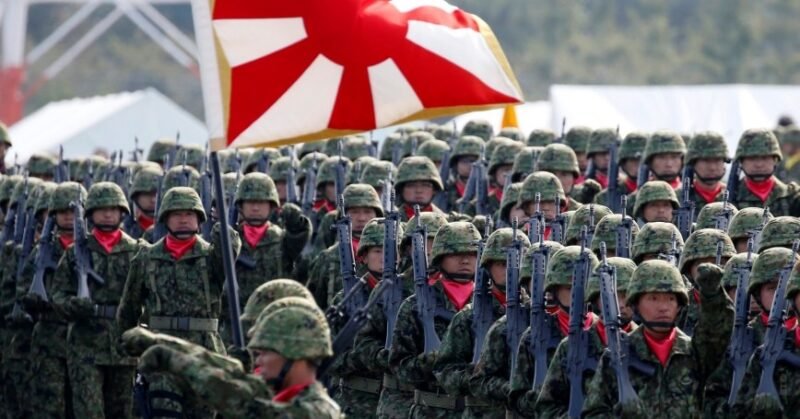 It is the time for America to loosen its shackles on Japan to re-militarise and arm by itself. The days of the Pacifist Constitution is over due to broken peace threads among the regional kshatrapas.
Background
Post-World War-II the US imposed a constitution on Japan which forbade the possession of military which later turned into initial Cold War years. Washington pushed Tokyo to rearm itself but Japan chose to hid behind its own constitution. 'Japan should change its Constitution if that's what it would take to start spending more on defence' stated the then US Secretary of Defense John Tower in 1989 under Sr. Bush administration. In lieu of this argument, the Japanese government tried politically to restrain the expansion of American defence infrastructure inside their geographical territory in the initial years of the 1990s under the democratic front (LDP, CDPJ, DPJ & others). In the meantime, several regional instances strengthened Sinophobia and Russophobia among the factions of the 1955 System. It broke the chain of reforms till the end of the economic depression of 2008. Post that former PM ABE Shinzo took the baton to reassess the impact, possibility and requisites by engaging in active discussions with public, pressure groups, factions and other stakeholders. The discussion is still on for cost and technical backgrounds of further disengagement with USA on the new defence line-ups required in Japan to kept power balance neutral with other regional powers.
Self-Reliance than only Reliance
Japan is a constitutional monarchy with an abled functioning parliamentary system Diet comprising two houses. From its inception and smooth functioning, the country is governed with the idea set of non-adherences to full fledge operational military. The conditionalities by Allied powers were one of the reasons behind. The current state of expansion of Japanese defence forces is barred by two basic barriers – a) Pacifist Constitution and b) the Spending limit. But these both were saturated in real sense from last decade as in multiple forms, these obligations were cornered by supplementary aids provided through Cabinet. In real sense, if we evaluate the spending of Self Defense Forces & its all-aided funds, the barrier of 1% of GDP is actually a myth in numbers. It clearly indicates that the need for the deeds of securing Japan is more than what is dictated in their Constitution.
Even if we consider the fact that the security prospects of Japan are adhered to the reliance on the Great Powers, the expenses which Japan is bearing for the security umbrella are growing year-on-year touching ~$1 billion/annum. The recent agreement between US interim ambassador and Japanese Defense Minister Yoshimasa Hayashi signed in April 2022 reflected the agreed sum of $9 billion for hosting American forces in Japan for the next five years. The overall defence budget, which includes costs related to the realignment of U.S. forces in Japan, will likely rise to ¥6.8 trillion in the next fiscal year from April, up from ¥5.4 trillion in the current year. The provinces which majorly hosts US forces in Japan; Okinawa, Yamaguchi, and Hiroshima took stern objection over the expansion of territories in recent years. The newly appointed governor Denny Tamaki of Okinawa has strong objections over the further escalation of US forces in the Futenma base, wanting to be close or removed from island.
With the growing aspiration of Americans in the territory of their strongest ally in the Indo-Pacific is facing resentment from locals, opposition parties and some factions of ruling party LDP, as well. The new generation grown out of the shadows of nuclear menace is taking things differently. Their analysis of peace alliance and security strategies termed the US-Japan alliance as a binding obligation on the freedom of Japan. In view of this, the two new strategic documents released on 17th December 2022 i.e. National Security Strategy (NSS) and National Defense Strategy (NDS) by the Ministry of Defense, Japan with clear objectives stated –
"Japan's security environment is as severe and complex as it has ever been since the end of World War II. Russia's aggression against Ukraine has easily breached the very foundation of the rules that shape the international order. The possibility cannot be precluded that a similar serious situation may arise in the future in the Indo-Pacific region, especially in East Asia…"
This has led to the development of a more robust defence force, with a focus on technology and innovation. Japan has also been increasing its defence budget and has made moves to improve its ability to defend its territorial waters and airspace. The newest projection for enhancing the budgetary allocation to double by 2027 which is the largest increase in nearly 70 years. Japanese Prime Minister instructed his Cabinet to figure out to increase defence spending from 1% to 2% of their state GDP.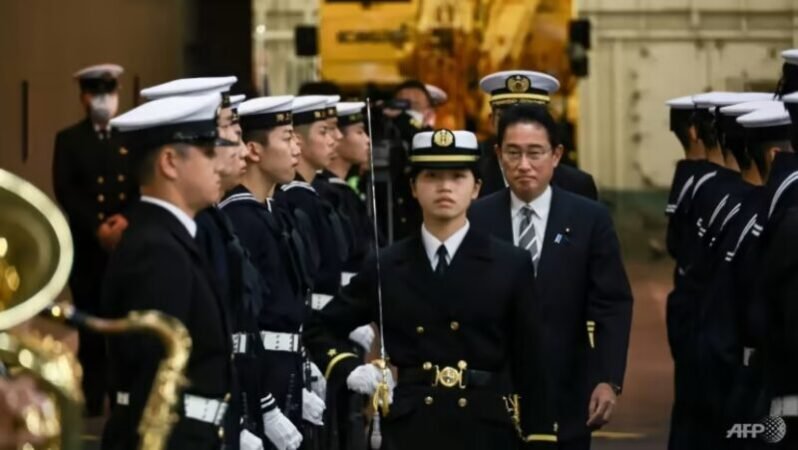 On the other hand, after Kishida's announcement of Japan's new security strategy to forge with its biggest defence build-up program, a recently conducted Kyodo News poll
(December 19, 2022) finds ~65% of respondents disapprove government's plan to raise taxes to support the planned defence spending. The critical thing here is that the current support rate of Kishida's Cabinet stood at all-time low of 33.1% which is facing some challenges from their own party (LDP) currently. But the conviction on which the current government is taking the decision to re-arm the country is the urgent need of the hour. The historical changes that happened in the Indo-Pacific focusing East Asian region specifically is par from the stable power balance of the world. Japan is in the vicinity of two nuclear powers aggressing their neighbourhood and one, unlike nuclear powers whose firing their test flights over Japanese territories. This situation aptly demands the domestic capability to deter this regular instance of aggression in its own lands.
There are several steps that Japan is taking to increase its self-reliance in defence. This include:
Developing its own military capabilities: This can involve investing in research and development to improve its weapons and technology and training its armed forces to be more effective. The accumulation of necessary Ammos & short-mid-range missiles is almost finalised with the piling of long-range missiles is under consideration. Reshaping its military commands, and acquiring new missiles that can strike far-flung enemy launch sites is a way out.
Increasing its defence budget: In order to develop its military capabilities and improve its defence posture, Japan will need to allocate more resources to its defence. For the purpose, 2% of its GDP is targeted till 2027. For fiscal 2023, a record-high defence spending of $49.9 billion is expected. Over $316 billion, for the five-year period starting in fiscal 2023 till 2027.
Strengthening its alliances: By building strong partnerships with other countries in the region, Japan can better defend itself against potential threats and reduce its reliance on the United States for its defence. The process started with the development of next-gen Tempest fighter jet in collaboration with the UK & Italy.
Enhancing its intelligence capabilities: Having accurate and timely information about potential threats is crucial for any country's defence. Japan to focus on improving its intelligence gathering and analysis capabilities started from Western and Northern command sites.
Improving deterrence: In the event of a crisis, Japan is working to respond quickly and effectively in deterrence. This may involve improving its ability to evacuate civilians and respond to armed disasters and enhancing its military capabilities. BMDs & AMBs sought in enhanced crisis management capabilities. Other than US-planted Tomahawk cruise missiles, GSDF's Typw-12 surface-to-ship missile system is urgently required. Around $1.6 billion set aside to construct vessels equipped with Aegis anti-ballistic missile system.
Training: Okinawa base is witnessing training of Japanese JGSDF recently. Other than that, the series of JMSDF, and JASDF joint training modules taken place in last two years with multiple countries. The need of maintenance & repair of major platforms like vessels & aircraft, is allocated by $15 billion.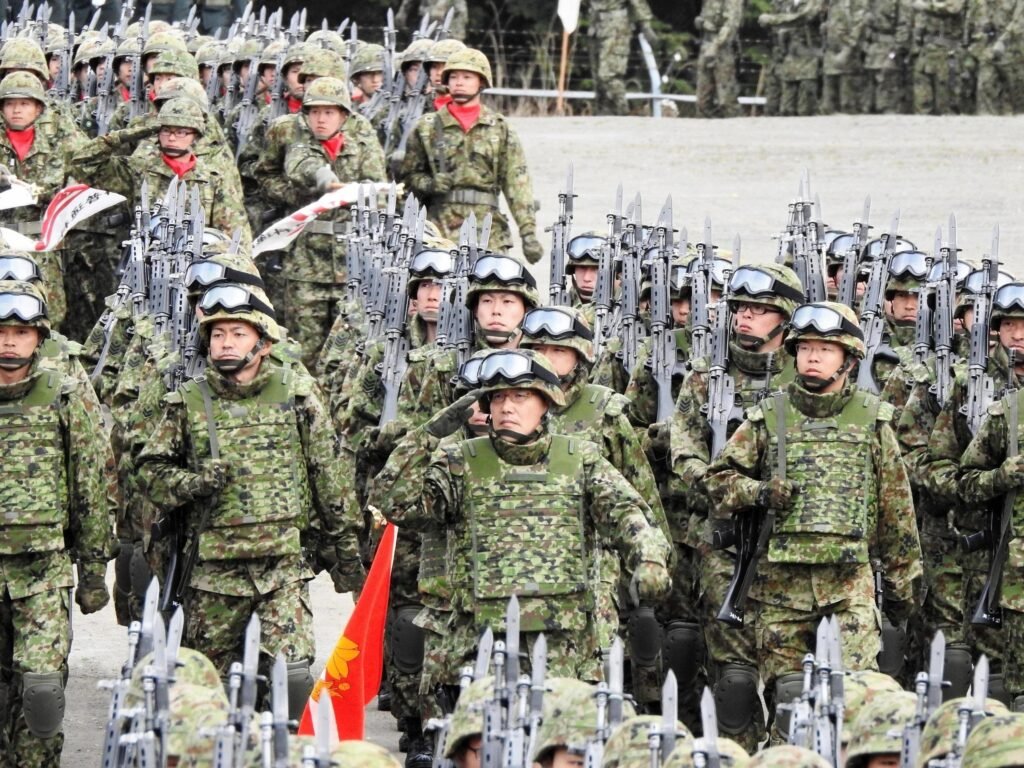 To become self-reliant in the defence sector, Japan will need to invest in its own military capabilities and technology. By taking these steps, Japan can reduce its reliance on the United States for its defence and be better prepared to defend itself against potential threats. Not only by growing threats from their neighbours, but the overall change in global order also needs a enable Japan as a pole in this growing multilateral world. It is not only the defence which need arming of Japan, the other sectors like the economy, strategic position, securing supply lines, guarding trade routes etc. demands capable Japanese Forces. The new enhanced technological landscapes in security architecture demand sophisticated intakes from Japan to match with their peers in the Greater Indo-Pacific as well as in the East Asian region. The Game of conventional combat is over, information backed selective war is the new normal that Japan is needed currently.
This is high time – Let Japan defend themselves. Let them enable themselves.
The views and opinions expressed in this article are those of the author and do not necessarily reflect the views of The Kootneeti Team