India's Foreign Policy Interests in South Asia under Modi's Neighbourhood Strategy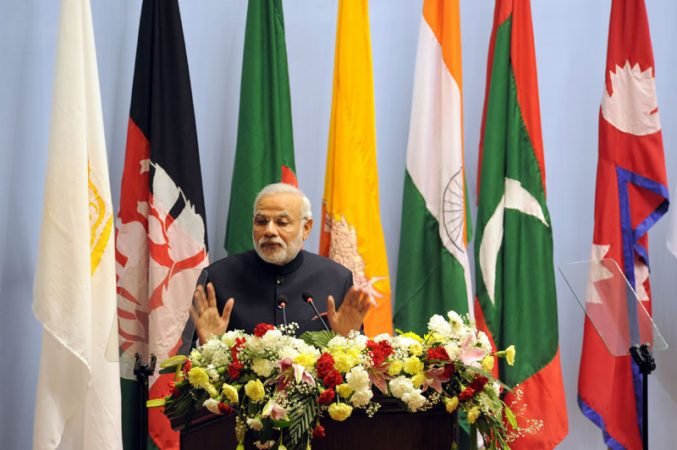 Significance of South Asia
The South Asian region consists of eight countries, including Afghanistan, Bangladesh, Bhutan, India, Maldives, Nepal, Pakistan and Sri Lanka. The South Asian states failed to create a common identity, despite sharing a common history, civilization, ethnicity, religion, language and culture. The geographical location, India-Pakistan rivalry, lack of regional integration, China's intervention and the emergence of extremist groups made this region vital in world politics. As an emerging economic and potential superpower in the region, India must maintain strategic cooperation with the South Asian countries. In this background, Modi focused on the neighbouring states and invited all the heads of the SAARC members to his swearing-in ceremony on 26th May 2014 by launching the Neighbourhood First Policy to improve trust and cooperative relationships with the neighbouring countries.
India's Foreign Policy Interests in South Asia
For a long time, India has had coalition governments that impacted its foreign policy to a great extent; even the tiny stakeholders in the Government had a significant say in the functioning and decision-making of the Indian Government. All this changed when Prime Minister Modi was elected with a majority. India, a big country in this region, has to play the role of "Big Brother" to avoid the Chinese debt-trap policy toward SAARC nations.
India's foreign policy has reached new heights after Prime minister Modi took charge in 2014 with a massive mandate; it started growing even further when PM Modi was re-elected as the Prime Minister with an even bigger mandate in 2019.
The diplomatic ties were showcased in the oath-taking ceremony when all the heads of states of SAARC attended the ceremony in 2014, which gave a bigger picture of Modi's policy towards the region. Similarly, in 2019 the 2nd oath-taking ceremony was attended by heads of BIMSTEC countries, which witnessed the Modi's foreign policy strategy towards the extended neighbourhood. Both neighbourhood and extended neighbourhood policies were framed under Modi's leadership based on China's intervention in the region.
Neighbourhood First Policy Objectives:
"Committed to developing friendly and mutually beneficial relations with all its neighbours.
Committed to addressing all outstanding issues bilaterally and peacefully with Pakistan in accordance with the Simla Agreement and the Lahore Declaration.
Focuses on creating mutually beneficial, people-oriented, regional frameworks for stability (free from terror, hostility and violence) and prosperity in the region.
Consultative, non-reciprocal and outcome-oriented approach towards SAARC members.
Providing greater connectivity, improved infrastructure, stronger development cooperation in various sectors area, security.
Expanding India's influence in the region through its soft-power and common civilization and culture.
Developing people-to-people contacts.
Countering Chinese intervention in the South Asian region".[i]
Implementation of Neighbourhood First Policy
India-Afghanistan
In recent times, even after the Taliban took control over Afghanistan, India has had a diplomatic channel open with Afghanistan, starting with the evacuation of Indian citizens in Afghan with 'Operation Devi Shakti'. When all countries didn't want to have relations with the new regime in Afghanistan, India, on humanitarian bases, sent 2-ton medicines. India, with vaccine diplomacy, sent around five lakhs doses of COVAXIN to the people of Afghanistan from the people of India. After that, when there was an acute shortage of food in Afghan, India sent about 2500 tons of wheat in February. Though PM Modi stated that "The government in Afghanistan [Taliban] is not inclusive",.
Before the regime change, Indo-Afghan relations were at an all-time high when Prime Minister Modi inaugurated Afghanistan's parliament, which the Indian Government initiated in 2007 as a sign of friendship and cooperation to rebuild war-torn Afghanistan. Another way of expanding ties was through cricket when India helped train and coach Afghanistan team players. The bilateral trade for the FY 2016-2917 was USD 800 million approx. The Wagah-Attari route had marked a new bringing in the trade relation between Indo-Afghan, yet things look bleak from the other end with the new Taliban regime.
India-Bangladesh
India has been instrumentally in the liberation of East Pakistan into Bangladesh. Since 2014, PM Modi and his counterpart PM Sheikh Hasina of Bangladesh, have had an amicable relationship; this also includes a gesture by the PM of India in breaking security protocols to personally welcome PM Sheikh Hasina on her arrival to Delhi for a state visit. Even recently, India evacuated the stranded Bangladeshi nationals from war-torn Ukraine. Bilateral trade between India and Bangladesh has grown steadily over the last decade, and exports have tripled. In FY 2019-2020, India's exports to Bangladesh were $8.2 billion and imported $1.26 billion.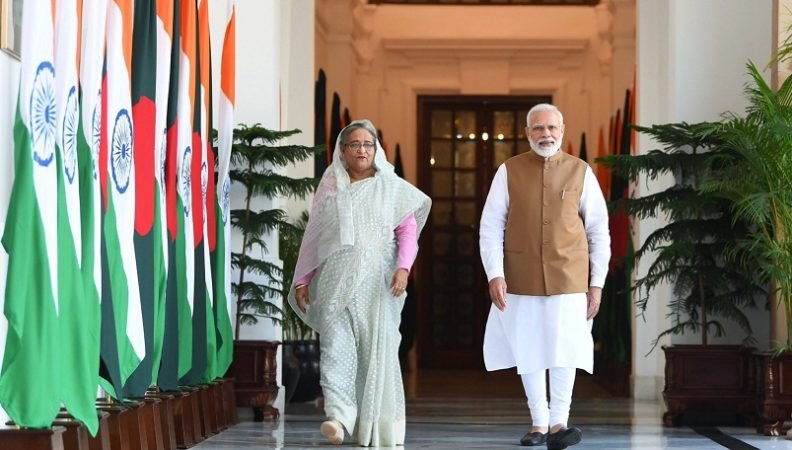 Bangladesh is currently importing 1160 MW of power from India, also extending a 3-line credit to them in the last eight years amounting to $8 billion for development in infrastructure, roads, railways, shipping and ports. The GoI has trained 1800 Bangladeshi civil service officials since 2019 at the National centre of good governance (NCGG), Mussoorie. Police are also trained at various premier training institutes in India; 1500 Bangladeshi judicial officials are trained at the National Judicial Academy in Bhopal. These are a few realms where India is helping Bangladesh in nation-building.
India-Bhutan
Both shares unique and exemplary bilateral relation, four major bilateral projects, including the 720MW Mangdechhu hydro project, the ground earth station of ISRO for utilization of South Asian satellite, RuPay card and the extension of interconnection between the national knowledge network of India and Bhutan's research and education network were launched. India is Bhutan's largest trading partner. With GoI's plan of "Neighbourhood First Policy," new market access has been opened up; also, the GoI gifted 5.5 lakhs doses of the made in India Covishield vaccine to Bhutan.
Prime Minister of India, Narender Modi, was awarded the highest civilian decoration, 'Ngaday Pel gi Khorlo', on Bhutan's National Day. The prime minister of Bhutan tweeted on the official account of the PM. Bhutan always looks up to India as a friend and elder brother of the region.
India-Maldives
Maldives occupies a special place in the 'Neighbourhood First Policy' and GAGAR (Security and growth for all in the region) vision of the Government of India. After a brief period from 2011 to 2018, the diplomatic ties were renewed with new zeal after President Ibrahim Mohamed Solih came to office on 17th November 2018; PM Modi attended the President's inauguration ceremony as the only Head of state to be present. After winning the 2nd term, Modi's first international visit is also the Maldives.
On the Maldives president's first state visit to India in December 2018, India announced a financial assistance package of $1.4 billion in two equal instalments. India, for serval years, has heavily invested in the Maldives, providing military aid and 'capacity building programmes. The previous Government of the Maldives, headed by Abdulla Yameen, had a tilt toward China and its debt trap, which had made India worried since the regime change, which is anti-China, made India a natural ally of the region.
India-Nepal
Both the countries share close and friendly relations characterized by age-old historical and cultural linkages, open borders and deep-rooted people to people contacts. Under PM K P Sharma Oli, the previous regime had a tilt toward China and had hostile relations with India until July of 2021; under the new Government headed by Sher Bahadur Deuba, the friendly ties were tightened. PM Modi has visited Nepal 4 times since coming to office under 'Neighbourhood First Policy.
GoI provides substantial financial and technical assistance to Nepal to implement large development projects in critical areas such as education, health, irrigation, and rural and livelihood development. 13 Terai Road packages were completed under GoI assistance of RS 400 cores and handed over to the Government of Nepal. During the COVID period, the GoI donated 23 tonnes of medicines and medical equipment, and more than 9.5 million vaccines were sent to Nepal.
India-Pakistan
In keeping with India's 'Neighbourhood First Policy', India desires normal neighbourly relations with Pakistan. Indeed, India and Pakistan gained independence from the British Raj simultaneously, yet the working of both these countries are very different. Since PM Modi came to office in the last eight years of the Modi government, the Islamic Republic of Pakistan has got its 3rd Prime Minister. When Modi took office in 2014, Nawaz Sharif was the then PM of Pakistan; India opened diplomatic ties, which lasted until the reign of terror took over. After the Nawaz Sharif lead government fell, Imran Khan took over as the PM, and diplomatic talks took place. Yet, the Pakistan government-sponsored cross border terrorism against India didn't stop.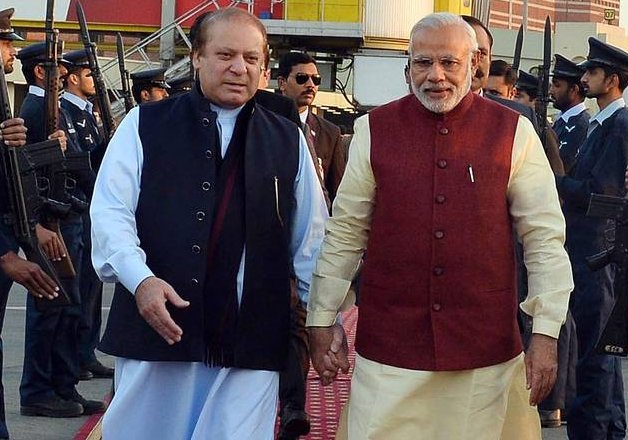 Major terror attacks like Uri in 2016 and Pulwama in 2019 made the situation hostile between India and Pakistan. India has decided that 'Talks and terror can't go together' stand in the United Nations with Pakistan. Yet the new Prime Minister Shehbaz wants to improve the diplomatic relations, but only time will answer that. Yet there has been continued progress in the Kartapur corridor, helping Indian pilgrims to visit Gurudwara Kartapur Sahib throughout the year. Pakistan's proximity with China is not in the best interest of India.
India-Sri Lanka
Both the countries have an enormous legacy of intellectual, cultural, religious and linguistic interaction, and the relationship between the two countries is more than 2500 years old. Sri Lanka had a very cosy relationship with China which was not good news for India; presently, Sri Lanka, under the debt trap of China and a bankrupt economy with no food, fuel, or basic amenities, is going through the worst economic crisis, even when China didn't come to its rescue. The Indian Government gave a helping hand of about $2.5 billion with credit facilities for food and fuel.
Conclusion
As India's former Prime Minister, Atal Bihari Vajpayee, rightly said, "you can change friends but not neighbours" hence, the South Asian region is significant for India strategically. It is also crucial for India to stabilize the region by developing peaceful relations with immediate neighbouring countries. However, political instability in Afghanistan, the economic crisis in Sri Lanka, ethnic tensions in Myanmar, the rise of cross-border terrorism, China-Pakistan alliance can be major challenges to Modi's foreign policy towards the South Asian region.
---
[i].Question No.3692 Neighbourhood First Policy, Rajya Sabha-Unstarred Question No.3692-To Be Answered On 25.07.2019, https://mea.gov.in/rajya-sabha.htm?dtl/31673/QUESTION+NO3692+NEIGHBOURHOOD+FIRST+POLICY.
The views and opinions expressed in this article are those of the author and do not necessarily reflect the views of The Kootneeti Team