Zelensky – a Ukrainian Churchill in making
"Hard times create strong men, strong men create good times, good times create weak men, and weak men create hard times" – Michael Hopf. There could have been no better leader than Zelensky to lead Ukraine in its current hour of existential crisis who is facing a war with a former superpower just 3 years into his presidency. Post the breakup of the Soviet Union, like many of the erstwhile Soviet republics, even Ukraine faced the problems of rampant corruption, the rise of oligarchs, rising ethnic nationalism, and adjusting to a post-cold war world. Zelensky's efforts on the domestic front did yield some results as he showed commitment to go after the corruption, tried to conciliate the alienated Russian-speaking Ukrainians. Though there was a strong anti- Russia sentiment in Ukraine post its Crimea annexation and fostering a proxy war in the Donbas region, Zelensky chose not to make the mistake which was many leaders make – letting domestic politics drive a country's foreign policy. Instead of trying to appease Ukrainian nationalists by taking a harder stance toward Russia, he opted to have talks with Russia to resolve the crisis in East Ukraine. He tried to solve the inter-ethnic conflict at both international and domestic levels. In his address to the nation in February 2020, he tried to redefine Ukrainian identity which cut beyond ethnicities and language, and tried to create a new Ukrainian national identity. His championing of inter-ethnic unity along with attempts for reconciliation with Russia met with a stiff response from Ukrainian nationalists and limited enthusiasm from Moscow which continued to be paranoid and remained a bellicose neighbour. The overall pro-West tilt of Ukrainian foreign policy towards EU and NATO post-2014 eventually made a distrustful Kremlin attempt a regime change by launching a military invasion.
Miscalculation of the Kremlin's intentions
Zelensky's miscalculation of the Kremlin's intentions was somewhat comparable to Nehru's miscalculation of Chinese intentions prelude to the 1962 Sino- Indian war back home. His statements calling for pre-emptive sanctions against Russia and calls for closer cooperation with NATO with an eventual membership, lead to a worsening of ties with Russia which perceived this as a red line for Ukraine. He even downplayed the threats of a potential Russian invasion as a "panic" that was hurting the Ukrainian economy and satellite images were insufficient to judge Russian build-up.  Some of his pre-War statements were made in poor judgment regarding the security risks that Ukraine would soon face. Zelensky outlined plans to retake Crimea, even by using "military means" if required. This was met with a hostile reaction from Kremlin and Russians which already started considering the Russian majority Crimea as their own territory.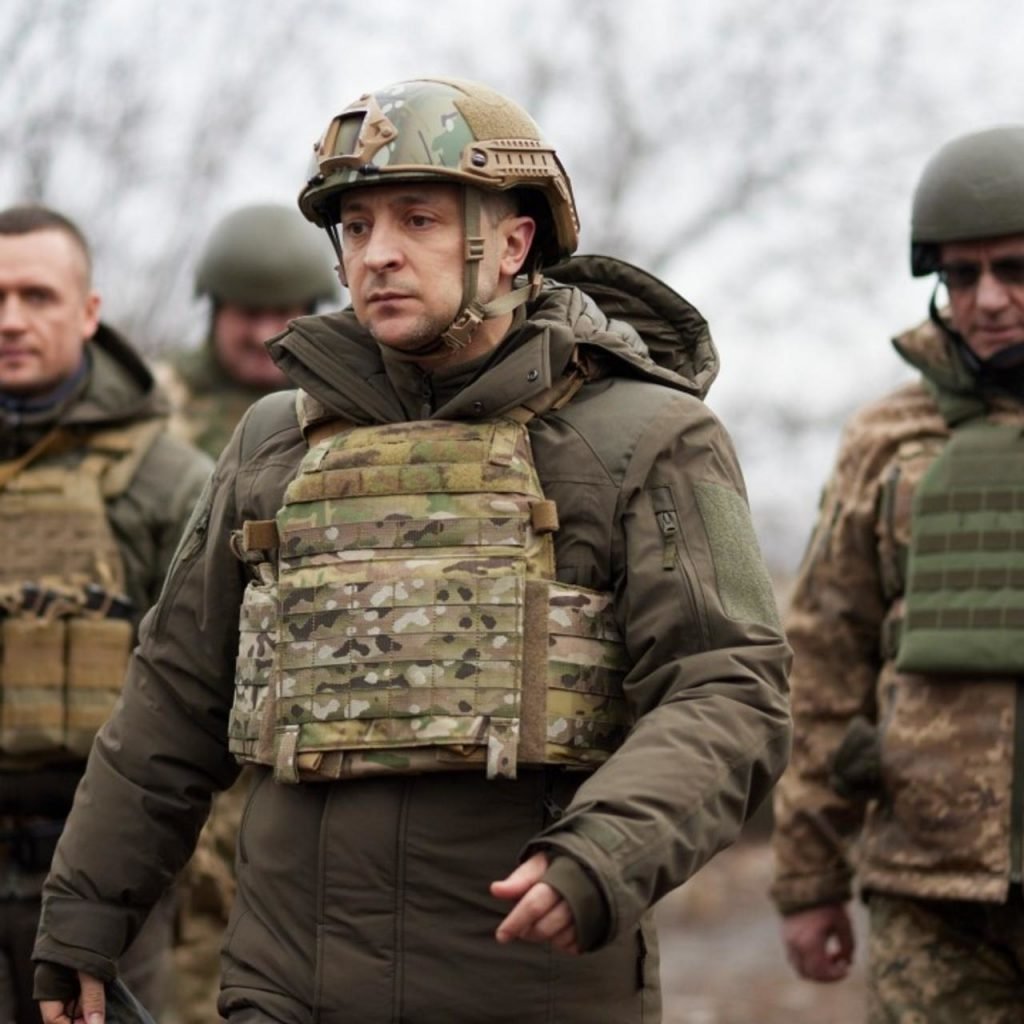 Strategic handling of the conflict
Once the war broke out, and no direct military help came, Zelensky took up his role in defending the country with great heroism. His decision not to accept USA's offer to evacuate the country won him the confidence of Ukrainians and international applause and was crucial in preserving the Ukrainian morale in the initial phase of the Russian invasion. Neither did he plead for peace with Kremlin instead asked Russian soldiers to surrender to Ukrainian forces. He demanded peace with Russia on equal terms and as per international law. He reminded NATO of their broken promises and requested them to enforce a no-fly zone that would counter Russian air superiority.
Zelensky's PR outreach on social media and communication with world leaders demanding to end their neutrality showed a critical aspect of his strategy – that in this unequal war with a superpower, he needed international support and his country cannot go all alone. Ukrainian social media campaign showed burning Russian tanks and crying Russian soldiers giving a picture of the Russian armed forces being incompetent. His international outreach ensured the supply of weapons for Ukrainians who were short of firepower. He unified the Ukrainian political spectrum, roping in the far-right Neo-Nazis to Islamists in the conflict against Russia. He released prisoners with combat experience so as to supply manpower to the outnumbered Ukrainian armed forces.  Ukrainian planners also systematically implemented a defensive strategy to elongate the war by protecting major cities, preventing their encirclement by limited counter-offensives saw Kyiv and most of the major Ukrainian cities continue to stay in Ukrainian hands as international pressure piled on Russia. Many neutral observers were surprised at the fact that even after one month had passed, Russia controlled only 10% of Ukrainian territory many of those gains were made in the opening days of the war. For example, HS Panag, wrote in The Print, on 3rd March that it would only be a matter of time before Ukrainian cities would one by one fall into Russian hands. On 17th March, He noted the success of the Ukrainian army stalling the invasion and commented that the Indian army could learn these techniques to stall a Chinese invasion in the future.
Road ahead
Zelensky clearly understood that to survive this war, he needs to prevent handing a quick victory to Moscow which is hard-pressed on time to finish the war. He kept the option of peace with Russia open indicating that he would consider dropping the plans to join NATO. His efforts finally seem to pay off as Kremlin which was rejecting talks so far has now come to negotiating table with hopes of saving their face from international embarrassment. Zelensky will go down in history as being Ukraine's Winston Churchill who effectively managed his country in times of adversity. Zelensky must now use the negotiating table to bring everlasting peace with his neighbours and get back to the pre-2014 Ukraine which kept a non-aligned stance on issues concerning Russia and the West. NATO membership may not necessarily be in long-term Ukrainian interests as it may compromise an independent Ukrainian foreign policy and make it subservient to American dominance without giving any real benefits. Ukraine must realize its geographical and geopolitical realities and try to carefully balance Russia and the West which would ensure it gets long-term benefits.
References –
The views and opinions expressed in this article are those of the author and do not necessarily reflect the views of The Kootneeti Team