[Event] UN Peace Operations: Women, Peace and Security
USI of India and ICWA jointly organised a virtual seminar on UN peace operation on February 9. The theme of the discussion was Women, Peace and Security.
The panel discussion started with opening remarks by Maj. Gen. PK Goswami of USI. He stressed how the USI has played a stellar role in the furtherance of India's UN peacekeeping operations endeavour. Elaborating the theme he spoke about, how armed conflict affects women, men, girls and boys in different ways.
He said, "Women and girls face discrimination based on gender and displaced women and refugees are especially vulnerable to conflict-related sexual violence".
"At the same time, women and girls play a key role in preserving their communities and, in turn, they take on the economic and the social responsibility during the time of conflict." He said.
He also highlighted, how despite their ability to act as agents of peace, women are often excluded from the process of conflict resolution.
The United Nations Security Council unanimously passed resolution 1325 on 31st October 2000 and today it includes nine additional resolutions. These resolutions seek to include women at all levels of decision making at different stages of the conflict it also calls for incorporating the needs and the concern of the woman in relief and recovery efforts, however, this vulnerable community continues to suffer the most because of the absence of a comprehensive strategy to protect them.
He also quoted former Liberian President Ellen Johnson-Sirleaf, who hailed Indian women peacekeepers' role in preventing violence against women and girls in Liberia.
Moving ahead, Ambassador Vijay Thakur Singh, Director-General ICWA started her address by acknowledging the appointment of ambassador Rabab Fatima of Bangladesh as the Chair of the UN Peacebuilding Commission, who is the first woman to be elected to this position.
She lauded the role of Indian women peacekeepers in Liberia and the Democratic Republic of Congo.
The session was moderated by Dr Yeshi Choedon, Professor, Centre for International Political Organization and Disarmament in the School of International Studies Jawaharlal Nehru University, New Delhi. She elaborated on the theme of the discussion, explained, how the UN peace operation has attempted to implement the UN's women peace and security agenda. She also highlighted resolution 1325 by the security council which addresses two critical issues—the inordinate impact of violent conflict and war on women and girls, as well as the crucial role that women should, and already do play in conflict prevention and peacebuilding.
Below are the key remarks by the eminent panellists:
Dr Tasneem Meenai, Prof and former director, Nelson Mandela Centre for Peace and Conflict Resolution, Jamia Milia Islamia:
She outlined the institutional framework for peace women peace and security at the UN and the existing practice to promote Women Peace and Security (WPS) in UN Peace operations. She also focused on conflict-related sexual violence and challenges to the WPS agenda.
She also presented some recommendations to improve the efforts for the protection of women from sexual exploitation and abuse in UN peace operations.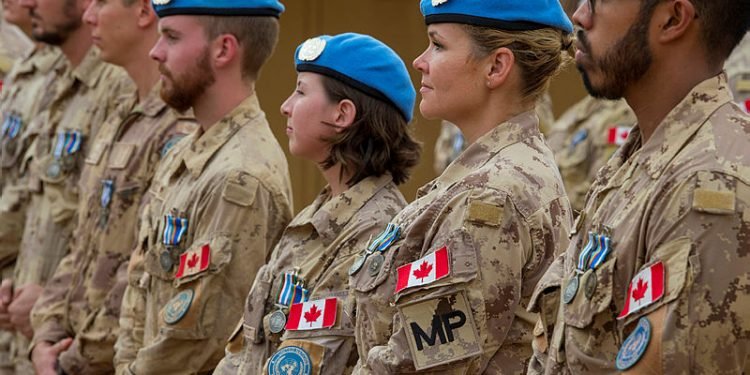 Lt Col Vanessa Hanarahan, Canadian Army, former Force Provost Marshal UNMISS:
Lt Col Hanarahan majorly focused on two important aspects of UN peacekeeping, First, is to see more of an integrative approach whereby both female and male members of the community come together to discuss the UN priorities for the community and the security concerns within the community. Second, to improve peacekeeper awareness, meaning to be aware of the gender biases in order to manage their effects on functioning during peacekeeping operations.
Comdt Poonam Gupta, 232 (Mahila) Bn, CRPF and former Commander IFPU, Liberia:
Comdt Gupta narrated her experience as the Commander of the Indian Formed Police Unit, in which she witnessed large scale gender-based violence.
At some point in time, in Liberia there have been at least 80 percent of women and girls had experienced some kind of exploitation based physical exploitation or sexual exploitation
She spoke about how sexual violence remained comparatively invisible statistically underestimated because of the cultural constraints and the strong feeling of shame and fear engendered by the sexual violence.
The all-female Indian FPU played an outstanding role in Liberia since 2007 and put the soul of Security Council resolution 1325 into operational action and visibility.
DIG Seema Dhundia, RAF, CRPF:
DIG Dhundia explained how being a police officer is a moral obligation to perform in a manner that leads to an everlasting impression in the eyes of the public. She also highlighted the challenges when the deployment takes place in an unknown territory, a conflict to ridden zone with lots and lots of women and young girls as victims. She elaborated on how the physical presence of peacekeepers make a difference and the importance to have communication established.
Maj Suman Gawani, Indian Army:
Major Suman Gawani served as a UN Peacekeeper at the United Nations Mission in South Sudan (UNMISS) in 2019, has won the prestigious United Nations Military Gender Advocate of the year Award.
From her experience as a peacekeeper and a military observer in South Sudan, she highlighted the importance of integrated and gender-balanced teams in a mission area.
She spoke about her experience as the only female in a team of 10 military observers and stressed how missions can be accomplished if men and women both come together and they perform a task jointly.
Ms Sangya Malla, Chief of the MONUSCO police health and environment unit in Kinshasa, Congo and Superintendent of Police at Nepal Police Force:
Ms Malla has recieved the eleventh United Nations Woman Police Officer of the Year Award 2021. She echoed the views of other panellists on the equal participation of both men and women in peacekeeping operations. She called for an increase in the number of women peacekeepers in the mission which at the moment is not enough. She also spoke about the challenges women face in joining Peacekeeping forces like gender-friendly infrastructure.
Closing remarks by Major General B.K Sharma, Director USI:
Maj. Gen. Sharma on a closing note highlighted the role of NGOs which are working very closely on women protection and empowerment issues. He spoke about creating an entire ecosystem of support in which women will have to play a very very important role in decision making at all levels in their capacity as a civilian in their capacity as functionaries at all levels.
He also spoke about the role of Think Tanks to generate more awareness and give the right kind of analysis and policy prescriptions to the policymakers in their respective countries.
Here's the video link to event:
The views and opinions expressed in this article are those of the author and do not necessarily reflect the views of The Kootneeti Team