India-Japan relations through 2021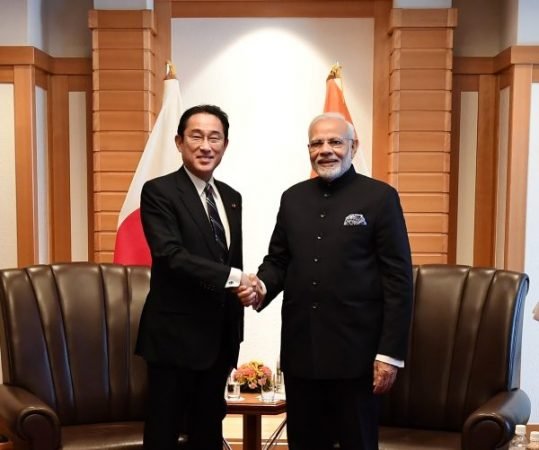 India and Japan in 2021

The two privileged, committed, long-term, friendly, and like-minded democratic partners in the countries of India and Japan were witness to a whirlwind in 2021 owing largely due to the fallout of the second wave of the novel Coronavirus pandemic. Further to their diverse set of inclinations towards each other which range from climate change to new and emerging technologies, India and Japan were forced into further unison by a rampant pandemic like no other in their mutual post-war history. With the year having drawn to a close, the pandemic has resurfaced in no uncertain terms and apprehensions continue to remain over future COVID-19 waves capable of inflicting just as much damage and destruction as their predecessors.

That being said, despite the Coronavirus having wreaked havoc on the two countries, India and Japan, all through 2021, solidified their now long-term Special Strategic and Global Partnership (SSGP) by furthering cooperation in a number of domains. The SSGP, a culmination of several decades of cooperation between New Delhi and Tokyo, has now become a sturdy reflection of close India-Japan relations. It also, effectively, validates and endorses extremely close ties between them for the years and decades to come. The blooming partnership can only evolve and not backtrack, under any and all circumstances. The previous strategic partnership has now become a complex, evolved, and multi-layered Special Strategic and Global Partnership. Most of the progress between India and Japan has been made since the new dawn in India-Japan relations following the visit to New Delhi of Prime Minister Yoshiro Mori in 2000. No partnership in all of Asia, at least, can level up to what constitutes India-Japan relations today. In further accentuation of the SSGP, Japan has promised to double the presence of its companies in India every five years with its foreign direct investment (FDI) having been subjected to a similar goal. Japan also expressed its concerns to India regarding the slow-paced development of its projects in the country. The Japanese Vice-Minister for International Affairs, Ministry of Economy, Trade and Industry, Hirose Naoshi complained about India's restricted business environment, at the Confederation of Indian Industry's (CII) Partnership Summit.
The maritime domain: New developments
The maritime domain remained as active as it had been both owing to the pandemic's wide reach and concerning seaborne trade and aspects of national security such as piracy and maritime terrorism. It was left stifled in its development by the Coronavirus, but it also retained its primacy as a domain of strategic significance to India and Japan as two sea-facing countries. India and Japan conducted a number of maritime-naval activities even when resurgent waves of the pandemic were hitting the two countries hard.

Between them, India and Japan were notably involved in the two-phase MALABAR exercises in the Philippines Sea in August and in the Bay of Bengal in October. The MALABAR focussed on interoperability between participating navies, deterring the China threat in the Indo-Pacific, and synergy among naval forces. The expanded four-nation MALABAR is likely to continue into 2022 even if the Quadrilateral Security Dialogue continues to remain focused on soft issues and creates an image of restraint rather than provocation as far as its equation with China is concerned. Between October 6-8, the JIMEX (Japan India Maritime Exercises) were conducted in the Arabian Sea.

India's ports could find themselves at the centre of Japanese investments through the ODA programme. India's maritime architecture is hierarchical and consists of several layers, with coastal ports, the nearby seabed for resource exploration, other types of ports such as inland ports and dry/transhipment ports, in dire need for investments and joint operations that can help utilise Japanese expertise. The Asia-Africa Growth Corridor (AAGC), now known as the Platform for Japan-India Business Cooperation, can serve as an inspiration and as a guide for large-scale Japanese maritime-infrastructural investments in India.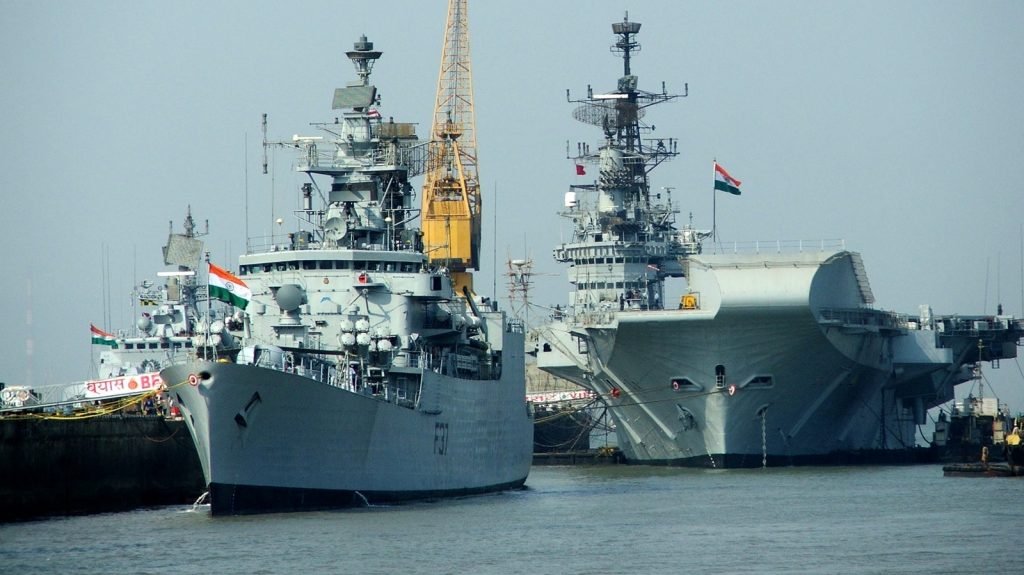 The ODA program involves dispensing soft loans via the Japan International Cooperation Agency (JICA) and the Japan Bank for International Cooperation (JBIC) at nominal interest rates, and India has been one of the key recipients of Japanese lending. The scope of joint investments that prove to be mutually beneficial to Japan and India can be explored vis-à-vis the countries of the region. For example, a Japan-reworked road in the Dawei Special Economic Zone (SEZ) in 2019 was exclusively meant to facilitate exports to India. This was indicative of a multi-pronged approach to the region in which it already has an extended program for its ODA. This includes the extensive funding of highways, infrastructure projects and development corridors.
What is at stake for Indo-Japanese relations in 2022?
The year 2022 marks a watershed in India-Japan relations as it will now (in end-April) be 70 years since the establishment of diplomatic relations between New Delhi and Tokyo. If India and Japan are to exemplify the degree of closeness between each other, then marked improvements will have to be made in regard to several factors. These include the burgeoning China threat, medical diplomacy (Japan's COVID-specific monetary assistance) meant to especially deal with tragedies such as the novel Coronavirus, cooperation in advanced fields such as new and emerging technologies (N&ET), and more nuanced, results-oriented defense cooperation. The latter, in particular, can no longer be limited to joint maritime-military activism in zones of contention such as the Indian Ocean and Southeast Asian waters.

India continues to rely on Japan for wide-scale investments in the country as it seeks to consolidate the Special Strategic and Global Partnership. These are undertaken by the Japan International Cooperation Agency (JICA) through grant aid, and soft yen loans charged at nominal interest rates. Japan also extends critical support to India where the need be in a range of international affairs. Moreover, Japan remains ever so dedicated to India's development, especially its eastern bridge to Southeast and East Asia (the Northeast region). If New Delhi's economy fails from bouncing back to requisite levels of growth, Tokyo is likely to become frustrated concerning its infrastructure-connectivity and developmental pursuits in the South Asian region as a whole. Tokyo's India strategy has been premised on gargantuan handouts of financial aid (charged at nominal interest rates) to New Delhi to fund its debilitated infrastructure across its entire landscape.

Progress in the much-stalled US2i ShinMaywa amphibious Search-And-Rescue (SAR) aircraft deal between the two countries was absent in 2021 and could be subject to further discussion this year. The deal remains on the backburner and its long-awaited fruition is considered to be unlikely. As New Delhi continues on the path of speedy defense modernization and ups the ante critically so with respect to Japan, a completed defense deal would mark the first major step of defense trade between the two countries following the liberalisation of Japan's arms exports to close partners in 2014. A post-COVID India will likely seek to reduce a burgeoning and long-standing trade deficit with Japan given that New Delhi was able to recoup its lost Gross Domestic Product (GDP) of 2020-21 solely resulting from a spectacular fillip in its exports to the world.

Areas of cooperation such as electric vehicles (Nissan, Suzuki), Information and Communication Technology (5G), artificial intelligence, renewable energy, nuclear cooperation, smart cities, and cyber security among others will facilitate the evolution of the SSGP. In these domains, India and Japan have assented to Memoranda of Understanding (MoU) and have repeatedly expressed a desire to facilitate stable cooperation and ensure the realisation of quality progress in the short and long terms. New areas of strategic cooperation
Conclusion – there remains hope for more, which is also for the better
Japan and India are poised for the better in the international realm. Not only are they steadfast bilateral partners, but their involvement in the multilateral sphere (the East Asia Summit, the Quadrilateral Security Dialogue, etc.) works towards creating a much better Asia and the Indo-Pacific at large. Between themselves, they engage in a number of bilateral mechanisms that have proven to be constructive.

Further, India's Act East Policy (AEP) is being afforded the necessary traction by Japan's geographical location in East Asia. For India, the development of its Northeast Region (NER) remains a priority and it is encouraging that Japan's investments are well focussed in this area. India aims to facilitate better interaction with Southeast Asia and Japan through a fully-developed NER. Japan is also committed to the realisation of a Free and Open Indo-Pacific, through its vision, strategy, policy, and other such officialdom.

In conclusion, it is clear that there remains hope for more cooperation between the two steadfast partners in India and Japan to retain the prominence of the India-Japan Special Strategic and Global Partnership and evolve it further. Traditional sectors, such as trade and defense, are now being exceedingly coupled with emerging sectors such as renewable energies, cyber security, infrastructure, and start-up businesses. A joint impetus to all of the above aspects will only serve India and Japan better in the years to come, and in both the Indian Ocean and Indo-Pacific regions of the world.
The views and opinions expressed in this article are those of the author and do not necessarily reflect the views of The Kootneeti Team