Come True: Soldier's Wishes – Operations by 4 Sikh (Saragarhi) in Indo-Pak war 1971
Advance into Enemy Territory: Skirmishes at Boyra
Millions of refugees from erstwhile East Bengal (Bangladesh) had poured into India as a result of gruesome genocide and atrocities committed by the Pakistan Army. It caused havoc to the adjoining states of India. As a response, the Indian Army was deployed in a forward posture. 9 Inf Div of 2 Corps, was made responsible for Boyra salient, and operations from SW. 9 Inf Div had on its ORBAT 32, 42 and 350 Inf Bdes, 45 CAV less an sqn and one sqn of 63 CAV. During the first and second week of Nov 1971, 1 JAK RIF of 350 Inf Bde and 19 MLI of 42 Inf Bde were tasked to secure specific areas. 4 SIKH, on the ORBAT of 350 Inf Bde, under Lt Col (Brig) DS Sidhu trained Mukti Baheni caders. 4 SIKH relieved 1 JAK RIF.
Hostile environments lead 4 SIKH to capture the border outpost of Barni. Then on 17 Nov, it advanced six kilometres into enemy territory to secure a 'bandh' Makapur – Hijuli – Ballabhpur – Naodapara by a company each, viz, 'A' Company under Maj (Col) BS Chahal, 'B' under Maj RP Awasthy, 'C' under Maj (Col) SS Duggal and 'D' under Maj (Brig) Kanwaljit Singh (Author), respectively. Many incidents of firing, patrol skirmishes, quick counterattacks by the enemy, and strafing and bombing by Pak F-86 Sabres ensued. The enemy carried out intense shelling of the entire area.
The stench of blood and explosive was all over. Panic was writ large on the faces of the civilians. 42 Inf Bde moved to the area of Garibpur.
Sketch 1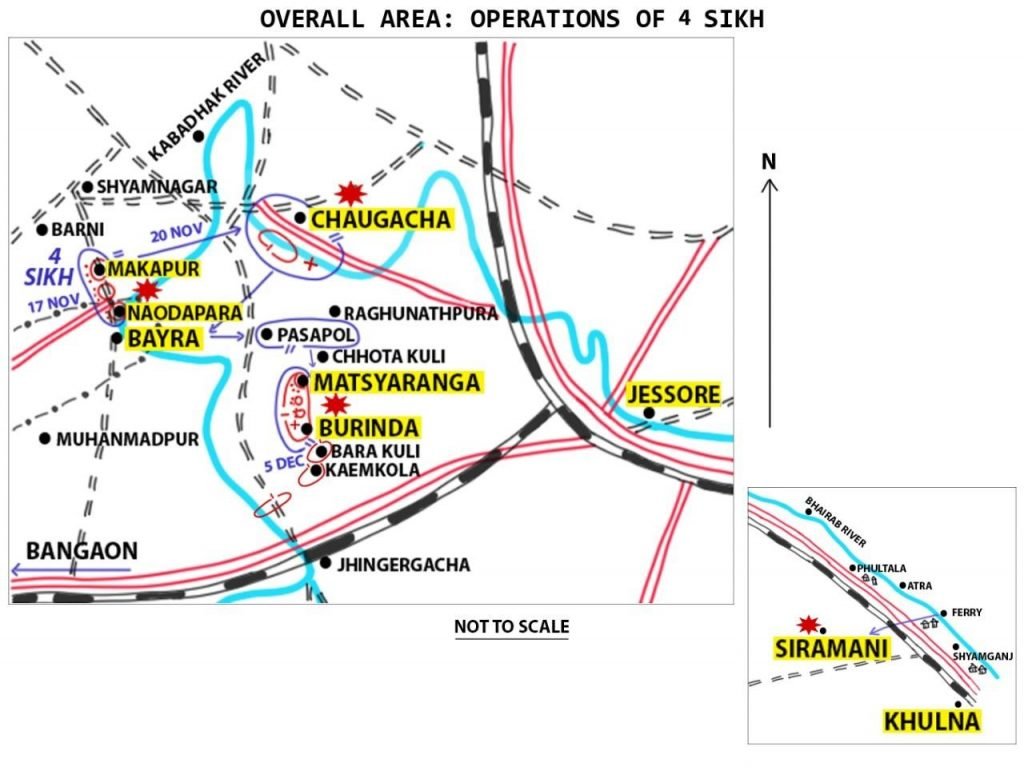 Bold Scramble to Chaugacha
On 20th Nov, 4 SIKH was ordered to advance fast, lean on Kabadhak River and capture Chaugacha, deep in East Bengal. The Unit moved in two columns in a blitz, supported by armour. Enemy's 38 FF less two companies supported by elements of Recce and Support Battalion was deployed astride the bridge at Kabadhak. It was a bright day, and the assaulting troops were subjected to intense artillery fire, air attacks, and a heavy fusillade of direct firing weapons, including sustained MG fire from a raised 'bandh 'in the front and three feet, further elevated rear 'bandh'.
4 SIKH covered 15 Kilometers without any break or rest. When the assaulting troops were just 500 meters from the bridge, the enemy blew it. Own side of the river was captured suffering many casualties, some exceptional acts of bravery and sacrifices came to light. In the reorganization, deployment of the companies was 'D' beside the road at the destroyed bridge site, 'C' immediately left of it, 'A' further left two kilometres away defending a ferry site and 'B' in depth along the road.
Midnight, the enemy in a daring move crossed the river and occupied some portions on the Southern side of the demolished bridge. He was evicted with an immense effort by a platoon each of 'C' and 'D' Companies, duly supported by armour. The ding-dong battle on Kabadhak was fought for three days.
'D' Company less a platoon, subjected to maximum fighting, was withdrawn two kilometres to village Kangsaripur for deserving rest.On 22 Nov, enemy's Sabres carried out three attacks on the bridge site and Kangsaripur, last time at 1450 h, spent 20 minutes diving at leisure and strafing at will. LMGs in AA role were firing back at them, when one of the aircraft was hit above 'D' Coy, leaving a plume of fire and smoke, pilot ejected and was caught by men of the Coy, rescued by Majs Bal and Kanwaljit, since was being bashed up. The pilot was Flt Lt Parvez Q Mehdi, later Pak Air Chief.
Brig HS Sandhu, qualified 4 SIKH actions, 'a master stroke', while Maj Gen Dalbir Singh, appreciated it as 'brilliant'. He informed the Defence Minister on his visit to the formation that, "4 SIKH was always ahead of everybody by 24 hours." Concurrently, little further South, 14 PUNJAB at Garibpur, defeated a Pak counterattack, inflicting numerous casualties, both of men and tanks. On Night 22/23 Nov, unknown to the enemy, 4 SIKH ferried across the river upstream in shifts in a country boat. Chaugacha, an enemy stronghold, with ample stocks of war materials was captured.
A
.
Sketch 2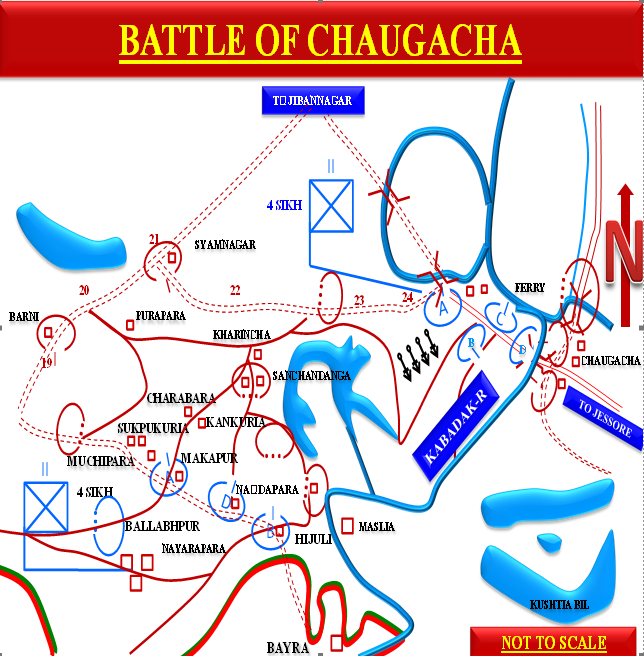 The capture of Burinda by 4 SIKH on 06 Dec, forced Pakis to abandon Jessore
9 Inf Div relentlessly attacked and pushed back a stubborn enemy, who then reinforced the outer ring of Jessore cantonment. The line of Barakuli, Chhotakuli, Matsyranga, Burinda, 8r, Kaemkola and Manoharpur was prepared formidably taking full advantage of 'bandhs', water bodies, ponds, and thick foliage. Mines and booby traps were laid everywhere tactically. From 24 to 28 Nov, in 9 Inf Div, many minor and major adjustments were carried out. 4 SIKH, pulled back from Chaugacha, relieved 26 MADRAS at Boyra. 42 Inf Bde then relieved 4 SIKH who was moved to general area Daspakhia. Supported by Divisional artillery and armour, 1 JAK launched a frontal attack on Burinda but was defeated by a tenacious enemy comprising of almost three companies' strength, drawn from Pak 6 and 12 PUNJAB. The task ultimately fell upon 4 SIKH to clear this formidable position.
The Unit launched a surprise flanking attack on night 30 Nov-01 Dec, Company by Company, capturing bit by bit. 'D' Company was launched first to capture Matsyranga. The Company launched a meticulous silent attack until close to the objective and then pounced upon the enemy with a full-throttled 'Jaikaras-Bole so Nihal, Sat Sri Akal', achieving total surprise: the enemy one platoon strength abandoning a highly defencible position. The remaining 4 SIKH troops shouted 'Jaikaras' from the front, armour creating noises to depict an attack with full artillery support. The ruse worked; a wedge was created between enemy defences. The Company held out at Matsyranga with tremendous willpower against the enemy's devastating day and night fire, Burinda edge being just 30 meters away. A bomb landed directly on a makeshift bunker, shattering its wooden top, burying the company commander (author). Fortunately, men saw it and dug out smiling Kanwaljit, smeared all over with the mud. The reason for the enemy's accurate artillery fire was revealed on the second day when men found a 'maulvi' in a hidden bunker in the village mosque. He had a wireless set connected to the enemy HQ at Jessore.
On 04 Dec, 'A' launched a chivalrous attack, duly assisted by 'D' Company by fire, and cleared the initial portion of Burinda defences. Thereafter, 'B' Company lashed onto the enemy with ferocity. They suffered numerous casualties but captured a substantial portion of the objective. On 05 Dec, 'C' Company carried out an enveloping attack, embroiled in a hand-to-hand fight with a running enemy. Brinda was captured by sheer grit and determination. The capture of Burinda stronghold, in the middle of the enemy defence system, broke his back and he panicked, deserting daunting defences of Jessore; Pak 9 Inf Div withdrew to Jeninda, its 107 Inf Bde to Khulna. 7 PUNJAB and 2 SIKH LI secured Jessore unopposed on 07 Dec. Pak soldiers' self-structured myth of being the toughest exploded in their faces.
32 Inf Bde headed towards Khulna; 350 Inf Bde was moved to Phultala.
The ill-clad, undernourished devastated Bangladeshis came in hordes, presenting coconuts expressing gratitude. They narrated horrible stories of atrocities, loot, mass rapes, and torture by the Pak army. They betrayed relief and satisfaction to witness the rout of their merciless marauders and perpetrators of 'satanic deeds.
Sketch '3'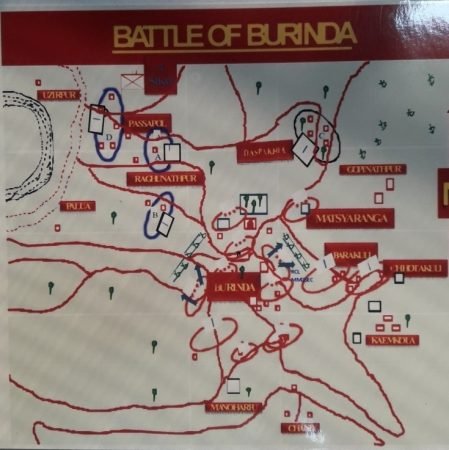 The Battle of Siramani (Khulna)
Ground Situation
Pak 107 Inf Bde had fought heroically, ultimately, pushed back to its cocoon – Khulna. Its continuous accurate artillery fire and 60 mm mortars (Chinese) had played havoc throughout. The stocking of ammunition was mind-boggling. Brig Muhammed Hayat Khan was fighting an independent resolute last-ditch battle, with a brigade of five battalions. Khulna had the sea on one side, swamps on the second, and Bhairav River on the third, the only direction for the attack was from the North. All the avenues were prepared masterly on the ground well-chosen and utilizing the industrial buildings. Mines had been laid in depth all over; counter-attacks had been rehearsed. Pak forces deployed were 6 Punjab, 12 Punjab, 15 FF and 22 FF, at Khulna 38 FFR, garrison undoubtedly intimidating.
Fully supported attacks by 8 and 26 MADRAS frontally, violent attacks by 19 MLI and 13 DOGRA on Siramani, (see sketch), and attack by Armour and 7 Mech could not make much headway because of swamps. It was therefore decided to attack from the eastern flank, cut off the enemy forces in two by establishing a roadblock, and thus weaken their forward deployments.
Plan and Execution
It was planned that 1 JAK RIF shall provide a firm base 1000 m along the Bhairav river, from where 4 SIKH shall move cross country to establish a roadblock.
Against fierce opposition 1 JAK RIF secured a narrow strip of 200m along the river. 4 SIKH moved into the small corridor. Ahead, the enemy had prepared contingency positions to be occupied in any eventuality. Thus, if at all there was an element of surprise it was only in the initial stage. The task of 4 SIKH entailed literally, launching an attack, fighting its way towards road Jessore-Khulna, 1,500 meters in depth, establishing a roadblock, and then exploiting further 500 meters to the railway line. The attack was being planned two Companies up. Kanwaljit convinced the CO that a conventional attack would not take them even up to short of the roadblock site, what to say of reaching across the road. He suggested a Company by Company attack on a narrow front, each providing a firm base to the next.
'B' Company was launched first at 2000h, on Night 16/17, achieved surprise and was able to bite the first 500 meters.
By the time, 'C' Company was launched, the enemy hastily readjusted their deployment into already prepared contingent positions. Men blazed into enemy positions and captured their objective – another 500 meters. As the Company was in the process of reorganizing, the enemy mounted a counter-attack assisted by only one tank, a Chaffe. It was knocked out with 3.5 RL. 'C' was in firm control of the situation by a little after midnight on 17 Dec, capturing a number of weapons.
The enemy by now had readjusted his position adroitly and also had moved into a couple of concrete industrial buildings. He guided Para flares and massive fire on the entire area up to the ferry site. Appreciating a very delicate situation, 'D' moved further to the right, accepting a change in direction of attack. This facilitated fire support from 'C' Company.
'D' Company started with fire and move, one platoon on the ground and the other moving in spurts. Enemy lit up the area repeatedly with para-flares, making the assaulting troops freeze again and again. The enemy had scattered limitless anti-personal mines. The enemy unleashed salvos of coordinated fire with ferocity. Men had to take position behind any bush, construction material, dip or even a shell pit and fire back. A medium machinegun section was deployed in a chance hut, to support the attack effectively. The din and sound of the enemy fire, the clatter and boom-boom, was so intense that the CO remarked, "Nothing will be left of this Company." 'C' engaged the enemy with full firepower. Maximum possible artillery support was made available. The enemy started abusing and the 'Khalsas' responded in the chosen language, inviting accurate bursts of fire from the enemy. Soon the ploy was understood and the enemy's every abuse was answered with a volume of fire.
The fiery tussle, meter by meter, continued for almost two hours. Though the enemy fire from the buildings was immense at places non-effective since plunging, and thus a godsend for the attackers. It was closing on to dawn and aimed fire by the enemy during the day would have been devastating, fire support was readjusted, about 50 men attacked the last bit of 100 meters, at a run, firing with their weapons, with full-throttled 'Jaikaras – Bole so Nihal, Sat Sri Akal' and entered two buildings. There was hand to hand fight, ultimately the enemy surrendering to the superior will. The road was less than 50 meters from there; suitable positions were taken to bring maximum fire on the enemy withdrawing on vehicles or foot. 'D' Company apprehended 11 PsW, including their Company Commander, killed 21 Pakis and captured 4 RCL jeeps, a truck and enormous ammunition and weapons.
Maj Kanwaljit Singh had been wounded the previous day, refused to be evacuated, He went into the attack with the help of a stick and was virtually lifted from the injury side by a sturdy soldier. Maj Chahal was wounded by shell splinters a day earlier, was evacuated. Wounded, Maj Partap Singh Jhakar, OC Support Company, had already been evacuated. Lt (Col) HS Ahluwalia, sent to 'A', was wounded when moving across the road and was evacuated. Lt SB (Lt Col) Gawaria then joined 'A', wounded, the Company surged forward and captured the railway line.
In captured 'D' Company area, there were 21 enemy dead bodies lying about, some more were along the road. Enemy bodies and buried with honour.
Sketch '4'
Surrender by Enemy Brigade Commander
Meanwhile, as per plan, 9 Inf Div launched a major attack by infantry and tanks to establish the link up with 4 SIKH. Suddenly, a jeep with four personnel, furling a white flag appeared from Khulna side. Lieutenant Colonel Salim Malik, CO 12 PUNJAB (Pakistan) accompanied by a Subedar Major got down with their hands up, approached Kanwaljit and saluted; (Kanwaljit remembered how shabbily they had been treated in similar circumstances in 1965 by the Pak soldiers at Khemkaran). He shook hands with the fallen. Lt Col DS Sidhu reached there in minutes. Brig Muhammed Hayat Khan, on instructions, reached there by 0930h. Brig H S Sandhu arrived almost same time. Maj Gen Dalbir Singh, GOC 9 Inf Div, ordered a formal surrender ceremony in Khulna town. He also ordered that honour to enter Khulna shall go to the Company establishing roadblock. With a squadron of T-55s, having arrived, 'D' Company, mounted the tanks and lead the victory march.
The move to Khulna was rather slow because of thousands of Bangladeshis having swarmed the entire area shouting heart-rending slogans of 'Joi Bangla'. They bowed with folded hands, waved, eyes moistened with happiness, emotions surging and offered or threw green leaves or crumpled withered flowers that were available. Some held crudely stitched green flags with orange patches in the centre – that for their national flag of an independent country. Happiness looked rather strange on their agonized weeping faces, emaciated lacerated bodies, wrapped in tatters. There were few cars with families standing outside, including some foreigners, waving vigorously expressing their gratefulness and happiness. The eyes of the victorious moistened many times for the glory achieved after a gruesome campaign, and to see the deep appreciation of the people emancipated.
It was 17 Dec; Pak 107 Inf Bde had fought an independent battle and had resisted laying down their arms till a day later than the overall surrender of Pak forces, perhaps hoping rescue by sea. Duggal and Kanwaljit managed to witness the surrender ceremony. The venue was fully crowded. Brigadier Hayat Khan was marched to Maj Gen Dalbir Singh, seated dignified. The former saluted, laid his pistol and belt on the table and then his epaulettes were cut. There was an uproar of 'Joi Bangla'. Our hearts swelled with fulfilment.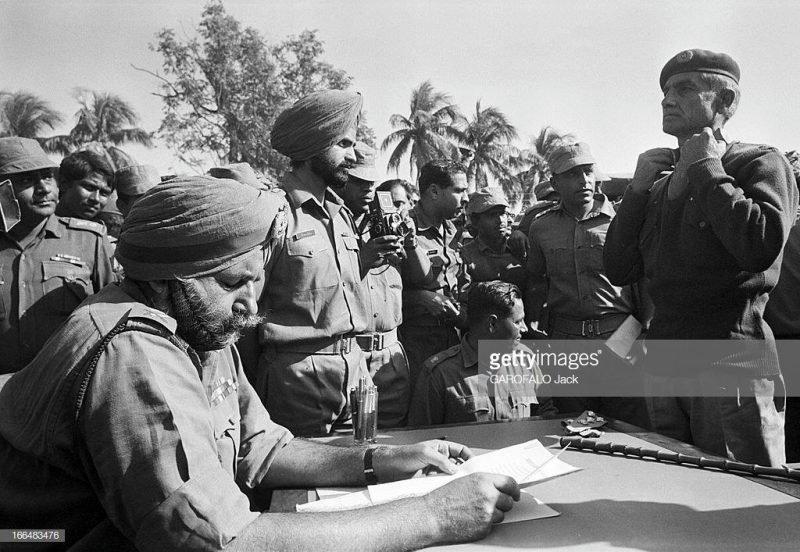 Words of Brig Hayat Khan, Cdr 107 Inf Bde, in his article 'The Battle of Khulna'
"I was quite satisfied and very keen to settle scores with Commander 9 Inf Div. ….
For the battle of Khulna, I not only had my whole Bde but in addition extra Bn……… This was amply demonstrated by the number of officers and men of 107 Bde who gloriously perished on the afternoon of 16 Dec 1971 when elsewhere surrender had already taken place. …….. Being the last battle even the Indian commanders and historians have only published brief accounts of it. …. The foreign war correspondents who were accompanying the Indian Forces around Khulna had mostly rushed to Dacca …… while the battle was raging with great intensity on the 16 and night 16/17 Dec."
Achievements of 4 SIKH
The Unit had launched four full-fledged attacks, from the second week Nov to the third week of Dec.Unit suffered a total of 36 dead and 169 wounded, including six officers. Siramani was awarded Battle Honour and East Pakistan as Theatre Honour. Some gallantry awards were bestowed, but paradoxically, far less to what the Unit deserved and had been recommended from the Div HQ. Rather the entire formation was a loser for reasons inexplicable. However, the Soldier had achieved glory. 4 SIKH had accomplished the deepest penetration, 15 Kms into East Pakistan by the earliest date, shot down a Sabre aircraft capturing its pilot, crossed Kabadhak river in shifts in a rickety single village boat, destroyed a tank and captured the Khulna Garrison Commander. (Only didn't come across a ship).
A DO by Brig HS Sandhu is reproduced below: –
"The unparallel valour, courage and heroic exploits of your unit on the battlefield of Makapur, Chaugacha, Burinda and Siramani are awe-inspiring events to any soldier of the world. Every drop of bloodshed on these battlefields in accomplishing such glorious heights of heroism and bravery, I am sure, would have pleased even those valiant heroes of Saragarhi and forefathers of the SIKH group. No admiration or praise is sufficient to acknowledge the bravery of all ranks of your unit. I am sure all these battles would add another glittering chapter of glory for the continued success of your SIKH Regt. My sincere prayers for the continued success of your unit. May Waheguru bless you and all ranks of your unit forever."
Aftershock
It may be appreciated that somehow outstanding operations by 9 Inf Div had not been given importance that was due to them. Ironically, Khulna being the last battle though fought with awesome determination and sacrifices on Night 16/17 and day of 17th, the commanders and historians had given rather a short shrift to the battle, that was one of the most heroic. Even the foreign correspondents who were observing battles rushed to Dhaka on 16 Dec itself to cover the overall surrender ceremony there. The surrender at Khulna was a day later. HQ 2 Corps was moved to the West where war was engaging with great intensity, and where for obvious reasons, maximum attention and importance were given by all, and East only limped to get its due as an overall excellent campaign.
Homage
"Salutations to those 'Killed in Action' who laid down their lives for a cause, the wounded and the able who fought resolutely and returned to tell stories of leaders and the lead, valorous deeds, comradeship, achievements and participation in the onerous discharge of responsibility for the emancipation of the downtrodden and dawn of a New Nation".
Photocopies of Hand-written Notes During the War and Photos
Kanwaljit's handwritten notes during the War. Photocopies of some of them are given below:
'Jai Hind -Joi Bangla'
Photos
Photos of Victory March to Khulna 17th Dec
The views and opinions expressed in this article are those of the author and do not necessarily reflect the views of The Kootneeti Team