Coronavirus: A Challenge for the Third World
All the countries around the globe faced one of the greatest reversals of fortune in the socio-economic and political aspects of development when WHO declared COVID-19 as the global pandemic on 30th January 2020. The countries of the global south were the worst sufferers than the rest of the world.
'Tiers monde' i.e the 'third world' coined by French economist and demographer Alfred Sauvy was originally intended to distinguish the nations that gained independence from colonial rule following World War II and did not belong to the Soviet or the Western block. These countries had a common history of exploitation and underdevelopment along with rapid demographic growth. Terms like global South, the south, non-industrialised countries, developing countries, under developing countries were used interchangeably. Developed nations have garnered substantial wealth by impoverishing the south, through direct and indirect colonialism and imperialism. Their robust economic position depends on the south for more exploitation.
The ramifications of the pandemic have affected the global North and global South in varying degrees but it proved to be more catastrophic for the third World due to its pre-existing multiple structural vulnerabilities.
According to the data, 37 Organisation for Economic Cooperation and Development (OECD) countries or developed countries constitute around 62.2% of the global nominal GDP and 42.8% GDP against the 160 developing and least developing countries (LDCs). According to a new report by the Asian Development Bank (ADB) released in August 2021, simulations for developing Asia shows that the pandemic has pushed about 75 million to 80 million people into extreme poverty, compared with a scenario without COVID-19. According to the report, about 203 million people or 5.2 per cent of developing Asia's population lived in extreme poverty as of 2017. Without COVID-19, that number would have dropped to an estimated 2.6% in 2020.
Challenges
Novel coronavirus harmed the economy of the global South. Per capita income fell by 3.6% in low-income countries which led to a great reversal of the gains they made in the past further widening the North-South divide. These countries depend on commodity tourism to a great extent. Intensive sectors also faced difficulty in moving forward due to the slow normalisation of cross-border travel and social distancing. Micro, Small & Medium Enterprises (MSME's) were badly affected as they tend to have small inventories. According to IMF, around 90% of all enterprises are MSME in Asia and Africa. These countries suffered not only because of the weak economic system but also due to shaken economy of the north as they depend on foreign investment, tourism, remittances or exports to a great extent. Social safety nets have not coped well in the south because it lacks resources and is incapable of mobilising resources at the domestic level.
Another issue that hits the South hardly is the misuse of intellectual property rights by rich countries to earn greater profits by putting the lives of third world people at stake. Of the 12.5 billion doses that the principal vaccine producers have so far pledged to deliver in 2021, an estimated 6.4 billion have been pre-ordered, most of them by wealthy countries. According to UNICEF's data, the disparity in the accessibility of COVID-19 vaccines has heightened with time. The lion's share i.e. 86% is given to high and upper-middle-class countries, while only 1% of jabs were given to the poor countries. It's high time to grant these countries intellectual property rights so that they can expand their manufacturing production capacity and produce vaccines without facing any legal action from patent holders. We have witnessed this kind of situation in the past as well when the whole world was fighting against polio and diphtheria at war footage, vaccines had not even reached the south. It took them decades to equip themselves with the much-awaited vaccine.
Amid the pandemic, we witnessed the large number of protests going around the globe especially in developing countries like the protesting Myanmar population against military Junta, Indian farmers protesting against its central government due to three farm laws and other third world countries as their internal political machinery had become too weak. This anarchical situation caused by protesters acted as a catalyst for the covid-19 surge due to the mass gathering of the population. Apart from these issues, there were a plethora of problems that worsened the problem like increased domestic violence against women in particularly during covid, discriminatory policies of states towards minorities, children were denied basic amenities including education and healthcare in these regions. There is a lack of awareness and credibility regarding covid-19 vaccines among the masses. Hunger, poverty, unavailability of safe drinking water, the low wage for the workforce are intrinsic to their society. According to the World Bank data, the percentage of gross domestic product spent on health care is 5.23 % which is nearly less than half of the percentage share of high income which is around 12.45%. Domestic inadequacies and gaps in the health sector of these countries need to be addressed cautiously and we should learn from countries like the USA who spend around 16.89 % of their GDP on healthcare which can make these countries ready for any unexpected health crises. To cure the inefficacies in states several steps needs to be taken at the micro and macro level.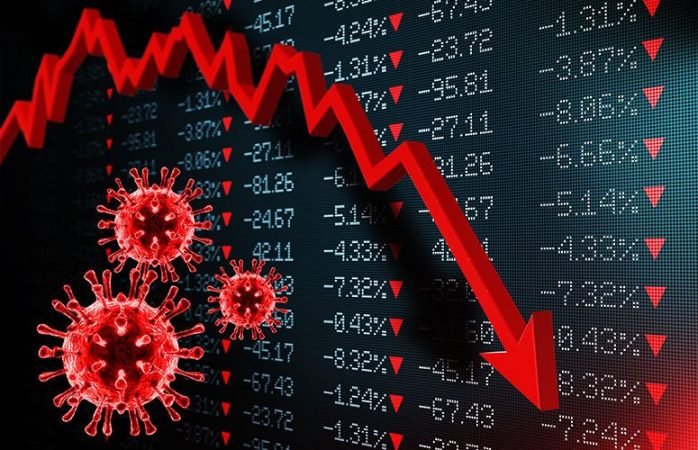 Tackling the issue in the south and their solution
COVID-19 will exacerbate pre-existing vulnerabilities of the LDCs and disrupt their pursuit of sustainable development. To determine the effects of COVID19 on the LDCs, it is first necessary to systematically and comprehensively monitor the situation on-site and reorganise existing programs. The United Nations Development Policy Committee (CDP) and the Office of the High Representative for LDCs, Landlocked Developing Countries and Small Island Developing States are in a good position to oversee this task. By realigning their programs, various United Nations agencies, such as the WHO and the United Nations Development Program (UNDP), could better address the massive shortages in health care and economic recovery.
During the pandemic around 90 countries applied for emergency aid or debt relief from the IMF, which in turn called on the G20 to do its part as creditors to reduce the debts of the poorest countries and to collect contributions as a donor for international financing. However, for the time being, the G20 has only agreed on a "temporary" suspension of debt servicing and has waived any new commitment of funds, such as IMF special drawing rights. It is likely asymmetrical in the sense that the southern states have no choice but to cooperate in containment, while the northern states are not required to make more financial contributions. There was a long history of exploitation and systematic victimisation of the Third world which led to inequitable distribution of wealth and resources. The former colonisers presently 'global north' owe reparations to the South. To promote reconciliation, reparations should, therefore, follow a human rights approach specifically, the distribution of reparations should be based on the principles of equality to foster healthy relations of states and to reduce the ever-widening north-south divide.
It's high time for the countries of the global south to take some responsibilities, they should take initiative for its development to curb the impact of a pandemic so that they could lean into their innovative potential to benefit from its considerable human and natural resources. Countries should emphasise strengthening internal forms of government whose policies should be pro-people rather than pro-capitalist. Corruption, unequal distribution and mismanagement of public funds and resources is the key issue that needs to be highlighted and fixed. They should focus on financing their public health, update and enforcing public health laws effectively. Women and children specific interventions in all policies, programs and systems need to be launched. Global south also needs to build its South-South cooperation in trade and development sectors even stronger and need to strengthen international trade for rebuilding their society.
In the current scenario, there is an urgent need for a comprehensive global approach that encompasses all states in the north and south: public, private, non-state actors, IGOs ​​and civil society to unite and combat this deadly pandemic on a variety of investment funds and food aid, debt relief, access to export markets and facilitation of remittances, and access to medicines and vaccines. The principles outlined in Alma Ata in 1978: universal access and coverage, equal opportunities, community participation in defining and implementing health agendas, and cross-sector health approaches need to be reinterpreted in light of the dramatic changes in health over the past 30 years. to achieve "health for all" were carried out in the form of "Millennium Development Goals".
Conclusion
The COVID19 pandemic will only be defeated if it and its socio-economic consequences are overcome everywhere. Urgent action by the international community can save lives and livelihoods in low-income, low-consumption countries. All states should come together leaving their profits and look for the greater benefit of all including those who are underdeveloped. The fact that the whole world is connected and various states depend upon each other cannot be denied thus leaving one part vulnerable can be a threat to other parts of the world too so all the development required for coronavirus should be conducted globally on equal scales by detecting, preventing and curbing the deadly virus and thus achieving the covid negative world.
References
Ahmad, A. (2012). Colonialism and Neocolonialism: Impact of Decolonization. In R. Basu (Ed.), International Politics Concepts, Theories and Issues (pp. 118–120). SAGE Publications.
The Economist Intelligence Unit (2021), Coronavirus vaccines: expect delays Q1 global forecast 2021, The Economist, London/New York/
Bhunia, A. (2021, May 25). The pandemic has worsened inequality between countries and within them. Alifewire. https://alifewire.com/the-pandemic-has-worsened-inequality-between-countries-and-within-them/
Bhattacharya, D., & Raida Islam, F. (2021, April 23). The COVID-19 Scourge: How affected are the Least Developed Countries? Oecd-Development-Matters.org https://oecd-development-matters.org/2020/04/23/the-covid-19-scourge-how-affected-are-the-least-developed-countries/
Mancini, D. P. (2021, August 16). Vaccine patents battle intensifies as poor nations struggle in war on coronavirus. Ft. https://www.ft.com/content/cf12e1ba-ee25-4a0a-870d-53f5b66b0996
Jimenez, D. (2021, May 13). Covid-19 vaccine inequity: the debate over patent waivers intensifies. Pharmaceutical-Technology. https://www.pharmaceutical-technology.com/features/covid-19-vaccine-inequity-patent-waivers/
ASIAN DEVELOPMENT BANK. (2021, July). KEY INDICATORS FOR ASIA AND THE PACIFIC 2021. Adb.Org. https://www.adb.org/sites/default/files/publication/720461/ki2021.pdf
WEMMERS, J. O.-A. N. N. E. (n.d.). REPARATION, DECOLONIZATION AND INTERNATIONAL LAW: THE HEALING ROLE OF REPARATION. Harvardilj.Org. https://harvardilj.org/wp-content/uploads/sites/15/Wemmers-Reparations.pdf
Adhikari, R. (2021, June 6). Lessons from LDCs' responses to COVID-19: From crisis to opportunities? Oecd-Development-Matters.Org. https://oecd-development-matters.org/2020/07/06/lessons-from-ldcs-responses-to-covid-19-from-crisis-to-opportunities/
Makau, W. M. (2021, March 15). The Impact of COVID-19 on the Growing North-South Divide. E-Ir. https://www.e-ir.info/2021/03/15/the-impact-of-covid-19-on-the-growing-north-south-divide/
Lakshminarayanan, S. (n.d.). Role of government in public health: Current scenario in India and future scope. Ncbi.Nlm.Nih.Gov. https://www.ncbi.nlm.nih.gov/pmc/articles/PMC3114612/
The views and opinions expressed in this article are those of the author and do not necessarily reflect the views of The Kootneeti Team