The choked status of democracy in Myanmar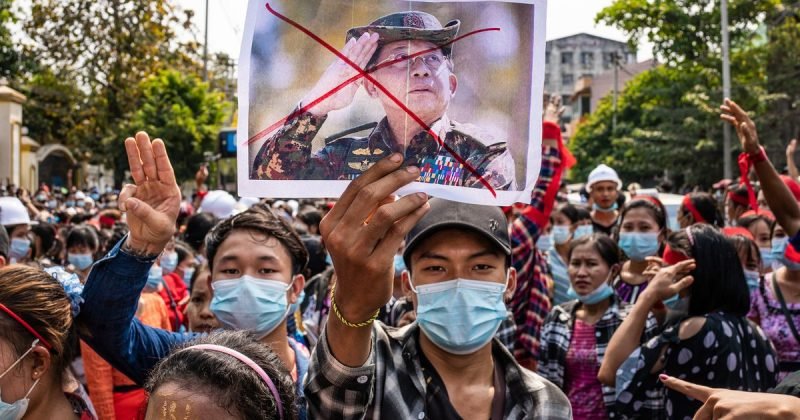 Detention of democratically elected leaders; people protesting off the streets; water cannons being thrown at protesters; demonstrators being brutally beaten up by the police— this is what Myanmar looks like today. Since the military junta led coup d'état, the popular leader Aung San Suu Kyi has been detained after her party National League for Democracy (NLD) won with an overwhelming majority of votes in the national election and the new parliamentary session was set to open. The army alleged that the recent landslide election win by Ms Suu Kyi's party was marred by fraud, and hence the army proclaimed one year state of Emergency. Justifying the coup, the military cited a section of the constitution that said in the event of a state of emergency, as is the case now, the commander-in-chief has the constitutional right to "take over and exercise State sovereign power." However, the United Election Commission of Myanmar has denied any such claims.
Charges against Suu Kyi
Nobel laureate Suu Kyi, has been recognised as a living example of resistance not only in Myanmar but around the world as she spent nearly 15 years in detention between 1989 and 2010, after organising rallies calling for democratic reform and free elections in the country. This time around in 2021, she has been under house arrest facing series of criminal charges like that of flouting coronavirus restrictions during last year's election campaign & violation of natural disaster law, possessing unlicensed walkie-talkies defying the communications law and violating a state secrets law. Apart from this, she has also been accused of serious corruption and sedition charges and of accepting bribery.
Now, in case she is convicted of these charges, she would be banned from running for future elections, which according to many is the military's plan.
A reminder of the past: The military rule
This has been viewed by many around the world as a step towards the return of long term military rule for Naypyidaw. Phil Robertson, the deputy Asia director at Human Rights Watch, said the cases brought against Aung San Suu Kyi were an attempt to "nullify her landslide election victory in the November 2020 election and prevent her from ever running for office again"— this can be considered a plausible enough danger for the future of democracy and civil liberties in this South-East Asian nation.
The growing unpopularity for the Army-backed Union Solidarity and Development Party (USDP) led to its humiliating defeat in the elections. This move according to many, is in line with the army chief, Senior Gen. Min Aung Hlaing personal interest is supposed to age out as army chief this summer has been handed over the power this time. His patronage network, centred on lucrative family businesses, could well have been undermined by his retirement, especially had he not been able to secure a clean exit. Under the former power-sharing agreement, General Hlaing presided over two business conglomerates and was able to appoint three key cabinet members who oversee the police and border guards, it is a step to secure a rewarding post-retirement life.
Will Ms Suu Kyi get a free and fair trial?
The only way Ms Suu Kyi could be released is when the court gives her a clean chit, which could only happen if she is given a fair trial, that could be possible if the judiciary is independent which is a rare site for Myanmar. The judiciary in Myanmar is controlled largely by the executive and legislature as Judges sitting on the Constitutional Tribunal, Supreme Court, and High Courts are subject to impeachment proceedings by Parliament. Grounds for the impeachment of these judges include "misconduct" and "inefficient discharge of duties assigned by law", resulting in insecurity of tenure of judges. This speaks magnitude about, what kind of court trial Ms Kyi would be receiving— her trial began on 14th June 2021 in a closed courtroom in Naypyidaw Council, with no presence of journalists and heavy police presence. The plaintiffs presented all the charges against the hearing.
Moreover, from the time of her in detention, she was allowed only three meetings with her legal team to prepare for the start of the trial. She has been prevented from using the internet or reading anything other than state-controlled media for the past four months.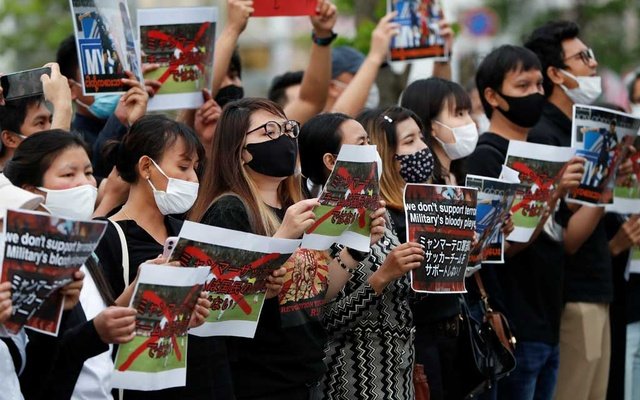 North Korea's monetary aid to Burma
Since the coup, the West has condemned it and have posed economic sanctions on Myanmar, but to everybody's surprise, North Korea has provided US$300,000 (S$401,300) to a United Nations-led humanitarian aid initiative for Myanmar, marking its first donation to other countries since 2005.
The UN Office for the Coordination of Humanitarian Affairs' financial tracking service showed that North Korea contributed on May 24 to the Myanmar Humanitarian Fund. This indicating of the fact how one authoritarian regime supports the other.
The current state of affairs in Myanmar is a matter of concern because it seems as if a newborn and emerging democracy has been choked.
The views and opinions expressed in this article are those of the author and do not necessarily reflect the views of The Kootneeti Team