Shifting Indo-Nepal ties and The Strengthening of Sino-Nepal Relations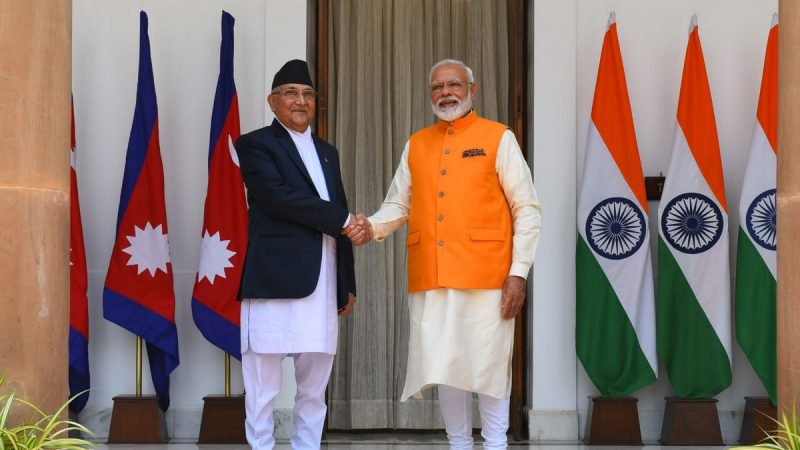 Nepal which has been going through an internal political crisis since last year is in urgent need of political stability and is now squeezed between its two strong neighbours India and China. Since December 2020, only turmoil has reigned in Nepal after PM Khadga Prasad Sharma Oli announced the dissolving of the Parliament. Amid these crises, Nepal's friendship with China can be seen as an indication, worthy enough for India to take note of. China has been investing a lot in Nepal and most of the investment focusses on infrastructure and rail development, electricity, roads, telecom and many other projects. These investments are a sign of strengthening bilateral relations between the two countries which could be a matter of concern for New Delhi.
However, Nepal's PM clearly stated that there should be no doubt or confusion about the friendly relationship shared between India and Nepal. He also accepted that Nepal does have good relations with both its neighbours and is equally close to both of them and both India and China have investments in Nepal. The PM also expressed that they require investments from outside in different forms due to insufficient resources in the country. This can be one of the major reasons behind the intensifying developmental partnership between China and Nepal.
Nepal's former PM Baburam Bhattarai has also expressed, that Kathmandu is willing to have good relations with New Delhi. He also tried to wave off the assumption mentioning, "Nepal is trying to lean towards China". Recently, PM Oli has expressed his gratitude towards India for supporting Nepal during the fight against COVID-19 by donating 1 million vaccines to the country. But because of these pleasing and diplomatic statements from Kathmandu, New Delhi can't ignore the intensifying ties between Nepal and China which might affect India's influence in Nepal as well as in South Asia. The growing influence of China over Nepal can also be seen as a part of China's new ambitions in its neighbourhood.
India has a history of micromanagement of Nepal's political affairs. Thus, this closeness between the Sino-Nepal relations might also be a response to the past meddling by the Indian government and the insecurities it left amongst the Nepalese. Thus, the growing ties between Nepal and China can be considered as a strategic China card, which the Nepali government is usingto counterweight the Indian influence in its territory. On the contrary, China has been respecting the Nepali sovereignty and has been providing aids and has established various grant projects in the country. Because of these steps, China is now perceived as a better neighbour as compared to India. Hence, China has emerged as a natural alternative for the country, amid the widening gap between Indo-Nepal ties. One of the major reasons behind the dilating ties between India and Nepal is the lack of talks between the two sides on a high political level. The relations between these two countries are expected to come back on track once the high-level political talks are resumed. Along with the high-level political talks, action at the primary levels should also be adopted. Such as the strengthening of people to people tie between India and Nepal.
The views and opinions expressed in this article are those of the author and do not necessarily reflect the views of The Kootneeti Team