Why do we need to be optimistic about the ongoing development of U.S.-Taiwan relations?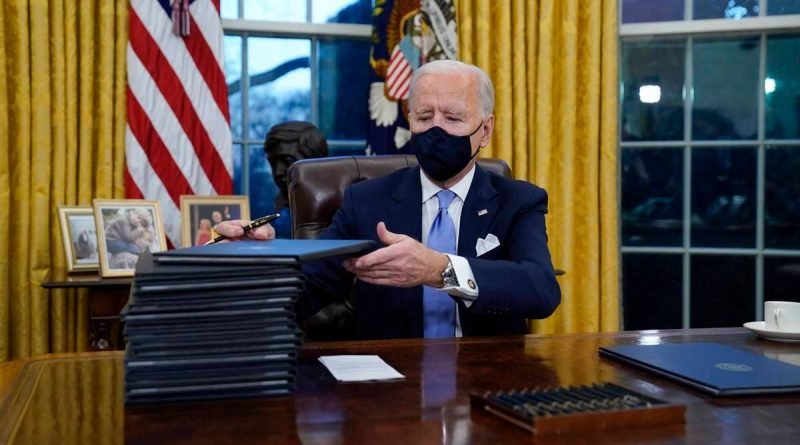 Leaders from around the world are reacting as the transfer of power took place in Washington, DC. Joseph Biden has sworn in as President of the United States, after his election victory over Donald Trump in December last year. Biden and his team soon will be confronting a range of issues including a severe pandemic, a raging economic crisis, call for progress in confronting racial injustices, escalating climate-induced crises, and stiffed alliances with allies and partners in many parts of the world. They're likely to remain same in their view towards China as America's greatest geostrategic challenge but not as the prompted threat. Amidst this intimidating bequest, U.S.-Taiwan relations is expected to emerge out as a bright spot, a blueprint of headway that needs to be sustained.
Taiwan's de facto Ambassador to the US Hsiao Bi-khim was formally invited to President Biden's inauguration following which Taipei called it as a precedent-setting as it's the first since Washington switched recognition to Beijing in 1979. Hsiao Bi-khim, Taipei's envoy, in her self-posted video on twitter at inauguration day expressed she felt honoured representing the government and people of Taiwan at the inauguration of President Biden and Vice-President Kamala Harris. "Democracy is our common language and freedom is our common objective," she added. This has been the first time in decades when a Taiwanese envoy was 'formally invited' by the organising committee while the Taiwanese ruling Democratic Progressive Party termed it as "a new breakthrough in 42 years".
Taiwan had split from China after the civil war in 1949 pushing at least 23 million Taiwanese to live with the constant threat of invasion by Beijing. China continues to claim Taiwan as its own territory and terms it as 'breakaway province' and has even ramped up military activity near the island. The mainland has refrained from maintaining any official contacts with Taiwan and has attempted to keep the island diplomatically isolated. It was under the administration of former US President Jimmy Carter, Washington had shifted its diplomatic recognition of Beijing over Taipei. However, the United States continued to remain Taiwan's crucial unofficial ally and is also enclosed by an Act of Congress to sell the weapons to Island to defend itself.
Back in 2016 only, Taiwan's President Tsai Ing-wen received an unprecedented telephonic call with President Trump, a move that certainly enraged Beijing. Trump administration also worked on arms sales and diplomatic contacts. His last foreign policy act includes lifting restrictions that limited how US officials interacted with their Taiwanese counterparts. However, President Biden's Taiwan policy is being seen as comparatively less clear for now, but Taipei's envoy Ms Hsiao's being there at the inauguration suggests at an extension of his predecessor's precedent-setting changes.
Washington and Taipei government will continue to work on increase existing solid foundations and work with the Biden administration to further promote exchanges and cooperation in all areas and at all levels, so as to strengthen the comprehensive cooperative partnership between Taiwan and the United States. The Biden administration also will need to resolve on how it speaks privately and publicly about cross-Strait relations.
Why do we need to be optimistic about the ongoing development of U.S.-Taiwan relations in the coming years?
Well, for that, we have some compelling ground. First, United States has deeply rooted bipartisan support in the for President Tsai Ing-wen and the people of Taiwan. And Tsai Ing-wen and her administration were successful in stimulating this support through persistent engagement with leaders and thinkers from both sides. Her shrewd, moderate approach to cross-Strait issues has gained the confidence of Washington.
Secondly, the Biden's administration understands the importance of Taiwan's win for America's strategy in Asia region. Biden has written that the United States will "stand with friends and allies" in Asia, including by "deepening our ties with Taiwan, a leading democracy, major economy, technology powerhouse — and a shining example of how an open society can effectively contain COVID-19." The arriving team is aware that Beijing's intent is to assimilate Taiwan within the PRC system under the one-country, two-systems model. They recognize the want for vigilance following Beijing's actions toward Hong Kong.
Third, owing to the prolonged goals that have been guiding America's approach toward Taiwan, Washington will view Taipei as a trusted ally and not a card to be played while competing with China. U.S. policy is expected to be focused on helping Taiwan gain confidence in its security, control of its economic destiny, and dignity and respect on the world stage.
From Biden's prioritization on democracy promotion, Taiwan also hopes for creating opportunities for U.S.-Taiwan engagements. Biden's pledge to convene a Summit for Democracy which will work to spur progress in fighting corruption, defending against authoritarianism, and advancing human rights and for that Taiwan would surely have much to offer in these discussions. Taken as a whole, the U.S.-Taiwan relationship are expected to get stronger. Under Biden, the overall trajectory of strengthening ties will continue.
The views and opinions expressed in this article are those of the author and do not necessarily reflect the views of The Kootneeti Team