What strategic leverage could India have vis-à-vis China through approaching Ulan Bator?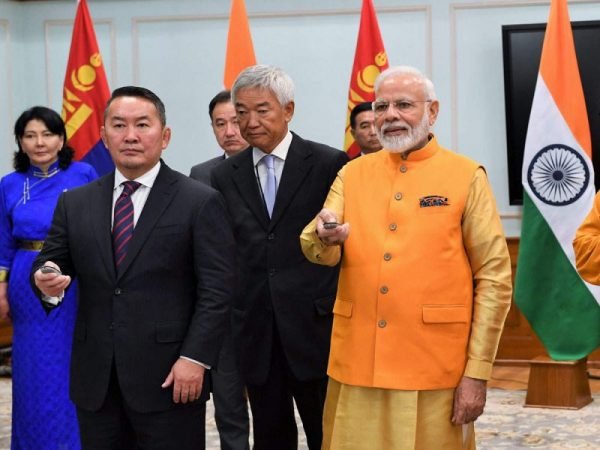 India and Mongolia are becoming closely connected due to their 10,000 year old historical as well as cultural linkages for which the two countries are trying to find a common ground during a time weaker countries need a shoulder to cry on when many countries are looking towards Chinese which Ulan Bator doesn't want to consider due to protests with regards to imposition of Mandarin, ruckus created by the pandemic being seen as an advantage to China for leveraging its influence in the Asian Peninsula.
The two countries have jointly collaborated on energy, healthcare, trade, culture and diplomacy as well. Chinese expansionism has always been a matter of concern for both countries for which it is essential for India to hold dialogues with its East Asian friends to deter Chinese rise, where because of these developments the two parties are involved in holding military patrolling exercises on a regular basis through annual Khan quests, Nomadic Elephant exercises.
It was since the 2015 Mongolia visit of PM Narendra Modi that New Delhi and Ulan Bator have committed towards working on initiating a strategic partnership at a time when for the first time, an Indian Prime Minister has visited Mongolia ever since the formalisation of ties in 1955 at a time when India was looking at multiple choices where it was maintaining neutrality in order to raise voices of developing countries for reducing dependency in a bipolar power struggle where at later stages, later Mongolia became a member of NAM in 1991, sharing a similar view of neutrality likewise India since the former doesn't aspire to be viewed negatively as an ally of one country and side-lining the other while keeping options open in the multipolar world order.
New Delhi has also recognised Ulan Bator's non-permanent membership to the UNSC and commitment towards joining the International Solar Alliance in order to strongly emphasis on using clean and renewable energy. Mongolia is rich in minerals such as steel, coal, Also, India and Mongolia signed an essential uranium deal in 2009 whereas the former hasn't received any supply as yet.
Recently, the two parties organised the 7th Joint Virtual Meeting in the backdrop of the COVID pandemic and the Himalayan skirmish in Ladakh which could be seen as a deterrent to revisionist China, paving the way to Mongolia to look at many opportunities with regards to power balancing. Various projects and development partnerships have been discussed such as the USD$ 1.236 billion Line of Credit Oil Refinery Project and USD$ 20 million Atal Behari Vajpayee Excellence in ICT and Outsourcing.
Appreciation of culture, values and common norms have proven powerful in order to indirectly deter hegemons from setting rules and order as per their own national as well as security interests. India and Mongolia keeping these strategies in mind have agreed to translate ancient Buddhist scripts in their own respective native languages. Also, Ancient Indian stories such as Shakuntala, Panchatantra, Ramayana have been translated in the Mongolian language to spread awareness about India's rich history and values so that it could be easier for understanding each other's roots and rich heritage where people to people connections play a fruitful role in shaping perceptions.
Visa on arrival has also been prioritised by the Indian side under the Ayushman Bharat initiative to enhance people to people connectivity, which could make travelling simpler for both sides. Scholarships have been introduced in IIT's and IIM's for incoming Mongolian students who are seeking learning and education opportunities in India where the Indian Council of Cultural Relations has introduced scholarships where Mongolia has received 50 slots (20 slots each come under Aid to Mongolia and General Cultural Scholarship, where many were under the  Ayush scheme).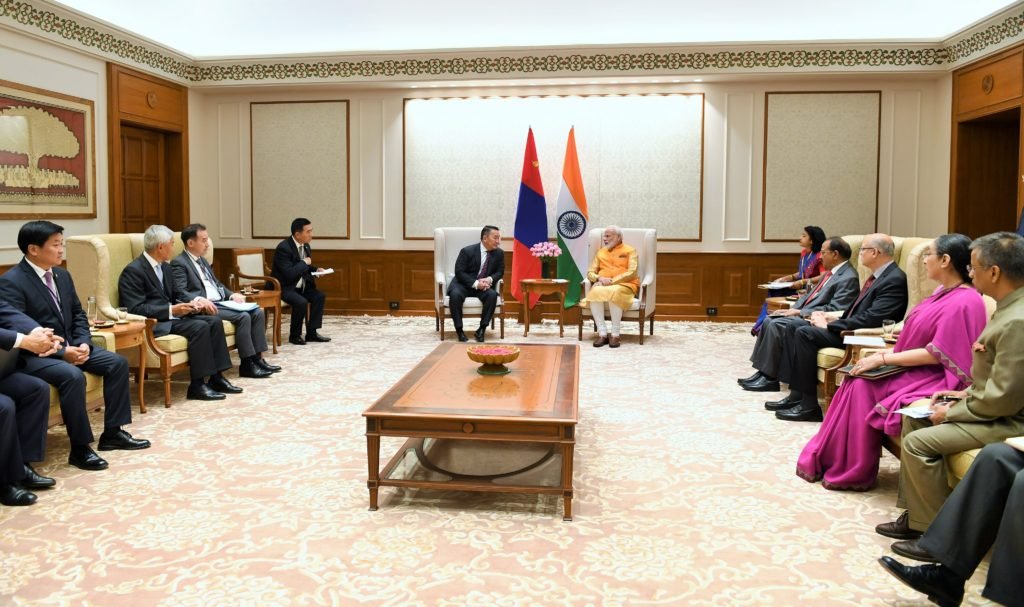 As far as the bilateral trade goes between the two, the Indian exports to Mongolia as of 2019 amount to USD $37.1 million and imports were about USD $38 million.so there is a need for India to increase its pace to nudge free trade, efficient movement of goods, services. When the bilateral trade is compared with China is at an edge vis-à-vis India because of economic dependence and geographical proximity. According to a Jamestown Foundation report, Mongolian import exports are largely dependent on the Chinese, where the latter purchases 68 per cent exports at approximate rates and 35 per cent of imports being sold to Ulan Bator.
Interactions and Dialogues with Ulan Bator are an essential component with regards to India's Act East Policy in order to further increase its influence through cultural and economic cooperation. So, even Mongolia if it collaborates with the US, Japan and India to work towards a semi-counter to keep a watch on China' ambitions, where the third neighbour country could freely take advantage of the US-China Neo Cold War for its own benefits, then there could be a possibility for increased leverage vis-à-vis China.
The views and opinions expressed in this article are those of the author and do not necessarily reflect the views of The Kootneeti Team