Quad isn't an option, but a necessity for Indo-Pacific peace
Since early 2020 the Indo-Pacific region comprising countries from West Coast of India in Indian Ocean Region to West Coast of the US in the Pacific Ocean, which is home to half of the world's population and world GDP, and one-third flow of trade and energy, has been in chaos. It started with the spread of Chinese origin pandemic Covid19, followed by Chinese leadership belligerence towards the country's neighbours. Latter kind behaviour is nothing new in the case of communist regimes. They lie low when they are weak. The moment they get economic and military prowess, and at the time, compatible allies, they try to dominate their neighbours. And if the neighbours are successful democracies, then the scope of the threat is high. This is what is exactly witnessed now in Indo-Pacific where Communist China has in the meanwhile got both economic (world's largest in PPP) and military prowess (world's No.3 in conventional forces and No.1 in Naval power) apart from autocratic allies such as communist-dynasty ruled North Korea, military-supervised-civilian ruled Pakistan and theocratic ruled Iran. And the region has a large number of small and big democratic countries.
When the whole world is struggling to rescue from a dreaded pandemic, China launched border incursion into India and Nepal, opened border dispute with Bhutan, and sabre-rattling with littoral countries of the East China Sea and the South China Sea including the sinking of their fishing boats apart from threatening invasion of democratic Taiwan (The Republic of China) claiming the island nation is a relegate territory of mainland China. In view of the above, a large number of geopolitics experts on the region have started opining that Communist China has allowed spread of pandemic as part of its larger expansionist strategy.
Meanwhile, the Chinese President Xi Jinping has elevated himself to the position of Paramount Leader, which was earlier only occupied by Chinese Communist Party and People's Republic of China founder Mao Zedong, who ruled the nation from 1949 to till his death in 1976. After occupying the General Secretary post in 2012. Xi occupied People's Liberation Army's Commander-in-Chief and PRC's President positions. Further, in 2018, he got his candidature specific constitutional amendment removing Deng Xiaoping incorporated two five-years terms restriction for President, which was specifically included in the country's constitution to block scope of any future leader of PRC replicating Mao's autocracy. Now, Xi Jinping is Paramount Leader of PRC for life.
It is a known fact that communism and democracy are incompatible. Communist regimes have reasons to feel uncomfortable in the surrounding of democracies. Communists are authoritarians; don't believe in citizen's freedom, free speech, free media, personal wealth, market economy (Though China has replaced dogmatic Socialist Economy with Socialist Market Economy under Deng Xiaoping in late 1970s after the death of PRC founder Mao Zedong) and the free judiciary. They are atheists and don't allow the formation of political parties and their activities other than their own party. Religious practice is forbidden and is a punishable offence as seen in Xinjiang and Tibet; whereas, in democracy, citizens enjoy all these rights. Though Communist China restricted democratic freedom in its jurisdiction by force, yet it can't stop its people aspiring for the same. Citizens look for the opportunity to get freed like a caged parrot. In the 21st century highly globalised world, human activities from trade and commerce to education to culture to etc. etc. are highly integrated. People's movement from one country to another, say for example, from a communist country to democratic and vice versa happens. And the same happens in high frequencies among neighbours, between Communist China and Democratic Taiwan and vice versa, Democratic Japan and Communist China, Democratic India and Communist China, etc. etc. for all kind of human globalised activities.
The 1989 Tiananmen Square protest, which was of course brutally suppressed, was a result of the influence of democratic government in China's neighbourhood and elsewhere in the world. This is why the Communist regime in China finds enmity with democracies around the nation.
Another aspect is: In 2018, the Communist China-friendly autocratic regime in the strategically important island nation Maldives in IOR has been replaced by democracy with the backing of democratic India. Soon after, the island's lawmakers started demanding all the agreements the previous regime had got with China to be scrapped. This is certainly a big irritant to Communist China.
During the past decades, Communist China has invested a huge amount of capital in countries all over the world. In some countries, in the name of its designed infrastructure development scheme called 'Belt and Road Initiative' for trade and commerce- irrespective of the system of governance, geographical size, and economically under-developed, developing and developed nations, which is now branded by experts as 'debt diplomacy'.
As per data made available by Harvard Business Review, China is world's largest lender, far ahead of institutional lenders such as World Bank and International Monetary Fund with outstanding claims exceeding more than 5% of global GDP. China has extended many more loans to developing countries than previously known. This systematic underreporting of Chinese loans has created a "hidden debt" problem – meaning that debtor countries and international institutions alike have an incomplete picture on how much countries around the world owe to China and under which conditions. In total, the Chinese state and its subsidiaries have lent $1.5 trillion in direct loans and trade credits to more than 150 countries all over the globe. Developing countries debts are accumulating fast. For the 50 main developing countries, the average stock of debt owed to China has increased from less than 1% of debtor country GDP in 2005 to more than 15% in 2017, a dozen of them (Djibouti, Tonga, Maldives, the Republic of the Congo, Kyrgyzstan, Cambodia, Niger, Laos, Zambia, Samoa, Vanuatu, and Mongolia) owe a debt of at least 20% of their normal GDP.
Now, in Indian Ocean Region, which has already been world's most happening ocean for trade and commerce since beginning of 21st century, thanks to rapid economic development in India and ASEAN countries, under the banner of 'String of Pearls', China has been building a large number of ports projects in countries such as Myanmar, Bangladesh, Sri Lanka, Pakistan, Iran, Djibouti, etc. which are the part of a network of Chinese military and commercial facilities and relationships along its sea lines of communication extended from the Chinese mainland to Port Sudan in the Horn of Africa. As per the evaluation of Chinese activities in IOR by this author, the String of Pearls is exclusively designed to strangulate the world's largest democracy and third largest economy in PPP i.e. India as it is the only nation in the region, which has the potential to challenge the hegemony of Communist China apart from ensuring its (China) uninterrupted energy flow from the Persian Gulf.
As per the just concluded Xi Jinping-chaired fifth plenary session of the 19th CCP Central Committee communiqué released on Thursday, the country's national defence capabilities and economic strength should be strengthened at the same time and reach the centennial goal of building a modern military by 2027 on par with that of the US defence forces. Sunfei Wu, deputy head of Hong Kong think tank Tianda Institute said this is the first time the Chinese leaders have included the military in such development goals. He said the goal was primarily targeted at Taiwan. "Basically, the target is to build PLA's capability to match the US army by 2027, so it can effectively deter interference by the US Army around the Taiwan Strait," he said. But, in view of deceptive character Communist regimes all over the world in the past and present have exhibited, recent PLA's border incursion into India and Nepal, and PLAN's sabre-rattling with littoral countries of ECS and SCS, experts are not ready to believe that Communist China's present leadership's military adventure will only remain restricted to The Republic of China i.e. Taiwan after PLA have got matching prowess with the world military superpower i.e. the US in both conventional and nuclear capabilities.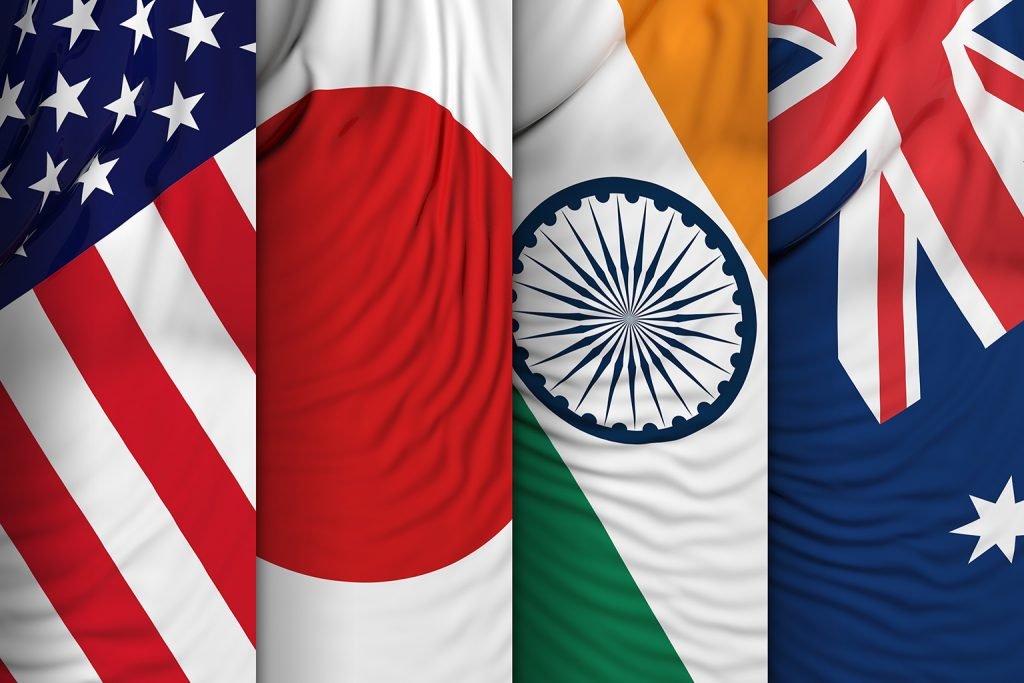 The Quad (Quadrilateral security dialogues), which was conceptualized in 2007 in Manila at the sideline of ASEAN meet, got a fresh impetus in 2017 when India's PM Narendra Modi, American President Donald Trump along with Australian and Japanese PMs rejoined on the sidelines of the ASEAN summit again in Manila. The member countries primary aim is to uphold democratic values and maintain a free, open and inclusive Indo-Pacific. The October 6 meeting of foreign Ministers of India, United States, Australia and Japan in Tokyo holds high significance amid the global pandemic. This is the second time the four foreign ministers met after their first meeting last year on the sidelines of the toothless United Nations annual jamboree in New York. The crucial meet had also emboldened one of the most powerful and decisive unions of democratic nations in recent times. Quad countries including Australia and Japan have already assured huge investments in India's infrastructure, technology and supply chain. With the United States also hailing India as a big power in the Indo-Pacific region, the Quad appears to have a pivotal role in reshaping the power dynamics of the world in the coming years. Since India is the central figure in the group, her present leadership should give up their whatever adherence to yesteryear so-called non-alignment thought is there, and take the lead role not only for India's security but also region's other democracies by way of expediting the institutionalization of the Quad as it has been bare necessity lately.
The views and opinions expressed in this article are those of the author and do not necessarily reflect the views of The Kootneeti Team