The next US President and its implications on India-US relations
We are near about two weeks away from the US Presidential elections of 2020 where current President Donald Trump goes up against Democratic candidate Joe Biden. A lot of Americans would be voting before November 3 by opting for postal votes, which means that the election results would take several days to emerge. The elections this time would be one of a kind, thanks to the coronavirus pandemic. The first US Presidential debate saw Biden taking a national lead over President Trump. The second debate was cancelled, unfortunately, due to President Trump being infected by the coronavirus. The third debate took place on October 23, where both candidates went all guns out against one another.
Trump attacked Biden over Obamacare, but Trump's efforts to undermine the Obama-era Affordable Care Act held him back as Biden ripped Trump for trying to strip coverage of tens of millions of Americans. On climate change, Biden called for establishing environment friendly industries. Biden also did not hold back on accusing Trump for pouring fuels on racist fires. Trump called out Biden for not doing anything while he was the Vice President under President Obama. Trump mentioned that if Biden had so many plans, what was it that stopped him from doing those while he was the Vice President.
President Trump while highlighting the failures of the previous administration said that the only reason he even ran for President in 2016 was because of the failures of Biden and Obama while they were in office. On the topic of security, Biden called the North Korea's Kim Jong-un a 'thug' and ripped Trump for meeting him and legitimizing North Korea.
During a speech to the supporters of Democrat presidential candidate Joe Biden, former two-time President Barack Obama rolled up his sleeves and relentlessly ripped President Trump. On the pandemic, Obama mentioned that the White House has done nothing but screw things up. He claimed that Trump is incapable of protecting anyone from the corona virus, as he was not even able to take the basic steps to protect himself. The first African-American president also attacked Trump for failing to denounce white supremacy.
Polls continue to show that Biden is leading the race against Republican incumbent Trump. Trump was however quick to dismiss this, saying that the polls are doing much better than in 2016. However, the general public cannot ignore how poorly the US administration has performed when it came to handling the corona virus pandemic. The US has been hit the hardest with over 224.000 people dead from the corona virus. This is unacceptable from the strongest and most capable nation in the world. More than anyone else, it should have been the US to handle the pandemic most efficiently. But as it had been portrayed in most platforms, a weak and inefficient administration led by President Trump has led America to a mess.
The economy has taken a massive hit to due to the pandemic. The steepest quarterly drop in economic output has been recorded, with a decrease of 9.1% in the second quarter of 2020. Unemployment rates have hit record levels too, with 3.3 million people filing for unemployment during the last week of March. The worst fact is that the pandemic is far from over; there are no signs of it slowing down. The figures shown above would only fall, and for a fact the current administration can do nothing to fix it, as it has already proven. A change in leadership is necessary to turn the fate towards the better for all of America.
Joe Biden as the US President would be good news for India. As a high ranking Senator, Biden played a crucial role in bringing to reality the US-India civil nuclear deal in 2006. As Vice President, he was a supporter of the Obama/Biden administration's Defence Technology Trade Initiative with India, the struggle to give India access to US defence tech and the designation of India as a Major Defence Partner. Biden is also a supporter of India in her fight to keep China from occupying Indian territory.
No US President would ignore US-India relationship as India is one of the strongest regional powers in Asia and a bulwark against China. However, for Biden, US-India partnership is more of a relationship and not a transaction, as seen by Trump. Biden focuses on economic engagements and joining hands to face environmental and health challenges and upholding democratic values. Biden will not be in favour of bullying India or applying a zero-sum game politics, something which President Trump wouldn't hesitate on.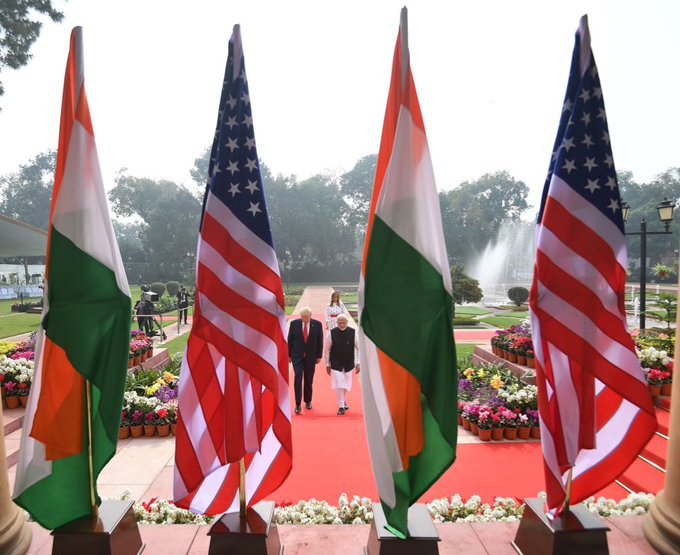 Trump has decimated the H1B program that has curtailed immigration of all kinds, forcing Indian skilled labourers to go back. In terms of climate change, Trump believes it to be a hoax. Trump has already backed out of the Paris climate change agreement. Both India and US face similar and severe natural calamities, and this is something on which both can work together, under the leadership of Biden.
The same is true of cooperation on health issues. Although there has been consultation between the Trump administration and their Indian counterparts on the Covid-19 pandemic, little has actually been accomplished or even undertaken. Trump did get Narendra Modi to release Indian made hydroxychloroquine, but Trump has refused to allow the US even to participate in international vaccine development efforts championed by India. Biden has indicated that he would have the US lead international pandemic efforts, presumably in conjunction with India. A President who claims that Covid-19 is no more serious than the common flu will be of no help on US-India health issues. India currently ranks second in terms of most affected by the virus, so it is high time that the US joins India's efforts in creating a vaccine.
Advocates of strong US-India relations have long spoken of the common values of democracy as a foundation for the US-India partnership. On the issue of values, there is the clearest choice. Trump has shown that democratic values are not high on his agenda. In contrast, Biden has called for these values to be of universal importance. In order to make a more perfect partnership, US-Indian relations should be based on common democratic values. Otherwise, the differences that arise will make an enduring alliance impossible.
The views and opinions expressed in this article are those of the author and do not necessarily reflect the views of The Kootneeti Team