Georgia's Balanced Diplomacy In Trans-Caucasus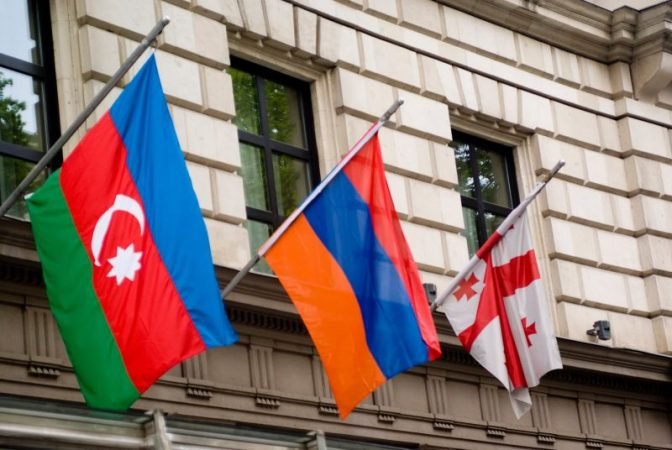 The Trans Caucasus region has been the ricketiest region in the USSR. Non-conventional security threats including corruption, terrorism, crime and the proliferation of weapons of mass destruction, and narcotics-human trafficking are intense in this region. The regional governments have constantly worked to strengthen their security by limiting political dispute they view as threatening, modernising their armed forces, and invite international assistance in regional political affairs.
During the early years of independence, Armenian and Georgian relations have been friendly and because of religious similarities, several friendship treaties have been signed by Yerevan and Tbilisi. However, diverse foreign policy orientation between these two countries with Yerevan's interest lies in Moscow while Tbilisi is more inclined towards Baku and Ankara led to serious disagreement over various issues between Armenia and Georgia.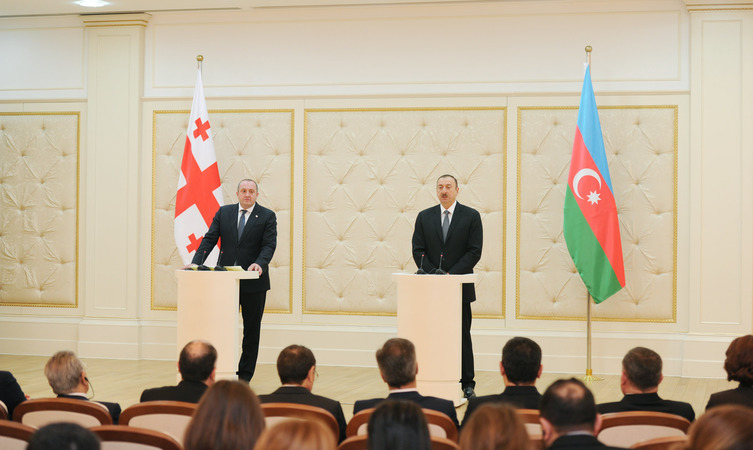 Baku and Tbilisi shares very friendly relations due to their strategic partnership and economic interdependence for implementation of energy projects. Georgia pose as a transit country for Azerbaijani oil exports and economies of both countries highly earn benefits from this relationship. But Baku is not very delighted by Georgia's good relationship with Armenia yet Tbilisi aims at balanced foreign policy in the region.
Towards the end of the 20th century, and especially after the 1999 OSCE summit, trilateral cooperation initiated for tranquillity in Trans Caucasus region. To limit the antagonistic relationship between Baku and Yerevan, Georgia played a key role. Shevardnadze came up with the 'For a Peaceful Caucasus' initiative in 1996, and the Georgian parliament organized meetings with their Armenian and Azeri counterparts. Russia, the US and the Council of Europe set up their own initiatives, and after the 1999 OSCE summit the Caucasian Stability Pact received a lot of attention. Unfortunately, none of these initiatives had any lasting success.1
Yerevan's economic dependency on Tbilisi is immense in this period. Ankara and Baku have imposed border blockades against Yerevan due to ongoing conflict in Nagorno Karabakh and hence, Georgia is the only country offers Yerevan with access to Black Sea ports and European Union. Due to hostile political relations especially after 2008 South Ossetian War and imposition of embargo by Moscow on Tbilisi has greatly affected Yerevan's imports from Georgia.
Azeris are the largest minority of Georgia and comprise 6.5-7.0% of Georgia's population. In February 1993, Tbilisi and Baku signed treaty of friendship and mutual cooperation, which highlighted security arrangement and non-sharing clause which mentioned reexporting of oil and gas with Yerevan is strictly prohibited under this treaty. Baku and Tbilisi are engaged in several regional key projects, in which Baku-Tbilisi-Ceyhan oil pipeline and Baku-Tbilisi-Erzurum gas pipeline has great strategic importance. Baku-Tbilisi-Kars an ambitious railway project initiated by these two countries will improve the connectivity with European Union.
Large number of Armenian populations residing in the Javakheti Region in southern Georgia and has witnessed limited or no violence since 1919 Georgian-Armenian war. Since independence, Georgian clergy have occupied the Armenian churches, and Armenians in Georgia and Armenia have demonstrated against the destruction. Some ethnic Armenians living in Javakheti region feels they are victim of Tbilisi's restraining demographic policy as many Georgian families started shifting and settling in the region in post-independence period. On November 28, 2008, Armenian demonstrators in front of the Georgian embassy in Armenia demanded that the Georgian government immediately cease encroachments on the Armenian churches and punish those guilty, calling the Georgian party's actions White Genocide.2
In recent times, Azeri as well as Armenian armed forces are accepting donations from abroad. Ethnic Armenians residing in southern Georgia have been collecting aid for Yerevan. Azerbaijan's embassy in Tbilisi claimed that some ethnic Azerbaijanis living in the southeast of Georgia also volunteered to join the Azerbaijani army, but that it asked them to step down. "The state of Azerbaijan and its armed forces have all the resources to cope with the task at hand," the embassy said, though it added that the Azerbaijani military would accept financial contributions and provided the requisite bank details.3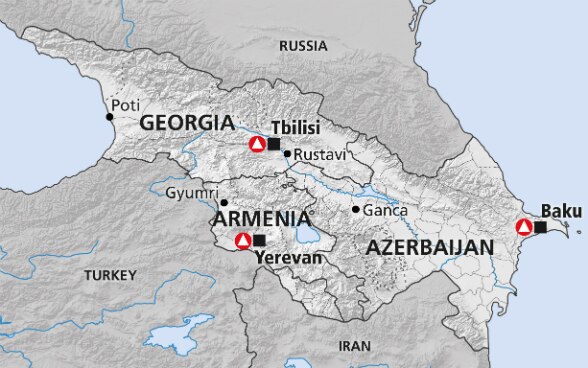 Ethnic Azeri parliamentarians in Georgian parliament has exhibit staunch support to the Azerbaijan's campaign in Karabakh, linking the Azeri aggression and success would help Georgia to manifest its control over breakaway Georgian territories of Abkhazia and South Ossetia. Sadoyan, the Armenian ambassador, condemned these statements, saying that "multinational Georgia is not a country where members of parliament can afford to make such statements." 4
Tbilisi also supported Baku against Yerevan in UNGA Resolution 62/243, and Armenia has frequently voted against the UN resolutions on Abkhazia that recapitulate the right of return of all displaced persons and refugees to Georgia's breakaway regions. Despite the stated differences and conflicting interests, bilateral relations between Georgia and both countries are stable and developing. Both Baku and Yerevan constantly keeping an eye over Tbilisi for any recognize distinguish toward either side.
Notes
The Caucasus: An Introduction, Frederik Coene, Routledge Publication 2010.
Protest action against encroachments on Armenian churches in Georgia held in Yerevan, Defacto, 29.11.2008.
Armenia and Azerbaijan to Georgian mediation: Thanks, but no thanks, Giorgi Lomsadze, Eurasianet, 06.10.2020.
The views and opinions expressed in this article are those of the author and do not necessarily reflect the views of The Kootneeti Team