Which WTO chief candidate should India support?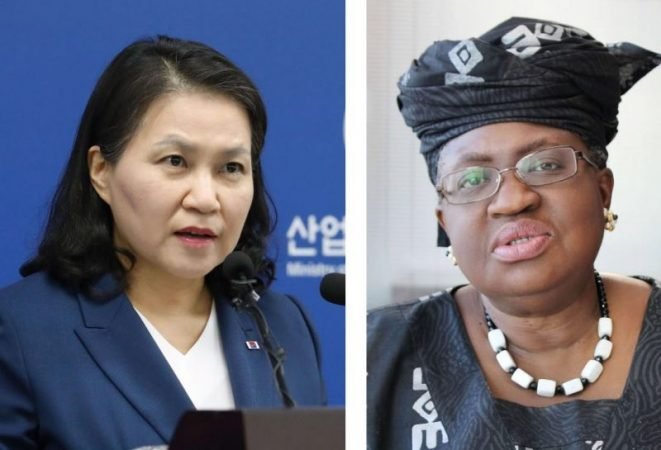 When the World Trade Organisation was established in 1995, it was intended to become a fundamental pillar of global peace and prosperity.
However, in the past few years, its ability to achieve that important goal has been undermined by rivalry between the United States, China and the European Union.
Now, two intelligent, experienced and impressive women – South Korea's Yoo Myung-hee and Nigeria's Ngozi Okonjo-Iweala – claim that they will put the WTO back on course.
Members must reach a consensus on which person should be its next Director General by October 27th, 2020. Lobbying is in the final stages and telephone calls are taking place between presidents and prime ministers.
Important choice
India's decision is important, because the successful candidate must win support from countries from all regions, and from countries at all levels of prosperity. It is not a straightforward choice. Some Indians might naturally want to back a fellow Asian for the role. On the other hand, they may think that India has more in common with a big, developing nation, such as Nigeria, than it does with relatively small, rich and successful South Korea.
India is an influential voice within the World Trade Organisation and has been a respected member since its inception. India's ambassador to the WTO, Brajendra Navnit, is an extremely active diplomat. He is currently challenging a plan to impose more customs duties on electronic transmissions, claiming it would create "asymmetries'' for developing countries. He is also lobbying against restrictions in the level of investment that governments can make in the food sector, arguing that for developing countries, such as India, state support is an important way of preventing hunger, or even famine.
On issues such as these, India finds common ground with African countries, suggesting an alliance at the WTO between India and Nigeria could be mutually helpful.
On the other hand, the total bilateral trade between India and South Korea, ($21.5 billion in 2018) is significantly higher than that between India and Nigeria (about $14 billion). And nearly all the "trade" with Nigeria comes down to one factor: India buys most of its crude oil from West Africa. The Nigerians only buy generic drugs, rice and a few motorcycles from India in return.
Unlike Nigeria, Korea is an investor in India. The Indian Foreign Ministry says that South Korea's level of investment in India recently crossed the $1 billion mark for the first time, led by Tata Daewoo and Ssangyong Motors.
Wealth of experience
The nationalities of the candidates are influential but it is important to consider their professional track records.
Yoo Myung-hee, South Korea's trade minister, has a deep knowledge of the processes which guide the multilateral trading system, having specialised in that area since the mid-1990s. During that time, South Korea has become one of Asia's richest nations, largely through trade, matched by patient diplomacy. 
Ngozi Okonjo-Iweala is more lively and is an impressive communicator. She is also a highly educated economist and a former finance minister. However, she has less in-depth knowledge of trade policy. During a webinar organised by Chatham House in July, she brushed off claims she lacks experience. "Most of all," she said, "the choice for director general should go beyond technical skills – you need boldness, courage," she said.
India will want to consider how the two candidates are seen by other Asian countries, especially China and Japan. Some China-watchers believe the African candidate is Beijing's favourite, especially as she might be persuaded to appoint a Chinese person as her deputy.
However, Ms Okonjo-Iweala holds a passport from the United States. This will not sit well with China, which has often found itself at loggerheads with the Americans at the WTO.
Minister Yoo also seems to have won the tacit support of Japan – despite intense rivalry between the governments in Tokyo and Seoul. I expect that her offer of rapprochement, based upon mutual trading interests, appealed to the pragmatic approach of the new Japanese prime minister, Yoshihide Suga.
Building bridges
Like Japan, South Korea is a military ally of the United States. Yet China is by far and away its most important trading partner. In recent years, the country's leader President Moon Jae-In, has been careful not to join the chorus of anti-Chinese rhetoric.
Minister Yoo strikes a similar tone, presenting herself as a "bridge" candidate, aiming to overcome the divide between the US and China, and also between rich countries and developing nations.
It is remarkable that she has reached the final two candidates, considering she was initially dismissed as something of an outsider. Now I take the view that she might just win the race, provided she can revive enthusiasm for multilateral cooperation.
Impressive backgrounds
Ms Okonjo-Iweala has the advantage of having already run Gavi, the vaccine alliance. She is also African Union's special envoy on coronavirus.  
On the other hand, South Korea has proved to be one of the most successful countries in controlling the spread of Covid 19 and it is keen to share its sophisticated track and trace system with developing countries.
One of the most pressing tasks for the new director general will be to help the World Trade Organization decide whether or not to reform its existing rules on Trade-Related Aspects of Intellectual Property Rights (Trips). Critics, such as India's ambassador to the WTO, Brajendra Navnit, claim the current system creates barriers to the timely access to affordable medical products around the world.
Ambassador Navnit argues that the laws need to be urgently changed because of Coronavirus. India and South Africa, two of the countries hardest hit by the pandemic, have formally petitioned the WTO to suspend Trips for all members. I am sure that Mr Navnit will have asked both candidates for their view on this matter. His decision on who to back may rest on their responses.
Fighting corruption
Another area to consider is the fight against the scourge of corruption. South Korea ranked 39th on the global corruption perception index, published by Transparency International in 2019, an improvement of two places since the year before. Nigeria, on the other hand, languished in 146th position, 66 places on the table below India.
Critics of Ms Okonjo-Iweala claim that nearly a billion dollars a month went missing from Nigeria's oil revenues when she was finance minister. "I think it's a shame she is even being considered for the role of director of the WTO " Sarah Chayes, author of Thieves of State, a book about corruption, told AFP.
Considered choice
I have tried to weigh things up as best I can in my capacity as the editor of a magazine about Asian politics called Asian Affairs, which I run in conjunction with a team of experts in India. I can understand why the Indian delegation empathises with the Nigerians. It is natural to be impressed by the energy of Ms Okonjo-Iweala. However, I would say that given her greater experience in the field of international trade, the thoughtful Minister Yoo is the candidate who has the edge.
It also helps that South Korea's status has risen, alongside its economic development, built on trade. On that basis, I believe that Minister Yoo offers the members of the WTO an opportunity to learn from one of the architects of this impressive progress. She should be a particular inspiration to the women of Asia.
Of course, it will be down to Prime Minister Modi and Ambassador Navnit to decide which candidate India should support. I hope they will base their decision on the strategic best interests of the country.
The views and opinions expressed in this article are those of the author and do not necessarily reflect the views of The Kootneeti Team