Nepal-Pakistan Bilateral Ties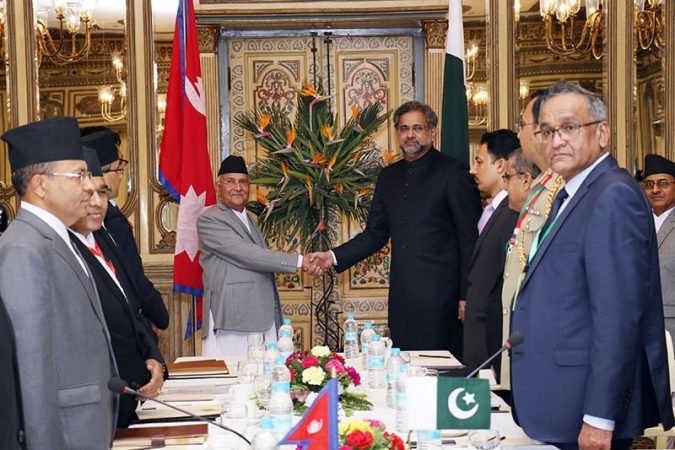 The anxiety regarding India's towering presence in the South Asian region plays an important role in most of the bilateral relations in the region, the bilateral ties of Kathmandu and Islamabad being no exception to it. The two countries have shared a long history of diplomatic and political relations and India has been crucial to the calculations made by both nations.
Historical Development of the ties
The Diplomatic relations between Pakistan and Nepal got established on 20 March 1962, the establishment of relations came after a long period of indifference from Pakistan towards Nepal. Various factors raised the strategic importance of Nepal in Pakistan's calculation, In 1960 as the Indo-US ties were growing strong, Pakistan started engaging more with the smaller neighbours in South Asia. Nepal and Sri Lanka both saw increased engagement with Pakistan during this period. Another important factor was geography, erstwhile East Pakistan was surrounded by Indian Territory from three sides, and also shared a small part of its boundary with Nepal and hence good relations with Nepal were crucial for Pakistan.
In the words of former Prime Minister of Pakistan Z.A. Bhutto,
"Nepal is to Pakistan, what Afghanistan is to India, Nepal's proximity to East Pakistan and the vital states of Sikkim and Bhutan and the province of Assam with its Naga and Mizo freedom fighters give Nepal a high place in the calculations of Pakistan's foreign policy."
After its independence, Pakistan was concerned with its internal and domestic challenges. Further, Pakistan's earlier attempts to engage with Nepal were not successful due to Nepal's King Tribhuvan's allegiance towards India. The successor of King Tribhuvan, King Mahendra of Nepal was also keen to have ties with other neighbours to reduce Nepal's dependence on India. Hence the diplomatic relations between Pakistan and Nepal saw their rise under him. In 1963, Nepal signed an agreement with Pakistan that provided its free trade and transit facilities from the Chittagong port of East Pakistan later in the same year an air link was also established with East Pakistan, Although Nepal adopted a neutral posture during the Indo-Pak war of 1971, it soon recognised the newly independent Bangladesh and this led Pakistan to break diplomatic ties with Kathmandu which were later re-established.
Political engagement between Pakistan and Nepal
The political meetings between the two nations mostly happen at the SAARC summits, purely bilateral visits are rare. The latest visit was on 5th March 2018 when Pakistan's Prime Minister Shahid Khaquan Abbasi visited Nepal, This was a bilateral visit by a Pakistani head of state after a long hiatus of two decades. Pakistan's Prime Minister along with emphasising on Nepal and Pakistan's relations during this visit also talked at length about China's BRI and CPEC project. The latest Foreign Secretary-level Nepal Pakistan bilateral political consultation was concluded in Islamabad on 25th February 2020, the meeting was scheduled in 2019 but Nepal has then cancelled the meeting citing rising India Pakistan tensions. Along with plans for cooperation in various fields, the countries also shared views regarding conducting various programmes for celebrating 60 years of establishment of diplomatic relations. As differences are rising between India and Nepal regarding numerous issues, Pakistan and China both are taking up this opportunity to cement their ties further with Nepal, India needs to tread cautiously and engage Nepal, whose closer engagement with China and Pakistan doesn't bode well for India's interests in the neighbourhood. Nepal has been historically using anti-Indian sentiment to strengthen its domestic hold. It has been used to enhance Nepal's identity during the time of King Birendra and a similar parallel can be seen under the current regime, India's influence on smaller neighbouring countries is viewed with suspicion and fear, taking clues from the Gujral Doctrine, The current PM of Nepal K.P Oli is known for his leaning towards China. India needs to win the trust and support of its smaller neighbours as the China- Pakistan nexus is growing to deter China in its traditional sphere of influence.
Economic and Cultural Ties
Both Countries signed a trade agreement far back in 1962. Nepal Pakistan Joint economic commission was established in 1983 to enhance trade and economic relations between both the countries. There is great scope for enhancing trade and commerce relations. Pakistan has a considerable investment in joint ventures with Nepal in textile, hotel and banking industry.  A joint business council was established in 1996 between the Federation of Nepalese Chambers of Commerce and Industry and Federation of Pakistan Chambers of Commerce and Industry. An agreement for Tourism cooperation was signed in 2009. Information is shared and tourism is promoted in both countries. Efforts are also made to enhance cultural relations between both countries, by the means of inter-universities engagement. Pakistan also provides assistance to students with Nepal assistance for higher education in Pakistan's educational institutions. Economic cooperation between both countries is very broad and ranges in many sectors.
The current geopolitical conundrum in the region
The latest remarks by Prime Minister K.P.Oli that India is seeking to dismantle his government shows the anxiety in Nepal regarding India, the border issues are also becoming a major contention in India and Nepal's Relations. The support Nepal got from Pakistan is an important indication of the effort Pakistan is making to strengthen its ties with the Himalayan nation. The virtual meeting between China, Nepal, Pakistan and Afghanistan hosted by China, where Chinese Foreign Minister Wang Yi told the countries to forge a "Four Party cooperation" to fight COVID. It's obvious that the meeting was not just about COVID, China through its debt trap policy and BRI project has been influencing the countries in India's Neighbourhood for a long time. As India is facing a belligerent China, It's important to gain the trust of its smaller neighbours. Also, there have been reports of Pakistan using its embassy in Nepal for perpetrating terrorist activities in India. With India having an open border with Nepal, and Nepal's liberal Visa policy, it makes it easier for Pakistan's ISI officials to use these factors for supporting and infiltrating terrorists in India. Though Nepal's policy became stricter after the hijacking if IC 814 in 1999. But as Nepal appears to inching towards both China and Pakistan, there is a need for consistent engagement with India's Himalayan neighbour to maintain its security and strategic interests.
The views and opinions expressed in this article are those of the author and do not necessarily reflect the views of The Kootneeti Team