Why India should support East Turkistan and Tibet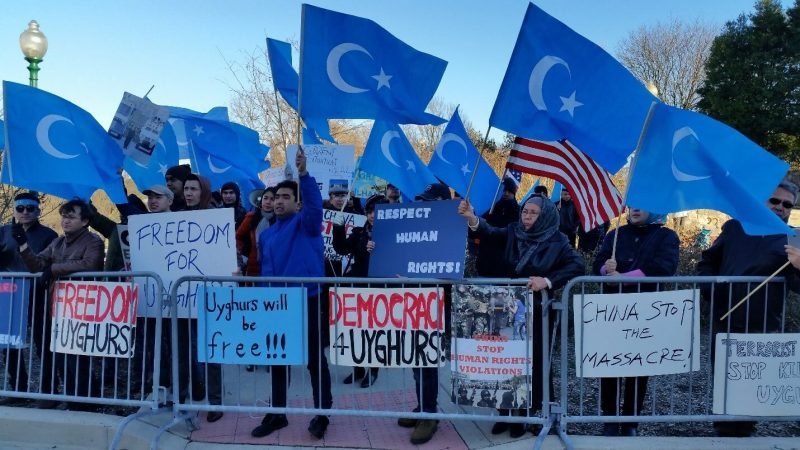 In October 1953, Communist China forced India to shut down its consulate in Kashgar, severing thousands of years of cultural and economic exchange between East Turkistan and India. Four years earlier, in late 1949, the then newly established People's Republic of China had invaded and occupied East Turkistan (renamed by Beijing as "Xinjiang"). It wouldn't be revealed until 1957 that the closure of India's consulate in Kashgar was caused by China's plan to build a road through Eastern Ladakh, also known as Aksai Chin, which would link Chinese Occupied East Turkistan with Chinese Occupied Tibet.
By 1959, China began to openly carry out intrusions into India's territory, and on October 21, 1959, Chinese soldiers attacked a party of India's reserve police and members of the Indian intelligence bureau. New Delhi sought to avoid conflict and failed to respond effectively. In 1962, taking advantage of India's lack of adequate defences along its northern borders, China used East Turkistan and Tibet's border with India to invade and occupy parts of India's Eastern Ladakh region, also known as Aksai Chin, resulting in a conflict that continues to this day.
Since the 1950s, New Delhi has largely pursued a policy of appeasement towards China in an effort to maintain peace and mitigate border disputes, which in turn has only emboldened Beijing to continue violating India's sovereignty and territorial integrity. Aside from this, China is attempting to stop the vital flow of the Yarlung Tsangpo River (Brahmaputra), which starts in Chinese Occupied Tibet, into India. While at the same time through its Belt and Road Initiative, Beijing is laying down the foundations to stage a large invasion of India in the future. If China is able to fulfil this plan, it will not only undermine India's security and territorial sovereignty but will also bring immeasurable calamity to India and its people.
Decades of peace talks and numerous agreements made between India and China have only bought time for China. The recent attack on India's troops in the Galwan Valley coupled with Beijing's aggressive policies should serve as a wakeup call to India. New Delhi must think strategically and look into the future. India cannot be secure nor can it achieve true peace knowing that China, through the occupied countries of East Turkistan and Tibet, will be right across the border to constantly threaten India's security and national sovereignty.
For over seven decades, both East Turkistan and Tibet have been suffering under Chinese occupation and colonization. Although India has been pursuing a policy based on promoting and upholding peace, engaging in diplomatic negotiations to resolve its border conflicts, and working to minimize potential threats, it is not a real solution to maintaining peace and protecting India's sovereignty. Thus, it is important that India include East Turkistan and Tibet as a part of its strategy against China, by openly supporting East Turkistan and Tibet's struggle to restore their independence by formally recognizing the East Turkistan and Tibetan governments-in-exile and urging other countries to do the same. Doing so will not only benefit India but it will also usher in an era of development, peace, and stability across the globe.
An independent East Turkistan and Tibet will automatically eliminate China's immediate threat to India as China will no longer be sharing a border with India. Additionally, an independent East Turkistan will weaken Pakistan's close ties with China, as it too will no longer be sharing a border with China, making it increasingly difficult for Islamabad to rely on its "all-weather ally" in Beijing. A weaker China would also correlate to a weaker Pakistan, thus minimizing the security threat Pakistan and its terrorist proxies pose to India's security. Most importantly, an independent East Turkistan would eliminate China's Belt and Road Initiative which seeks to establish China's economic, political, and military dominance across the globe.
Rather than having to go through many geopolitical obstacles to obtain much-needed energy resources from distant countries like Turkmenistan, India will be able to access East Turkistan's trove of natural and mineral resources, especially clean energy: natural gas, solar, and wind power, which will help propel India to become the strategic economic powerhouse of the 21st century. Furthermore, an independent East Turkistan and Tibet would open new markets for India and re-establish economic and cultural exchanges that have developed over the course of thousands of years prior to the Chinese occupation of East Turkistan and Tibet.
India needs East Turkistan and Tibet to eliminate the threat of China and provide India with the necessary energy and other resources needed to boost India's economic growth in the coming decades. Now is the time for India to accept East Turkistan and Tibet as allies and support their efforts to regain independence.
India can help East Turkistan and Tibet by helping East Turkistan and Tibet build and improve upon pre-existing democratic institutions outside of East Turkistan and Tibet. India can also extend scholarships to educate and train future leaders of East Turkistan and Tibet in the fields of economics, political science, international relations, diplomacy, national security and law. Lastly, India can offer diplomatic and political support to the East Turkistan Government in Exile and the Tibet Government in Exile, also known as the Central Tibetan Administration.
The views and opinions expressed in this article are those of the author and do not necessarily reflect the views of The Kootneeti Team