COVID-19 Diplomacy: A comparative study on US-China relief work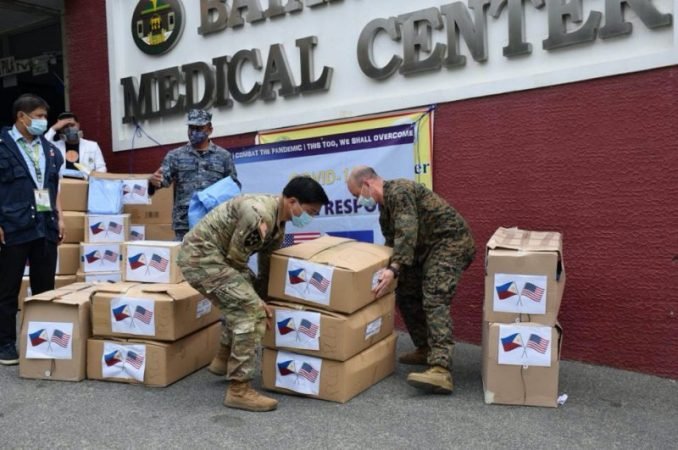 Coronavirus Pandemic have been devastating, both, in terms of severity and strength. Till date (August 5 2020) nearly 18,142,718 people have been infected out of which around 6,70,000 have died and 57,90,000 are still infected. As a part of the cure, an incessant race for Vaccine development is underway between Oxford University team, US biotech company, Moderna and Chinese Biotech company, CanSino in which Oxford vaccine is at the final stage of development ie. 3rd stage of the clinical trial. While these experiments are underway, COVID relief work has also been making rounds in national and international media through-out these times of despondency. Let us review the relief activities carried out by the two superpowers, USA and China.
Background
There have been incessant accusation on China from across the globe for their cover-up of an initial flare-up of the outbreak. Now known timeline suggests that as early as the second week of December 2019, China was alerted of human to human transmission of mysterious Pneumonia virus by Chinese medical staff at hospitals in Hubei's capital Wuhan. Six days later, the Wuhan Municipal Health Commission declared that no human to the human transmission had been found. In December itself Chinese Doctor Li Wenliang warned of a possible outbreak of an illness resembling SARS (Severe Acute Respiratory Syndrome). Li was accused by Wuhan Public Security Bureau of 'spreading rumours'. Chinese health institutions were ordered not to publish any information related to an unknown disease. On 8th January, China identified a virus but still denied human to human transmission. On January 13, the first case outside China was reported in Thailand. All this while, cases in China were spiking.
On 15th January, Japan reported its first case and on the same day Wuhan Municipal Health Commission accepted a limited Human to Human Transmission. On 23rd January China imposed a total lockdown in Wuhan. Doctor Li succumbed to virus on 7th February having tested COVID-19 positive 5 days back.
This was the initial build-up of coronavirus outbreak and Chinese attempt at cover-ups which drew international condemnation as the virus wreck-havoc around the world infecting almost all the countries of the world. By the end of March China controlled the domestic COVID-19 situation prompting them to try at damage control measures by extending helping hands to the countries where pandemic was gaining grounds.
Chinese Relief Work
China has already proved its trading mettle around the world with its big economic pocket and behemoth Belt and Road Initiative. Pandemic and the related emergencies has accentuated this tradition, further allowing them to enter unchartered territories. Israel, which has been a point person of the USA in the Middle East, signed a deal with Beijing for COVID-19 testing kit allowing them to conduct more than 10,000 tests per day. Chinese dissemination of relief act was taken as 'role model' in the Gulf in response to Chinese 'unforgettable' remark for Gulf proactive assistance in the initial stage of the outbreak. Chinese assistance in gulf include facilitation of the purchase of supply, mask donation, helped build medical facility and dispatch of medical workers to Iraq. China even sent emergency medical assistance to Palestinians and Jordan in the form of an advance Chinese medically equipped laboratory. Millions of mask and Personal Protective Equipment (PPE) had been flown to European countries ranging from Italy, Serbia to Spain when virus peaked in these countries. Chinese aid and supplies have been instrumental and mass is driven for eg. Mass donation of masks, supplies to ailing hospitals and dispatching medical professional. China has pictured its action as 'rising to the challenges of global leadership' and 'providing relief to siblings and friends.'
Chinese have also been involved in COVID relief action in Asia. Recently China expressed willingness to provide training to health professionals in ASEAN for COVID treatment and to include them in their $2 billion international aid to fight the Pandemic. Deng Xijun, Chinese ambassador to ASEAN was quoted saying "we need to strengthen multilateralism in global public health." China has been brandishing 'Health Silk Road' within its overall framework of One Belt One Road (OBOR). Under the said framework, China is moving strategically in South Asian region. With most of South Asia demanding debt waiver under BRI, China donated testing kit, PPE, masks and medical supplies to Bangladesh, the Maldives, Nepal, Pakistan and Sri Lanka. It also extended $500 million loans to Sri Lanka and sent an expert team Bangladesh to treat patients and train medical professionals. In Pakistan, China is involved in makeshift hospitals and supplying ventilators. China-backed Asian Infrastructure Investment Bank (AIIB) has approved $750 million loan assistance to the Indian government to tackle the adverse impact of COVID-19 Pandemic. After USA decided to freeze its annual share to WHO, China stepped in and pledged $2 billion assistance over two years, especially in developing countries.
Although Chinese pro-active outreach to showcase global leadership during the ensuing international crisis have been appreciable, it has been accused of selective strategic assistance in Europe and faulty medical and protective equipment in both India and Europe.
US Relief Work
With the retrenchment of his country from major global engagements, highly transactional Mr Trump at the helm of affairs and the US own domestic pandemic driven disaster, has forced the US to look inwards. Still, by the virtue of being a superpower, responsibilities cannot be shrugged off. Since the start of the outbreak, the State Department and USAID have committed more than $1.5 billion in health and humanitarian assistance in fighting the pandemic. Till now, India has received $5.9 million assistance package to India in order to prepare laboratory system, activate case finding and event-based surveillance and support technical experts for response and preparedness. Apart from India, USA provisioned $18 million for Afghanistan in health and humanitarian assistance to detect and treat COVID-19 cases and recently the US further pledged $36.7 million in addition to $90 million through WHO. Recently, the United States Agency for International Development (USAID) Mali's Development Objective Agreement (DOAG), provided an additional $2,345,000 million in COVID-19 assistance. The new funds are being used for COVID-19 prevention and care messaging, to counter disinformation, and to support sanitation and hygiene in partner communities.
It has also redirected $10 million to the WHO Emergency Response Plan for COVID-19. Other assistance includes $12.3 million to Bangladesh for case management and surveillance activities, $3.8 million in health and humanitarian funding in Myanmar and $15 million to Pakistan to strengthen monitoring and community preparedness. In late April, President Trump announced sending ventilators coronavirus help to Latin America's Ecuador, El Salvador and Honduras. USAID's Global Health Emergency Reserve Fund for Contagious Infectious- Disease outbreak and global health program account kept aside nearly $200 million emergency health assistance. It also provides nearly $300 million in humanitarian assistance for USAID's International Disaster Assistance (IDA) account. More than $130 million in humanitarian assistance from Migration and Refugee Assistant (MRA) account is provided through the State Department's Bureau of Population, Refugee and Migration.
Conclusion
COVID-19 has perhaps surfaced a new observation with respect to great power rivalry. Although till date, we saw both the USA and China flexing their arms to increase their influence and to showcase their willingness to be a point person in the race of Global (Health) Leadership, USA, a superpower under President Trump, was seen shying away from its responsibilities of a global policeman. President Trump pulled USA out of WHO membership after freezing their crucial contribution to WHO funding, at a time when it was required the most. This shows that the USA, who once rose to the occasion after the Second World War and infused billions in Europe under the Marshall Plan to influence the region, is now feeling the burden of a sole security provider. At the same time, China, much like 1940s USA, is materialising all available opportunity to expand its influence. Recently, it entered into $400 billion 25 years economic and strategic agreement in return of energy imports at highly concessional rate. Also, China is now taking interest in thorny territories like Afghanistan quagmire, Palestine issue and larger Oceania regions. This shows the Chinese revisionist attitude and a desire to get to the position of global leadership.
The views and opinions expressed in this article are those of the author and do not necessarily reflect the views of The Kootneeti Team