A helping hand in the Indian Ocean – INS Kesari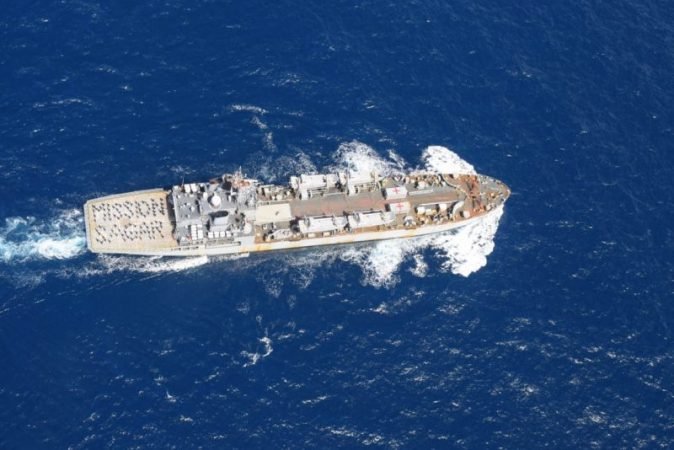 After travelling over 7,500 nautical miles for 55 days, INS Kesari, which was on deployment to the Indian Ocean region on 'Mission Sagar', returned back home to Kochi on June 28, 2020.
Mission Sagar by India was Launched on 10 May 2020. It was launched to provide help with Covid-19 related assistance to countries in the Indian Ocean. INS Kesari visited Maldives, Mauritius, Madagascar, Comoros and Seychelles to deliver assistance to maritime neighbours in dealing with the COVID crisis.
The Ministry of External Affairs deeply appreciated the assistance and solidarity of the respective host Governments of the Republic of the Maldives, the Republic of Mauritius, Republic of Madagascar, Union of the Comoros and Republic of Seychelles for their warm reception and logistical support to the Mission.
The deployment of INS Kesari was in consonance with the Prime Ministers' vision of Security and Growth for All in the Region 'SAGAR' announced in March 2015.
In the mission, India provided help with supplies of essential food items, medicines including Ayurvedic medicines. INS Kesari delivered consignments of COVID related essential medicines to Mauritius, Maldives, Comoros and Seychelles. A separate consignment to Madagascar and Comoros of Hydroxychloroquine tablets was also delivered.
India already delivered Hydroxychloroquine tablets to Mauritius, Maldives and Seychelles. To the Maldives, about 600 tonnes of food items were delivered. In  addition, Ayurvedic medicines were delivered to Mauritius.
In the Maldives, the consignment was formally handed over by the Indian High Commissioner Sunjay Sudhir in an online ceremony which was attended by Maldives Foreign Minister Abdulla Shahid and Defence Minister Mariya Ahmed Didi.
Medical Assistance Teams (MAT) were also deployed to Mauritius and Comoros for 20 days each. They helped the government to tackle Covid-19 emergency and dengue fever. (for Comoros)
Prime Minister of Mauritius had personally thanked Indian Prime Minister during a telephone conversation last month for the deployment of INS Kesari.
Today's donation is India's "Ramazan Gift" to the Maldives," Foreign Minister of Maldives Abdul's Shahid tweeted last month.
"I wish to extend our profound appreciation to Prime Minister @narendramodi for his personal commitment and strong support to the Maldives; and to the External Affairs Minister @DrSJaishankar for always making the relationship with the Maldives, a particularly special one," he said. Maldives President Ibrahim Mohamed Solih also appreciated India's assistance.
Mission SAGAR is a major milestone in our engagement with the countries in the Indian Ocean Region.
The views and opinions expressed in this article are those of the author and do not necessarily reflect the views of The Kootneeti Team