Is Australia over-reliant on China?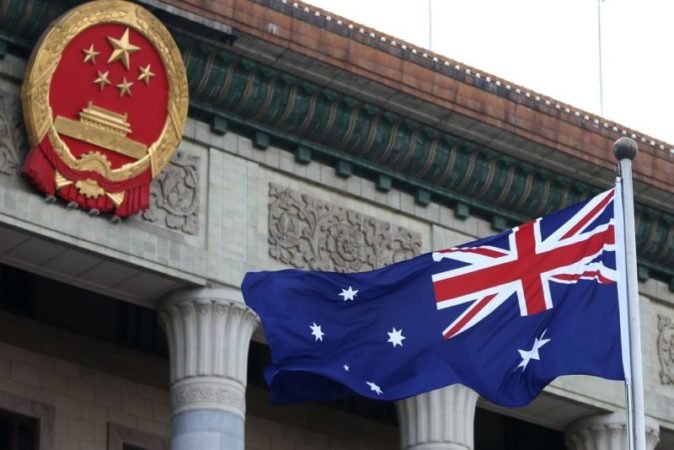 Introduction
Australia's call for an investigation into China's role as the origin of the Covid-19 pandemic is quickly morphing into a trade war, one that could have unhealthy impacts on both sides. China has imposed an import ban on four Australian abattoirs from May 12, the beef ban will affect about one-third of the country's exports to China, with an annual value of US$800 million. Beijing's ambassador Cheng Jingye is warning that his country will boycott beef, wine, tourism, and education institutions in Australia. Australian economy currently loses US$ 2.6 billion per week from disruptions due to Covid-19; the setting for a China trade standoff couldn't get any worse.
Because of its insatiable appetite for natural resources and agricultural goods, China has become an important trade partner for Australia. Heavy dependence on China for economic development has turned into a possible security concern for Australia. Australia's trade surplus with China in 2018 ($58.26 billion) essentially amounts to over 250 percent of its overall trade surplus ($23.23 billion). As Australia heads towards its first recession in nearly 30 years, the economic hit of more widespread trade measures couldn't come at a worse time. Bilateral friction over issues like security has also taken a strong economic toll, with Chinese foreign investment in Australia plummeting by 44 percent in 2018-19, although this was also partially due to a broader tightening of Beijing's market and trade restrictions.
China flexing its trade muscles
Australia, which is the world's most-China dependent developed economy, has triggered the wrath of Beijing by asking for an inquiry into the virus outbreak's origin. Chinese tabloid the Global Times described Australia as being "blinded by lust to act as a US attack dog" that threatened to "destroy ties" with its most important trading partner The government of President Xi Jinping is sensitive to criticism of its handling of the outbreak and has a history of using trade as a diplomatic political weapon, with all of South Korea, Japan, and Taiwan suffering reprisals in past years. In 2010, Beijing imposed restrictions on Norwegian salmon exports in apparent retaliation for the award of the Nobel Peace Prize in Oslo to Chinese dissident Liu Xiaobo — a move that cost Norwegian salmon exporters up to $1.3bn. And after Seoul agreed to deploy a US missile defense system in 2017, Beijing stopped travel agencies from sending tourists to South Korea, causing visitor numbers to almost halve in a year. An anti-dumping dispute over Australian barley exports has been rumbling for 18 months and was set to be resolved this month. Beijing has used apparent technical trade violations in the past as a political and diplomatic lever.
China's trade ministry said in a statement that it would proceed with tariffs of 73.6 percent on barley imported from Australia with a 6.9 percent tariff added based on arguments that the Australian sector is receiving an undue benefit from state subsidies after an investigation into claims the industry was "dumping" the product at a lower price than at home. The commerce ministry said the dumping and subsidies "caused material injury" to China's domestic barley industry. China takes about fifty percent of Australia's barley shipments, often used to make beer, worth around US$ 1bn per year.
China also has threatened this week that it could replace Australian iron ore with African iron ore, and Australian LNG with Brazilian LNG. The trade conflict that has stirred up Australia-China ties threatens the Australian economy with a $500 m annual impact. Exporters dependent on China are similarly exposed to the CCP's pressure; it would be a particularly bitter blow for Western Australia, the country's biggest barley grower. Although China's economic sanctions may not be implemented permanently and not be effective, it makes good sense for Australia to take steps to reduce its economic dependency on China and to protect its economic growth. Australia's Minister for Agriculture, David Littleproud, said the government was "serious" regarding the prospect of proceeding to the WTO, noting it had previously taken Canada to the global trade umpire over wine and had taken India to the body over sugar.
Challenges ahead
Australia relies hugely on China for inbound tourism and foreign students. China, for its part, is the major customer of Australian commodities depending on Australia to provide iron ore and high-grade coking coal to serve its steel plants and thermal coal to power its power plants; in most instances, China has no sources of supply of comparable quality and cost. Australia needs to reconsider what its relationship with China will look like at the end of COVID-19. It will have to prepare itself as the international order will probably be quite different when this pandemic concludes. Managing Australia's relationship with China requires a distinct understanding of its strengths, value proposition, buoyancy, and vulnerabilities. The key challenge faced in the relationship is finding the right balance between protecting Australia's economic prosperity, public health, national security, and way of life whilst pushing back on China when it acts against Australia's domestic policy objectives.
Maintaining prosperity and security achieved over the last several decades should entail continued openness and security. This precludes sabotaging Australia's long-term national interest with short-term thinking or pandering for political gain. The implications of COVID-19 span a wide range of sectors in the Australian economy, including agriculture, education, pharmaceuticals, tourism, and resources. Over one-quarter of all Australian trade is with China, approximately one-third of Australian exports go to China, while 15 percent of tourists and about 38 percent of foreign students are Chinese citizens. COVID-19's impact on global supply chains highlights Australia's current dependency on China, particularly concerning medical and pharmaceuticals, telecommunications equipment, and IT products.
Conclusion
There is consequently a greater necessity for Australia to diversify and a domestic focus on manufacturing by rebuilding its capability in the aforementioned areas. Given Beijing's now-demonstrated willingness to retributively leverage trade relationships for political purposes, China's partners should seriously reconsider their economic interdependence with the country and think about careful decoupling from the Asian giant's economy. China will also be particularly worried that its exports to the US will be further hit after reading the results of an online survey of American consumers finding that 78 percent would indeed be willing to pay extra for an item instead of buying a Chinese-made variant, while 40 percent said they refused to buy anything made by Chinese companies.
Chinese billions come at a moral cost: placation of the CCP, a repressive regime currently carrying out a cultural genocide of China's Uighur Muslims. Prime Minister Scott Morrison is expected to use a 4 June virtual summit with his Indian counterpart, Narendra Modi, to push for closer trade relations with India. The discussion will focus on key strategic areas, such as critical minerals, health supplies, defence, education, and agriculture. A new defence agreement, which will allow reciprocal access to bases and co-operation on military technology projects, is expected to be signed, as will a new education partnership that will diversify the Australian university sector away from the Chinese market. India could also become a new market for Australian barley and other agricultural goods.
The views and opinions expressed in this article are those of the author and do not necessarily reflect the views of The Kootneeti Team