Taiwan President rejects China's 'One Country, Two Systems' agreement and garners U.S. backing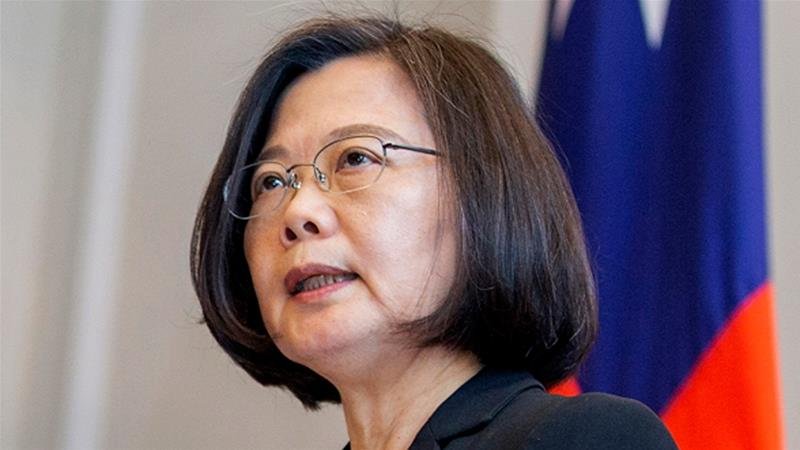 In her inaugural address after being sworn in for her second and final term in office, President Tsai Ing-wen outlined her plans to make the nation a major player in the post-coronavirus pandemic world order, shared her goals for economic development and delivered her strong message of establishing Taiwan as a sovereign state in contrast to Beijing's plans.  
President Tsai has made headlines around the world as she called for an equal dialogue with Beijing to develop relations which are built on "peace, parity, democracy and dialogue". She opposed the unification with the Peoples' Republic of China under their framework of "one country, two systems" identical to the system implemented in Hong Kong. "We will not accept the Beijing authorities' use of "one country, two systems" to downgrade Taiwan and undermine the cross-strait status quo. We stand fast by this principle," she stated.
"Cross-strait relations have reached a historical turning point. Both sides have a duty to find a way to co-exist over the long term and prevent the intensification of antagonism and differences," President Tsai said. "I also hope that the leader on the other side of the strait will take on the same responsibility, and work with us to jointly stabilize the long-term development of cross-strait relations."
"…we are willing to engage in dialogue with China and make more concrete contributions to regional security," the president reiterated. China had cut off all formal communication mechanisms with Taiwan in 2016 when President Tsai first won the elections, as they viewed her as a strong proponent of separatism.
The president and her party, Democratic Progressive Party, won the presidential and parliamentary elections in January 2020 by a landslide on their campaign promise od democracy and to stand firm against Beijing, which claims sovereignty in Taiwan and has consistently emphasised that Taiwan will be brought under their control and by force, if necessary.
President Tsai intended to use this speech to reach out her people as well as the international community, as her diplomatic allies and international recognition of Taiwan dwindle to just fifteen states. She painted a picture of a strong, united and attractive Taiwan that she is going to develop as she promised, "I will proactively develop our industries, foster a safe society, ensure national security, and deepen our democracy. I am going to reinvent Taiwan and lead our country into the future."
She also thanked her country for the coordinated and successful response against the COVID-19 outbreak and appreciated all their aid in helping the international community. Moreover, she pledged industrial and economic development in fields such as renewable energy, digital transformation with a focus on 5G, and national defence reforms. She highlighted her ambitions for global expansion of industries as well- "My government will … globalize Taiwan's workforce, widen our industries' horizons, and give them the ability to compete in the international arena.
Tsai begins her second term with an approval rating of 61%, the highest since she took office in May 2016, according to a survey by broadcaster TVBS released Monday.
President Tsai has benefitted from the increasing competition and rivalry between Washington and Beijing as the Trump administration has strongly backed Taiwan with arms sales and diplomatic support.
Ahead of the ceremony, U.S. Secretary of State Mike Pompeo had sent his support in a rare high-level message from Washington direct to Taiwan's government. He said Washington "has long considered Taiwan a force for good in the world and a reliable partner." The two sides "have a shared vision for the region — one that includes rule of law, transparency, prosperity and security for all," he added.
In addition, the Secretary extended his congratulations after the ceremony as well through a tweet which stated, "Congratulations to Dr Tsai Ing-wen on the commencement of your second-term as Taiwan's President. Taiwan's vibrant democracy is an inspiration to the region and the world. With President Tsai at the helm, our partnership with Taiwan will continue to flourish."
In the previous week, Washington highlighted its support for Taiwan in the international arena as they rallied to grant Taiwan a position in the World Health Assembly. Whilst the attempt did not come to fruition, it showed the extent of Washington's inclination towards Taiwan, despite it recognising only China's government officially.
China's foreign ministry has said that Pompeo has seriously damaged the peace and stability of the Taiwan Strait and China-US relations by making a congratulatory statement to Tsai.
Whilst Beijing has not reacted or made a statement yet about President Tsai's inaugural speech, it is likely to be received poorly, as Chinese President Xi Jinping has made "one country, two systems" a central pillar of his Taiwan policy. Especially in the light of warnings by the U.S.-China Economic and Security Review Commission who had reported last week that Chinese military forces are engaging in repeated aggressive actions, buzzing the median line of the Taiwan Strait, and tracing the borders of the mountainous island with fighter aircraft in their campaign of military and diplomatic pressure against Taiwan.
As of now, China's Xinhua news agency published comments from Ma Xiaoguang, spokesperson of the Taiwan Affairs Office headquartered in Beijing, which state that China will never leave any room for various forms of "Taiwan independence" or tolerate any act of separating Taiwan from China. He added that "Reunification" of Taiwan with the mainland is the natural trend of history and efforts to seek independence for the island are a dead-end
The views and opinions expressed in this article are those of the author and do not necessarily reflect the views of The Kootneeti Team